Welcome to another Wednesday night here in the US, which means another batch of new iOS games have just hit the App Store. I think far and away the surprise release this week is Dragon Quest IV (or should I say Dargon Quest IV?), which was initially announced for release on mobile in Japan this past October, but confirmed for a US release just last week. I didn't think we'd be seeing it so soon, but here it is. I've been thoroughly enjoying the re-release of Dragon Quest VIII on mobile, and this version of DQIV seems to have a pretty similar mobile-friendly UI, so I'll definitely be diving into that one as well. Beyond that there's plenty of other interesting new games out tonight, so check out the list below and go nuts!
Assault Vector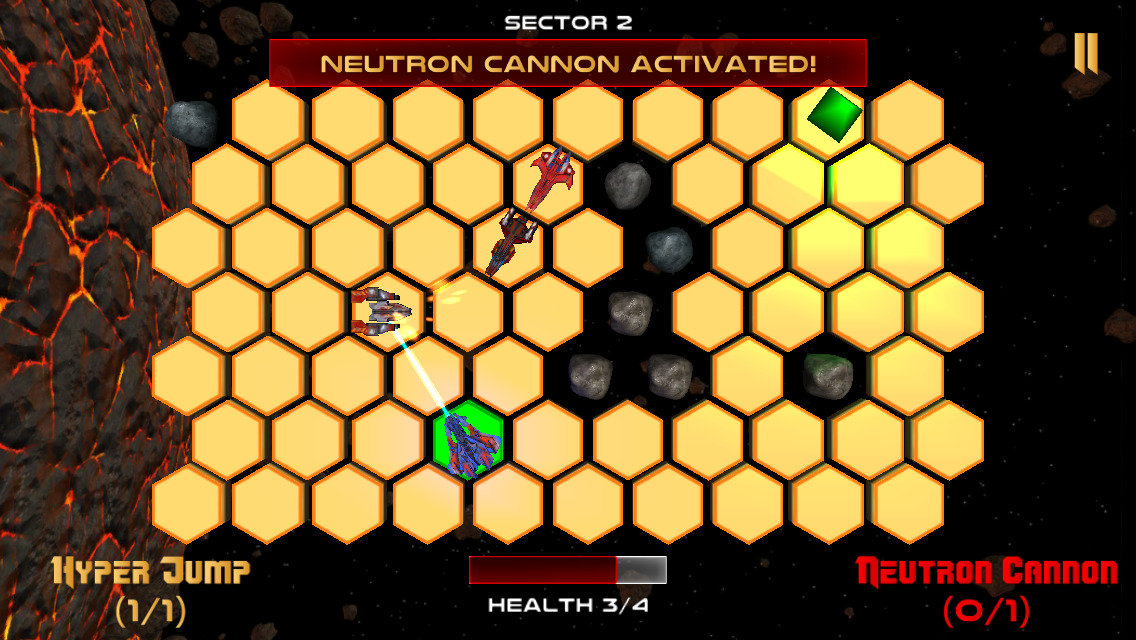 iTunes Description
Assault Vector is a challenging turn based strategy game set in space.

Highlights:
• Challenging gameplay. Think before you act!
• Procedurally generated levels to provide a new challenge every time you play.
• Permadeath!
• Super intelligent enemies.
• Fight or Flight? Choose different upgrades based on your play style.
• Designed for on-the-go gameplay sessions.
• No in-app purchases. Never ever!
Forum Thread: Assault Vector – A space themed turn based strategy game
---
Boshi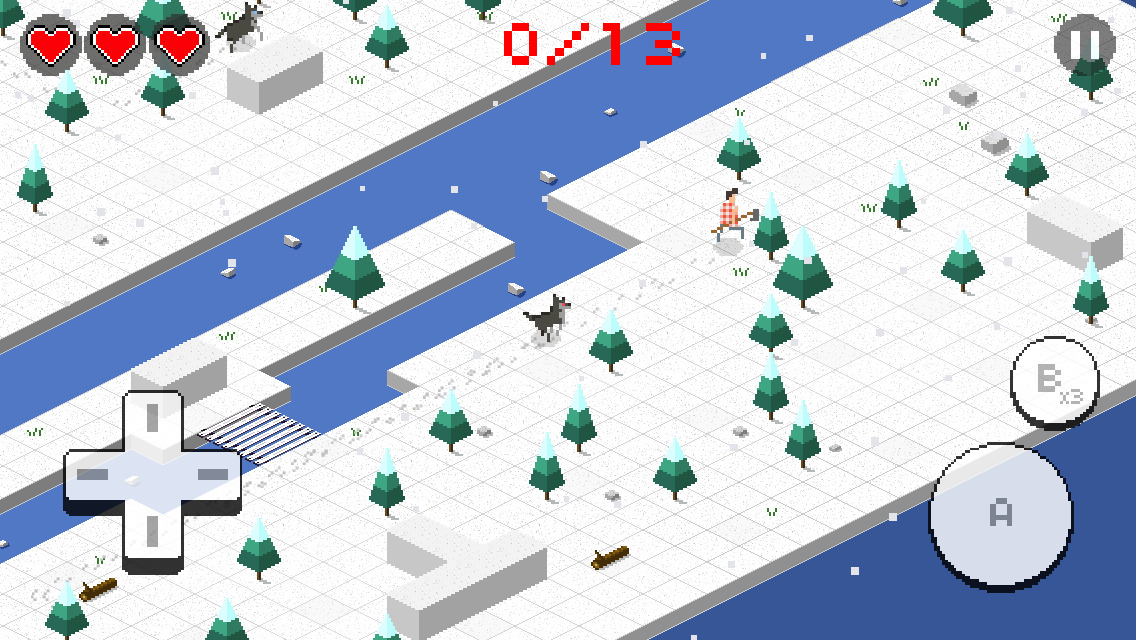 iTunes Description
Boshi gives you the opportunity to be a logger in a winter environment. Just chop wood and enjoy the scenery. How difficult can it be? Oh well… only skilled loggers can survive these woods and spot the right trees to cut, without being eaten by wolves.

All you got is an axe to chop the wood and a flare gun with a limited amount of ammo to scare off the wolves. So make every shot count! Well do you think you have what it takes to be a logger?
Forum Thread: Boshi (by Kirill Korolkov)
---
Brave Furries
iTunes Description
The Brave Furries is a simple story about cute and funny creatures that struggle with the Evil Wizard's puzzles. Puzzles rarely take more than 60 seconds to solve and are very simple to understand but are definitely original and addictive. The game is animated with amusing high quality graphics.

The Furries Princess has been kidnapped! Help these hilariously cute creatures execute a rescue mission. You will need to explore the Evil Wizard's castle and solve his puzzles to succeed. Hours of mildly brain-teasing gameplay awaits!
Forum Thread: Brave Furries (by Bulkypix)
---
Bugs vs. Aliens
iTunes Description
Lead your team of Bug Heroes into battle and defeat alien invaders before they can achieve total victory!

Fly and survive through this adrenaline-fueled, physics-powered 3D-action game where you control a swarm of bugs rising in revolt against alien invaders.
Forum Thread: Bugs vs. Aliens (by Jacint Tordai)
---
Catchup
iTunes Description
Catchup is a simple game of surprising turnarounds.

Can you have the largest group at the end of the game? Connect your hexes to master this beautiful abstract strategy game.
Forum Thread: Catchup – Abstract Strategy (By Martin Grider)
---
Cosmic Arena
iTunes Description
Cosmic Arena is a head to head duel between 2 players in a Zero-G arena.

Battle against a friend on the same device or take on one of the three computer controlled opponents.

With a retro arcade machine setting and a slick modern graphic style, Cosmic Arena is where the past meets the future.
Forum Thread: Cosmic Arena (by Elliot Curtis)
---
Critter Combat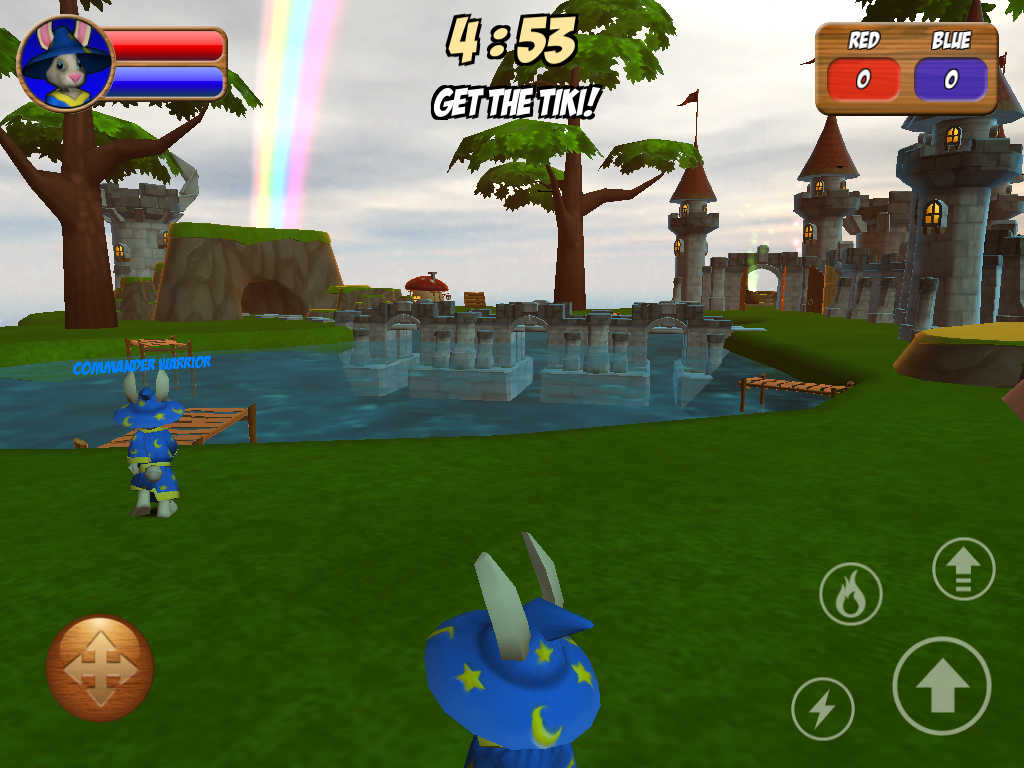 iTunes Description
CRITTER COMBAT IS A MULTIPLAYER PARTY GAME FEATURING CUTE CUDDLY CRITTERS IN A CRAZY CAPTURE-THE-FLAG COMPETITION. Phew, try saying that three times fast!

Battle against your friends with four cute critters—each with unique powers—across five fun cartoony battlegrounds!

FOR 2 OR MORE PLAYERS. It's a party game, after all!
Forum Thread: Critter Combat (by Social Entertainment Technologies)
---
Dante's Fall
iTunes Description
The DANTE F411 manned probe has been launched through a crack in the ground straight down to hell. Insane speed and sharp ledges are your enemies. How far can you reach?

Touch the left or right side of the screen to hover around the tunnel avoiding ledges.

Will you reach the Ninth Circle Of Hell?
Forum Thread: Dante's Fall (by Gavina Games)
---
Dragon Quest IV
iTunes Description
Dragon Quest IV, the first instalment in the Zenithian Trilogy, is back at last!
This epic adventure, unfolding over five unique chapters, each focusing on a different cast of characters, can now be enjoyed on your iPhone, iPod touch or iPad!

…And it's all here in one standalone package!
Download it once, and there's nothing else to buy, and nothing else to download!
Forum Thread: Dragon Quest IV (by Square Enix)
---
Dungeon Slots
iTunes Description
Treasure lies deep in the dungeon—or so the legends say. Many adventurers have lost their lives to the weird, ferocious creatures that dwell beyond those forbidding walls, but you have a secret weapon: your trusty 23-calibre double-bladed combat-certified Slot Machine. Hit the jackpot to lay down devastating attacks. Go for broke with swords and enchantments, spin the reels to wield your shield, and lock in combos to win back life. But be careful: the denizens of the dungeon don't take kindly to strangers, and the deeper you delve, the harder they hit.

Dungeon Slots combines your love of dungeon crawling with the visceral satisfaction of a slot machine. Strategically lock in reels to line up attacks and combos, fight progressively powerful enemies, and earn your rank on the leaderboard. Don't forget to tip your hat to Lady Luck when she does you a favor; after all, in Dungeon Slots, you're betting with your life.
Forum Thread: Dungeon Slots (by Robot Invader)
---
Heroes of the Revolution
iTunes Description
Heroes of the Revolution is a turn based strategy game that gives you the chance to lead the rebels to victory in the Cuban Revolution. Starting with a handful of freedom fighters, you must successfully wage a guerrilla war against the numerically superior and better equipped government army. Use hit and run tactics, build your forces' strength, win over the hearts and minds of the Cuban people, and go on the offensive to liberate your country!
Forum Thread: Heroes of the Revolution (by GamerNationX)
---
Ice Age Adventures
iTunes Description
Scrat's nutty pursuit of the cursed acorn has world-changing consequences.
Manny, Diego, and the rest of the herd are suddenly floating out to sea at the edge of a continental cataclysm. Left all alone, Sid needs your help to rescue his friends and save the entire herd.

Get ready for ICE AGE ADVENTURES!
Forum Thread: Ice Age Adventures (by Gameloft)
---
Jacob Jones and the Bigfoot Mystery: Episode 2
iTunes Description
Following the events of Episode 1, Jacob and Biggie set off to the spooky Crackskull Mountain to try to uncover the secret of Biggies childhood.

Join the new best buddies on a brand new adventure and unravel more of the mystery in a series of brain twisting puzzles and crazy collectibles.

More crazy characters to meet, from statically charged beavers to the charming Miller and his not so charming wife.
Forum Thread: Jacob Jones and the Bigfoot Mystery: Episode 2 (by Lucid Games)
---
Mad Rooster
iTunes Description
Escape from chicken-eating tribe, steal their beloved treasures and rocket yourself out of the jungle with styles.

You are the first rooster who invented the rocket. You crash landed in a remote part of the Mayan jungle. You just barely escaped from hungry tribesmen. Now they will go after you relentlessly in full force using the latest Mayan's military power.

Discover rare Mayan's treasures and collect golden coins on your way out. Tweak your arsenal of power-ups and upgrades your power to stay on top of the Mayan's native tribe.
Forum Thread: Mad Rooster (by CGMatic)
---
Mosaic: A Lights-Out Game
iTunes Description
Mosaic is a puzzle game about simplicity, but that doesn't mean that it's easy. If you know the game Lights Out, you will already understand the premise of Mosaic. To win, you need to turn on all the color squares on the screen. Completely free. No in-app purchases or ads. Just play the game the way it is intended to be played.

Three tough modes. Play through the Regular, Zen, and Challenge. Zen mode is an unlimited, un-timed, relaxing mode to play through the game peacefully. Challenge mode is exactly that: the hardest, most challenging version of Mosaic.
Forum Thread: Mosaic: A Lights-Out Game (by Ignis Studios)
---
One Tap RPG – Pachinko-like Dungeon Crawler
iTunes Description
One Tap RPG is a retro style Pachinko-like Dungeon Crawler. Watch your character slash through randomly generated Dungeons, while being controlled only by Pachinko-like physics.
Level up and use powerful spells to slay even more dangerous monsters, collect their gold and enter the Highscores.

Compete in the Daily-Challenge where a fixed set of Monsters and a permanent Dungeon gets created, combined with a special Highscore for each new day.
Forum Thread: One Tap RPG – Pachinko-like Dungeon Crawler (by Arnold Rauers)
---
Poison Ive
iTunes Description
Poison Ive is a brain twisting and time bending puzzle game, crafted with love by a team of passionate indie developers.

Use Ive's incredible powers to snare the path of the slimes. Bomb, dash and rewind your way through 80 mind-twirling levels, explore the world of the tropical island and defeat the gooey invaders before they have consumed everything! Hurry up before it's too late!
Forum Thread: Poison Ive (by Capoot)
---
Primitives Puzzle in Time
iTunes Description
Journey through time with Primitives! Challenge time and space in this all new puzzle game! Experience challenging, yet intuitive puzzles, as you travel through beautiful dimensions, and move in harmony to original zen music.

Drag the primitives through over 90 unique levels to find your way out of each enigma. Interact with colors and triggers, prevent collisions and smash time bubbles to save trapped stars. Go back in time and change paths to solve puzzles.

Primitives requires focus, creativity, balance and timing. Each level brings lively and spirited designs, new obstacles, and mind-bending challenges.
Forum Thread: Primitives Puzzle in Time (by Crazy Labs)
---
Rules!
iTunes Description
RULES! is a cute puzzle game that's challenging and fun. Follow RULES! into a hundred level-deep maze of cuteness and order.

• Multi-touch interface at its finest
• Color perception assistance mode
• Whales, Unicorns, Robots and Squirrels!
• A plethora of surprising new game mechanics
• iPad (universal) update coming soon
Forum Thread: Rules! (by TheCodingMonkeys)
---
Scooby Doo! & Looney Tunes Cartoon Universe: Arcade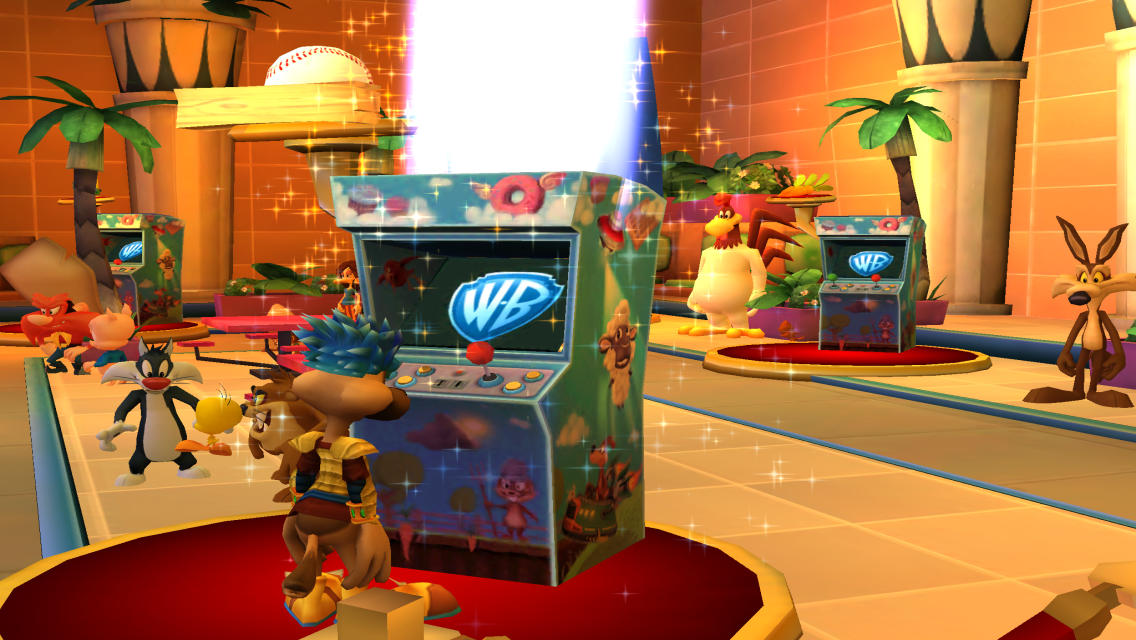 iTunes Description
Create and customize your own cartoon character, then step into the AMAZING 3-D Scooby Doo & Looney Tunes Cartoon Universe: Arcade!

Hang out in the arcade with Scooby, Bugs, Daffy and ALL your favorite cartoon friends. Play ten fun mini-games – all included with the purchase of the game – based on the iconic Looney Tunes and Scooby Doo cartoon worlds. Each arcade game comes with multiple levels and increasingly difficult challenges!
Forum Thread: Scooby Doo! & Looney Tunes Cartoon Universe: Arcade (by Warner Bros)
---
Space Colors
iTunes Description
Take the fight into space in this action/adventure space shooter rogue-like! Your mission is simple: destroy all the things in space. All the things. Whether it's a stray enemy fighter, a mysterious alien carrier, a monstrous enemy base, or a random asteroid, you're going to have to take it down. And it will explode. Oh, yes, it will explode, and it will explode gloriously as every explosion in Space Colors is like a snowflake: no two are ever the same.

Your mission: venture into space, survive as long as possible, and make beautiful explosions out of all who oppose you.
Forum Thread: Space Colors (by Team Chaos)
---
Stop the Bots
iTunes Description
Get the FULL GAME for FREE! All 90 levels included! Download NOW!

Only you can stop the robot filled alien ship from attacking Earth by sneaking on board and disabling it from the inside! "Stop The Bots" perfectly blends arcade action and logic puzzles over 90 brain bending levels!
Forum Thread: Stop the Bots (by Scary Robot Productions)
---
Time Tangle – Adventure Time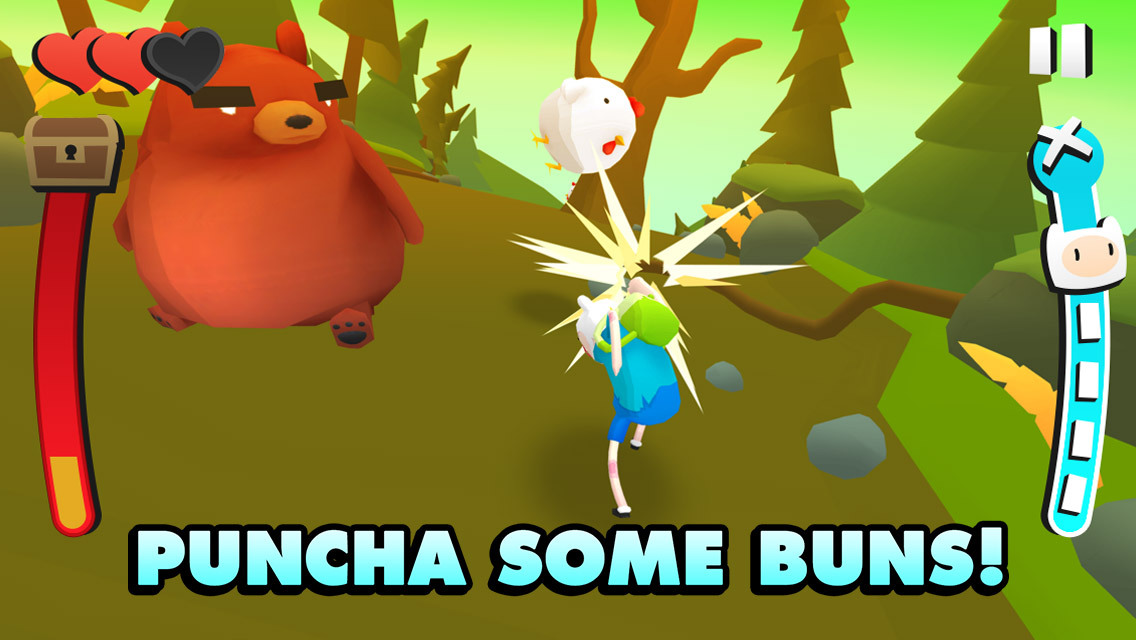 iTunes Description
What time is it? Time to puncha some buns! Rip it up in Time Tangle! Oh, snaps! Finn broke the Time Totem and junked up all of time. Now there's only one way to save the day… PUNCHING! Send your fists flyin' to restore order to the Land of Ooo. Battle bad guys, save peeps, collect sandwiches, and rebuild spacetime in a non-stop adventure. Thanks to the Time Totem's quest generator, the fun will never end!

Rescue your friends from the time stream, then unleash their awesome attacks. Call for backup from Jake, Lady Rainicorn, Flame Princess, LSP, Choose Goose, and James Baxter! Go toe-to-toe with Lemongrab, Maja the Sky Witch, Giant Goo Skulls, Forest Wizard, and the Beast himself! Beat their butts to whip time back into shape. Time Tangle includes some tasty cutscenes and 100% original voiceover from Finn and Jake! That's like math.

Run, punch, rinse, repeat. Rebuild all of time in TIME TANGLE!
Forum Thread: Time Tangle – Adventure Time (by Cartoon Network)
---
Vertical Cliff
iTunes Description
The Japanese/Okinawa tablet and mobile developer would like to present to you a a new-style dynamic rappelling action game, "Vertical Cliff"!

Adventurer of men and women, who had committed all to a single rope, go on an adventure to find the legendary treasures from the sheer cliff.

There are 13 stages in total of the famous height and cliffs in the world.
In the stages, you will be disturbed in your way by traps, gimmicks and natural phenomenon and also various animals will attack you.
Forum Thread: Vertical Cliff (by SummerTimeStudio)
---
Zombie High Dive
iTunes Description
Take the plunge in Zombie High Dive where the dead get gory for glory. Hubo's got a good head on his shoulders but can he keep it intact?
Execute your dives with the grace of a rotting corpse and try to land with all of your limbs still attached.

Train with Master Zom-lee and practice your spins in Daily and Friend Dives before taking on the big leagues. Your undead competitors talk a good game but don't lose your head (or brains)! You'll have to impress the judges with your technique and if you want to make a splash in the Zombie High Dive Cup.
Forum Thread: Zombie High Dive (by Chillingo)
---
20Q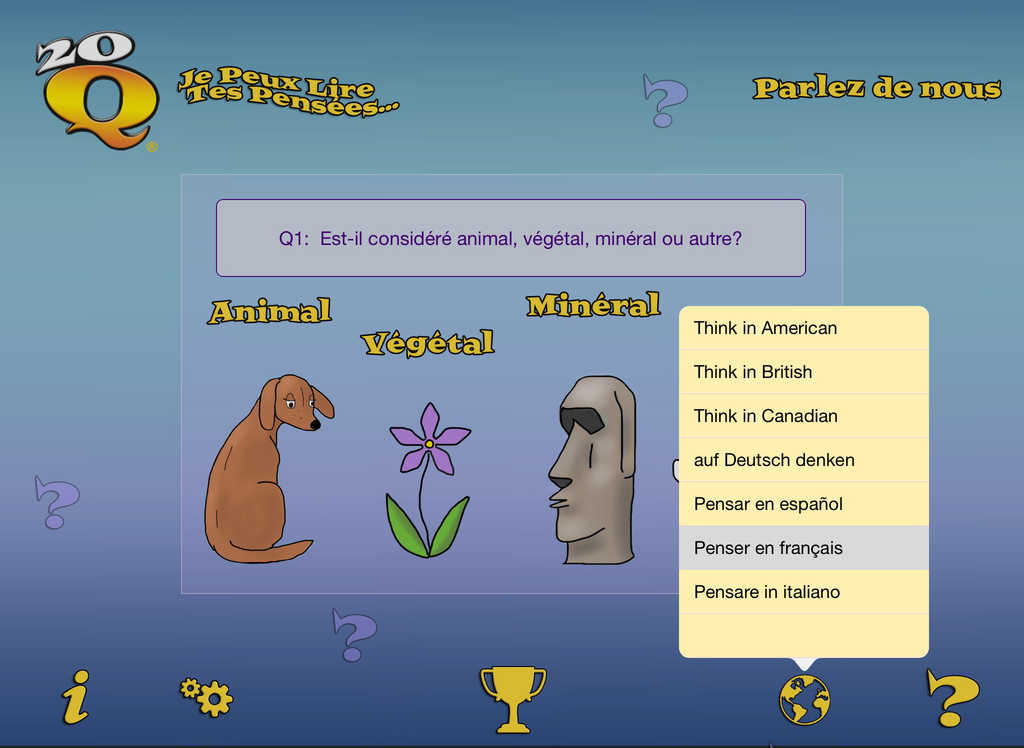 iTunes Description
The makers of the award-winning 20Q® electronic toy bring its eerily accurate artificial intelligence to the iPad. If it doesn't say 20Q how can it read your mind?

You will be constantly amazed at 20Q's spooky ability to know what you're thinking. To play, think of something… anything… then answer a series of twenty questions. If it guesses within twenty questions, it wins. If not, you win! It's hours of fun as you try to stump 20Q. Play alone or use your iPad's AirPlay feature for group play. Can you stump the "all knowing" artificial intelligence of 20Q?
Forum Thread: 20Q (by 20Q.net)
---
99 Challenges!
iTunes Description
EVERY SPLIT SECONDS OF THIS GAME MATTERS!!

Get ready for a super highly reflexive experience that will knock you of your feet!

Try it out yourself and take this 99 IMPOSSIBLE Challenges to set a record to others!!
Forum Thread: 99 Challenges! (by Pine Entertainment)