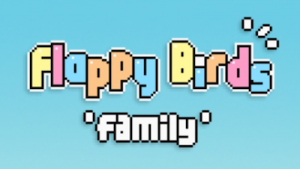 It looks like when Flappy Bird developer Dong Nguyen announced that he was bringing his cult-hit game back in August, he wasn't fooling around. Here it is, just the first day of August, and a revamped version of Flappy Bird has arrived. The only catch is that it's only available on the Amazon Fire TV as of this writing.
The new version is called Flappy Birds Family and it comes with a couple of new features over the original version. First off is a new obstacle in the form of ghosts that must be avoided as you flap through all those pipe gates. The ghost should be familiar to those who have seen Dong Nguyen's Twitter avatar.
The next addition is a Person vs. Person mode, which sees two players battling against each other in a race to the finish, split-screen style. Just like the old days of multiplayer gaming before we had that thing called the internet. It also appears that you have a choice of at least two different kinds of birds to play as, which is probably why the new name Flappy Birds Family has a plural form.
Update: Kotaku has a quick hands-on video of Flappy Birds Family showing the selectable characters, new ghost(?) enemy and even these weird eggs you can collect for… some reason. Check it out.
If I had to wager a guess, I'd say that Flappy Birds Family is a glimpse at what the new version will be when the game is finally re-released for mobile. It's possible that the Person vs. Person multiplayer will extend to online play too, given the online nature of most mobile devices. Unfortunately (or fortunately, if you hate Flappy Bird), we don't know when the new Flappy Bird will debut on platforms other than the Amazon Fire TV. We'll definitely be keeping an eye out for a release date of the new Flappy Bird on mobile though, so stay tuned.
[@lifelower via Polygon]