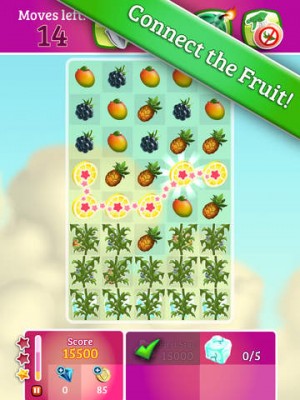 Looking for another Candy Crush-like to play and really love Square Enix? Well, today is your lucky day (particularly if you're Australian), as Squeenix just soft launched Smoothie Swipe in Australia. The game is reasonably popular on Facebook, with just barely shy of half a million likes as of this writing.
First impressions of the game make it seem remarkably similar to most other free to play match three games, with various power-up boosters that clear loads of blocks, additional blockers being thrown in to the mix as you progress through the game, and more. With a fruit theme.
Like most of these games, there's loads of levels. 400 are in the soft launched version, and it's safe to assume they'll consistently be adding more to keep the end-game carrot on a stick far out in front of most players. Square Enix has been an interesting company to watch as they get deeper in to mobile development, and really, I suppose it was only inevitable that they eventually release a Candy Crush-like.
On the bright side, at least they didn't decide to cash in on the Final Fantasy IP with a FF-themed Candy Crush, right?
Australian App Store Link: Smoothie Swipe, Free