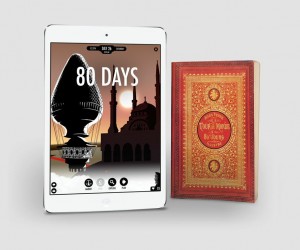 Inkle, the studio behind the excellent interactive gamebook adventures Sorcery! and Sorcery! 2, have a new game hitting the App Store next week called 80 Days. Based on the Jules Verne classic Around the World in Eighty Days, you'll follow Phileas Fogg and his valet Passepartout as they try to make it around the world in an alternate-history, steampunk version of the late 1800s.
There are a multitude of paths you can take, as well as a variety of different vehicles for you to travel in. As with the Sorcery! games, the story unfolds in bits of choose-your-own-path dialogue. You're free to choose your own route around the world, and in a very cool twist there will actually be a live feed of the paths other players are going via an in-game 3D globe. Here's a video from back in May where Inkle explains and shows off ho 80 Days works.
80 Days is set to hit the App Store next week on July 24th for a price of $4.99 with no in-app purchases. I'm a huge fan of both of the Sorcery! games, and the premise of Around the World in Eighty Days should make for a perfect fit in Inkle's brand of gamebook-y adventures. For some discussion on 80 Days, as well as some lovely-looking new screenshots, hit up the thread in our forums.