If you're able to pull yourself away from Battleheart Legacy, which jumped the gun and released last night, then there's a whole bunch of other new iOS games to occupy your time with. If you're a fan of the PlayStation 2 game Dragon Quest VIII, you can now take it with you on the go on your iOS device. It seems to be a pretty faithful port, with the added bonus of one-handed, portrait-oriented gameplay. Also, there's a number of cool puzzle games on the list tonight, as well as Adult Swim's latest Delivery Outlaw which has just launched worldwide following a soft launch. Eli and I actually streamed many of these new games earlier today, so check out the archive video if you missed it. But seriously, just make sure you grab Battleheart Legacy, it's stupidly good.
---
Bardadum: The Kingdom Roads
iTunes Description
Once upon a time…

Bardadum: The Kingdom Roads, a puzzle video game set in a humoristic medieval world. The game is simple, accessible, and based upon the player's common sense and observation.
Follow the story of two friends: a bard and a knight traveling through the Bardadum kingdom. May their quest become yours!
Forum Thread: Bardadum: The Kingdom Roads (by Emedion)
---
Battleheart Legacy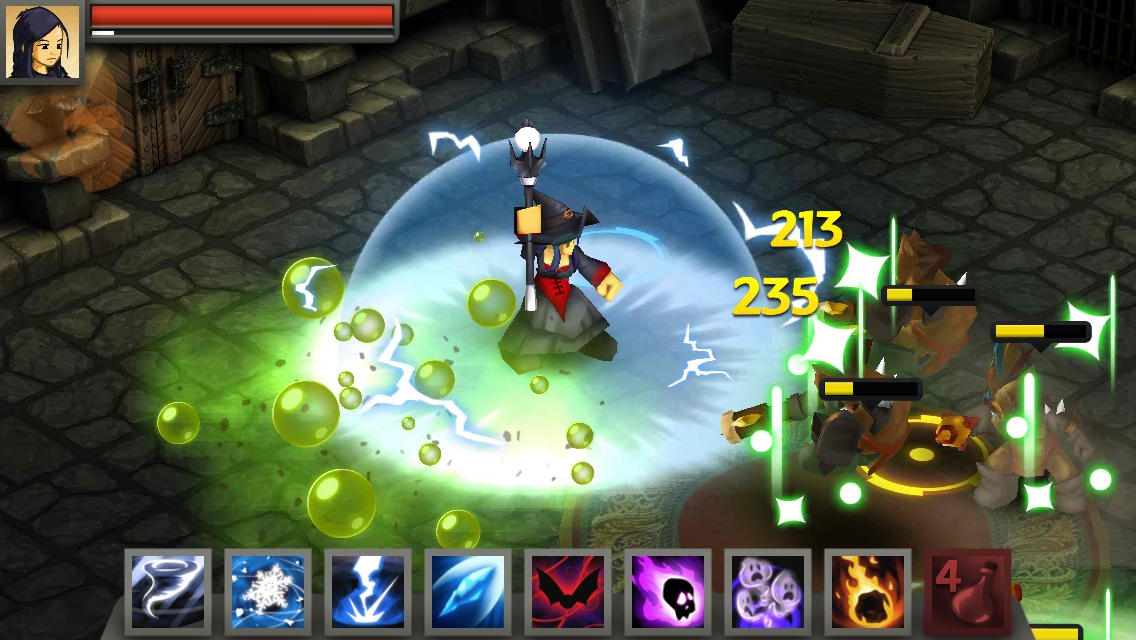 iTunes Description
The spirit of Battleheart returns, re-imagined! In Battleheart Legacy, you will explore a rich and detailed fantasy world, customize your unique hero with dozens of powerful skills and items, do battle with hordes of enemies, encounter quirky characters and discover the stories of a troubled realm. Will you become a powerful wizard, or a notorious rogue? A noble knight, or a savage barbarian? How will you forge your legacy?
Forum Thread: Battleheart Legacy (by Mika Mobile)
---
Beware Planet Earth!
iTunes Description
Heed the warning from the red planet, Earthlings! The Martians are about to strike our beloved planet to take our single most valuable resource: cows! Protect Barney's "ladies" in this colorful and whimsical tower defense game!
Forum Thread: Beware Planet Earth! (by Bandai Namco Games Europe)
---
Brazil 2014 Kebab Cart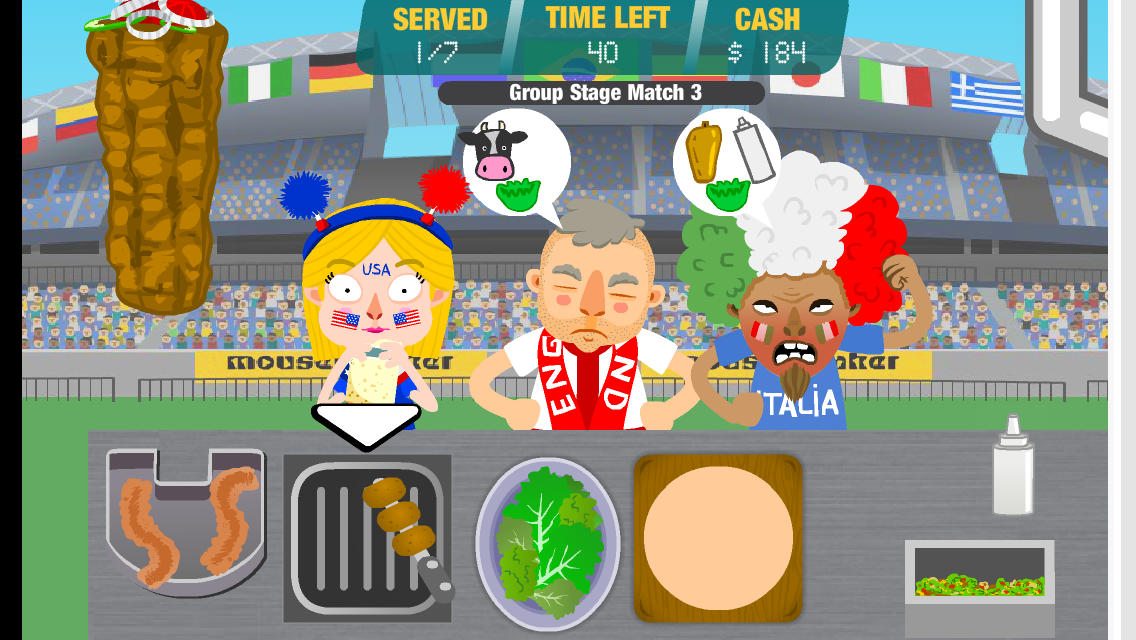 iTunes Description
Congratulations ! You have been granted a licence to serve kebabs to the Brazil 2014 football crowds. Serve them up what they want before they lose it and you lose you prime pitch-side street food stall.

Enjoy multiple meats, lots of crazy characters & sizzling arcade action in this football cooking game !
Forum Thread: Brazil 2014 Kebab Cart (by Mousebreaker)
---
Delivery Outlaw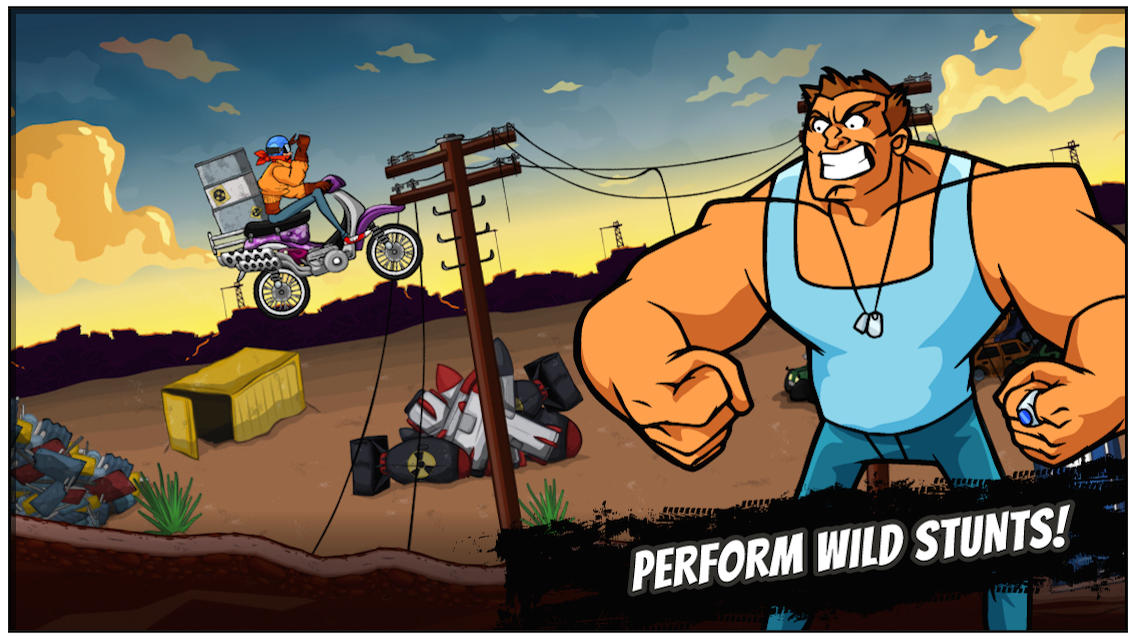 iTunes Desctiption
Crashing your race-car into the courthouse was bad…But community service as delivery boy to a crime boss? KIND OF AWESOME. So hop behind the wheel and put the pedal to the metal as JACK GUNNIT, disgraced daredevil-turned-deliveryboy, forced off-road and outside the law by the mysterious LILY BREAKER.

You'll need to keep your skills sharp and your thumbs twitchy as you launch, flip and tumble your fragile and OFTEN LETHAL cargo through nightmarish terrain and deadly pitfalls.

The clock is ticking, so be quick and handle with care— especially over the dynamite pits.
Forum Thread: Delivery Outlaw – (by adult swim)
---
Don't Eat People!
iTunes Description
It's feeding time in the village! That means yummy sacrificial animals just for your big monster mouth. But be careful not to eat any people…or else! In Don't Eat People, you control several hungry monsters whose appetite can only be satisfied by a record-breaking number of tasty bulls… but for some reason villagers are hurling themselves off the cliff along with the animals.

You have one simple goal… DON'T EAT PEOPLE!

Earn points for every bull you eat, and bonuses for special bulls that appear at random. The controls are easy – just tap and hold to close the monster's mouth and watch the villagers bounce off your head with hilarious results. If you eat a single person, it's game over!
Forum Thread: Don't Eat People – (by Piasa Games, LLC)
---
Dragon Quest VIII
iTunes Description
The 8th instalment in the legendary DRAGON QUEST series is now even easier to enjoy!

The phenomenally popular DRAGON QUEST VIII has sold 4.9 million units worldwide, and now it's coming to the iPhone and iPad for the first time! This was the first title in the series to be presented in full 3D, and its exquisitely detailed world has to be seen to be believed! Set off on an unforgettable adventure with Yangus, the bandit with a heart of gold, Jessica, the high-born magical minx, and Angelo, knight and lothario, by your side!

Everything you need is here in a single package! Once the app is downloaded, there's no more to pay, as every last shred of content is yours to enjoy. So get ready to play the epic that is DRAGON QUEST VIII from beginning to end—and far beyond!
Forum Thread: Dragon Quest VIII (by Square Enix)
---
Final Kick
iTunes Description
Enjoy the tense moments of the penalty shots as if you were playing in the World Cup final, competing against the best teams, making the most spectacular goals and saves and along with graphics that will make you feel as if you were sitting in the first row in Maracan" Stadium. Perfect your special shots, shoot with special effects, fool your opponent and make the most impressive saves, controlling the ball with one finger, and become the Brazil 2014 Champion.
Forum Thread: Final Kick: The best penalty shootout – (By Ivanovich Games)
---
har-mon-y 2
iTunes Description
An immersive puzzle game of beautiful color palettes and beautiful music… blended in perfect harmony. Relax your mind with over two full hours of mesmerizing ambient music by Hammock – including rare and unreleased tracks! Music playlists are arranged harmoniously with the mood and style of each set of colorful puzzles…

We love color and har•mo•ny 2 gives you color in abundance. Hundreds of handcrafted levels, rich with color and organized into paths for your exploration. Awaken your mind to the bold colors of "refresh", relax to the peaceful pastels of "dream" or play the darker tones of "twilight" before you go to sleep…

Each level becomes a journey with a destination as you strategically reassemble each color palette. Make a wrong move and you may take one step back. Venture too far the wrong way and you must start over. See how you rank in Game Center and challenge your friends! How far can you get?
Forum Thread: har-mo-ny 2 (by BorderLeap)
---
iON Bond
iTunes Description
iON Bond is a puzzle game about bonding and colliding subatomic particles.

Form bonds to create forces between particles, and collide them together inside a simulated vacuum to and create beautiful cloud particle collisions and advance through the stages.

– 70 Levels

– Numerous particle types and features which bend the laws of physics

– Secret game mode for anyone who manages to get a perfect score
Forum Thread: iON Bond (by Stewart Hogarth)
---
Marcus Level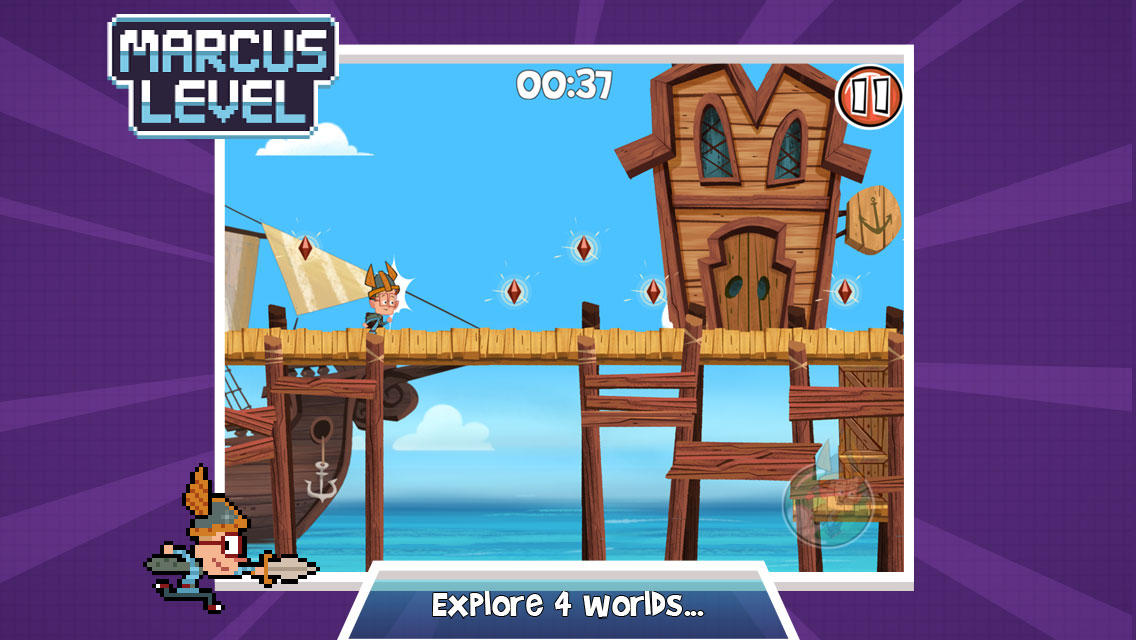 iTunes Description
Marcus thought that while his parents were away, he could play his favorite videogame "Gorbar and The Valley of the Seven Light Towers". Unfortunately, he got transported inside the videogame itself !

To avoid the Game Over and get a chance to come back to his world, Marcus will have to finish the game and free the Princess Aria from the villain Vipkrad. Discover the universe of the Marcus Level cartoon through this challenging runner.
Forum Thread: Marcus Level (by MondoTV France)
---
Minimo
iTunes Description
Brace yourself for the ultimate tap experience!

Minimo combines "flap" and shooter mechanics. This minimalistic game is challenging, yet rewarding.
The levels and the music are generated as you play, every try has something new to offer.
Forum Thread: Minimo (by Fabuloso Games)
---
Once Upon A Time: Man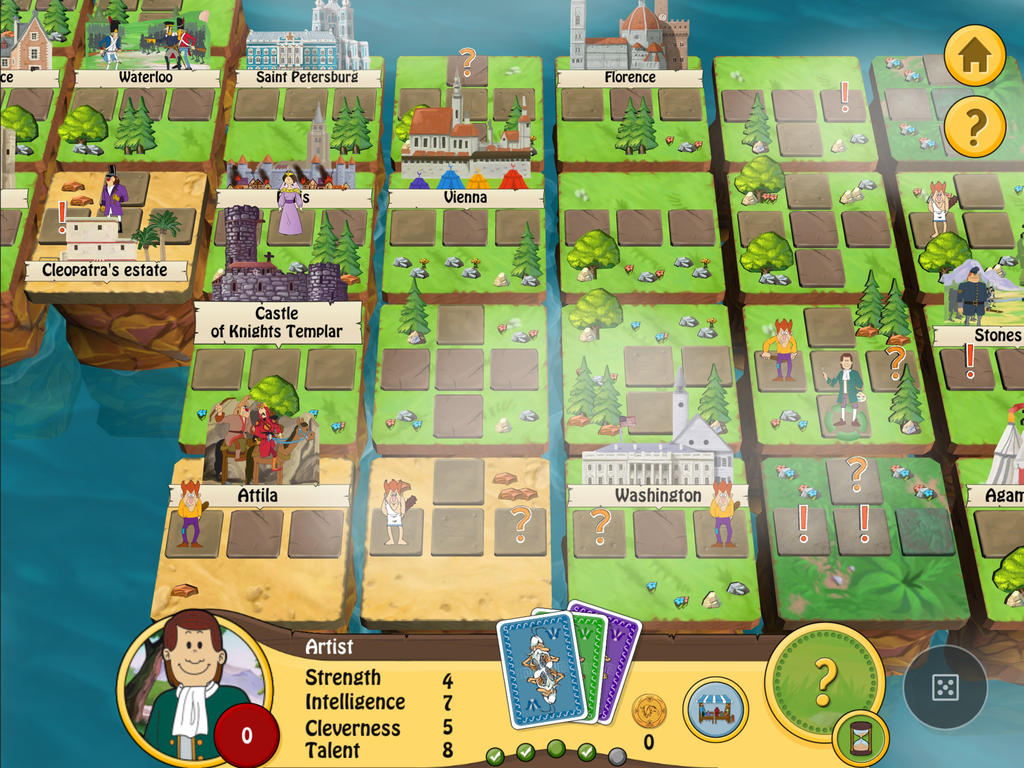 iTunes Description
Once Upon a Time… Man is a stimulating interactive brain board game, where kids and adults can check their knowledge of history and continue learning. At the very beginning, each player choosestheir owncharacter to play with along with the DICE+ (which creates further excitement, but is not mandatory) to begin the journey through the dynamically generated map, which is different in every game. The main goal of the game is to fulfil the quests related to famous historical characters and events, which are drawn at the beginning of the game.Finishing quests give you ducats, when you are the first to tackle all of them you are the victorious winner of the game! Don't expect and easyroad to victory as its full of obstacles and unexpected events. Adding another layer of strategy with the use of power ups and boosters, other players can tacticallyderange you from your trail or strengthen their heroes and his statistics!
Forum Thread: Once Upon A Time: Man (by Synergy-IT)
---
Pablo Cavarez
iTunes Description
Pablo Cavarez: Sliding Puzzle Explorer is an original puzzle game, as easy and immediate as the Fifteen puzzle, but fun and deep as the best puzzle games. The goal of each level is to move tiles to create a safe route to guide Pablo to the exit, while collecting treasures and avoiding traps.
Forum Thread: Pablo Cavarez – (By Paolo Taje')
---
Perfect Paths
iTunes Description
Perfect Paths is amazing puzzle solving game where you create paths and add other instructions to move blocks to their designated positions. Blocks can be combined or separated. These simple rules create interesting environment, where each puzzle can be solved in many different ways.
Forum Thread: Perfect Paths (by Hyperbolic Magnetism)
---
Pogo Plumber
iTunes Description
Help our scruffy hero, Pogo, bounce around the boroughs of Brooklyn on his trusty plunger. Avoid obstacles and leap tall buildings in a single pogo, while plunging your way through a mix of pesky enemies. You'll battle everything from ferocious turtles and blood sucking bats, to massive man-eating plants!

Chain pogos between multiple enemies to jump super high, collect coins, get power-ups and earn special accessories and new pumped-up plungers for SUPER pogo-ing!
Forum Thread: Pogo Plumber: Retro Side-Scroller (by Apptly LLC)
---
Romans In My Carpet!
iTunes Description
Now for something completely different from the developers of the Ravenmark saga. We've got Romans In My Carpet! – an absurd MULTIPLAYER turn-based strategy game in vivid 16-bit pixel glory! Stare at a screenful of mite-sized Roman soldiers charge into battle on spider-powered chariots. This is lush 2D life, perfected to a retro-loving science.

Engage in turn-based wargaming by way of Monty Python, and feel good about cutting up your foes while catching all of our smart, smart japes. Think you're a strategic genius? Challenge your friends in asynchronous multiplayer! Tell them it was just a flesh wound through in-battle chat. Bring your own taunts. While waiting in between multiplayer matches, continue honing your wits in the single-player campaign, where you do battle against the nefarious AI that lives on our server. Play as both Imperial scum or the rather nekkid tribes of Britannia!

Romans In My Carpet! We're making bedbugs as adorable as a button.
Forum Thread: Romans In My Carpet! (by Witching Hour Studios)
---
RubPix
iTunes Description
Rubpix is a picture-forming sliding block puzzle game from the creator of Pretentious Game.

It's as awesome as it is simple. Imagine a Rubik's cube with pixels, hence RubPix 😀 !

Your goal is to recreate a picture depicted above your RubPix.
As you may expect some are pretty tricky.

150 puzzles, gotta solve them all!
Forum Thread: RubPix (by Bulkypix)
---
Salt & Pepper: A Physics Game
iTunes Description
Salt & Pepper is an exclusive iOS physics game.

Simply draw to guide enough salt and pepper to the white and black bowls. When enough salt and pepper have reached the bowls, a star will appear. The level is complete when all bowls have a star.

The salt and pepper must reach their bowls.

To complete a level: etch a unique pathway to guide the white salt and black pepper to their bowls until a star appears. In this physics game, there are no specific paths or patterns to complete a level as each level will have countless ways to win.
Forum Thread: Salt & Pepper: A Physics Game (by Cartez Augustus)
---
Super Soccer Champs 14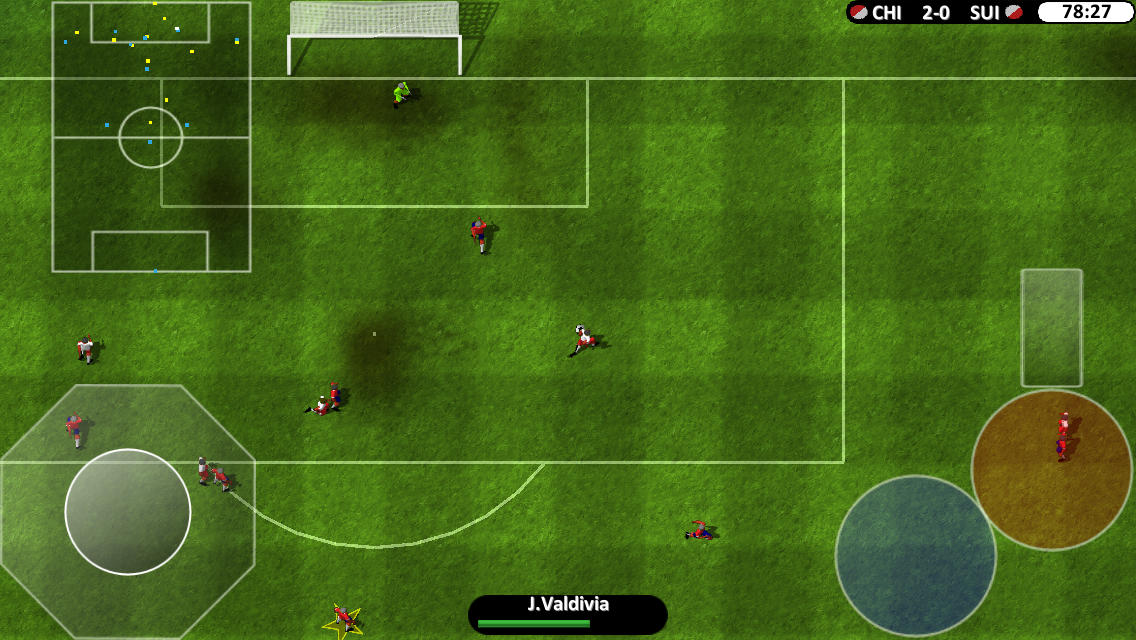 iTunes Description
The king of Retro Soccer is back, new and improved!

Successor to the critically acclaimed Super Soccer Champs 2013, now with more leagues, a deeper Career mode, and a host of graphics, sound and gameplay improvements. World Of Soccer Champs mode sees you work your way up from managing the minnows, with 4 divisions of English Football, French, German, Italian, Spanish, Scottish and Japanese Leagues. Transfers, job offers, promotion and relegation! Build your squad to deal with injuries and suspensions, it's all here.

But most importantly, the most sensible and kick-off-est footy controls going, let you bang in the goals like a Champ!
Forum Thread: S.S.C. '14 : Retro style Soccer at it's best
---
Trainz Simulator 2
iTunes Description
Trainz Simulator 2 for iPad is the Next-generation Train Sim for mobile!

TS2 offers all the original features of Trainz Simulator while pushing the boundaries of mobile once more with many new features for you to experience. Based on the successful PC & Mac franchise, Trainz Simulator 2 allows you to Build and operate the railroad of your dreams.

Trainz Simulator 2 for iPad includes everything you need to build and operate your own dream railroad. You can build a fun layout in minutes, faithfully recreate a railroad from days gone by or develop a fully-fledged prototypical route; the choice is yours.
Forum Thread: Trainz Simulator 2 (by N3V Games)
---
Truffle Saga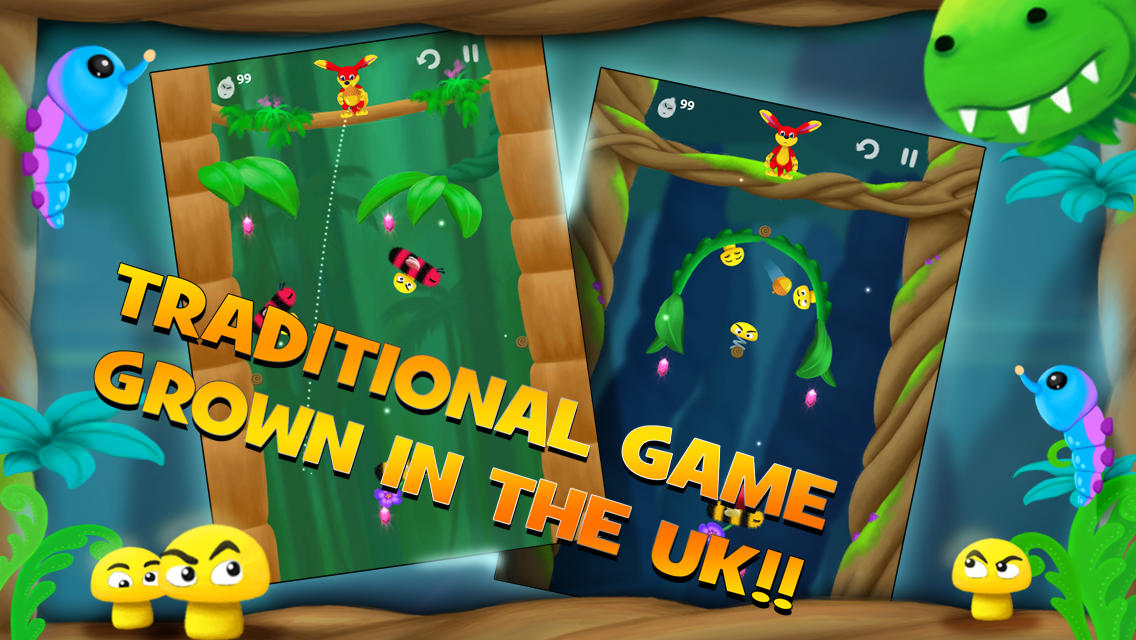 iTunes Description
From the makers of Commando Jack, comes Truffle Saga!

Take Truffle on a cool adventure to rid the forest of angry Mushrooms in a fun addicting physics puzzler!

Truffle needs your help, and has acorns ready to throw at the pesky Mushrooms to destroy them! You have to do it in one shot, I bet you can't, though Truffle will be happy if you do!

Stop the Mushrooms taking over the forest now in this addictive saga!
Forum Thread: Truffle Saga (by Colossal Games)
---
Warfare Nations
iTunes Description
Warfare Nations is an epic and addictive combat strategy game filled with exciting adventures and explosive fun. Train your troops, build your Outpost, and battle with thousands of other players online!

The Great war rages around! LEAD your TROOPS, PILOT your ARMORS and BLOW your ENEMIES sky high!

It's Europe and the world powers have descended into world war. Your troops need a leader at their most desperate hour. Could you be that leader? As the world holds its breath, the decisions are yours! Put on your boots and take to the mud and trenches of Europe. Build a base and bring your rivals to their knees!
Forum Thread: Warfare Nations (by VOLV)