Remember Tom & Jerry? That kid's cartoon where the little mouse always manages to screw over the tom cat despite all his attempts? Well, that's not what this game is about, but it certainly has it's similarities. Axl & Tuna ($0.99) follows the story of a happy-go-lucky robot who is merrily cruising along on his roller-coaster style ride only to be constantly harassed by his virtual nemesis who is attempting to de-rail his enjoyment at every opportunity.
At it's core, the game is a fast-paced, feel-good, high-speed runner, which constantly keeps you on your toes. Its frantic style of play means you'll need some fast reflexes and a good eye for obstacles as throughout each run-through you can expect the usual craziness; ricocheting off robots, collecting random power-ups, and performing air-spins all while trying to keep control of your carefree mechanical character. At various intervals, "Tuna" will pop up, and tapping him at the rightful time will earn you extra power-ups and bonuses.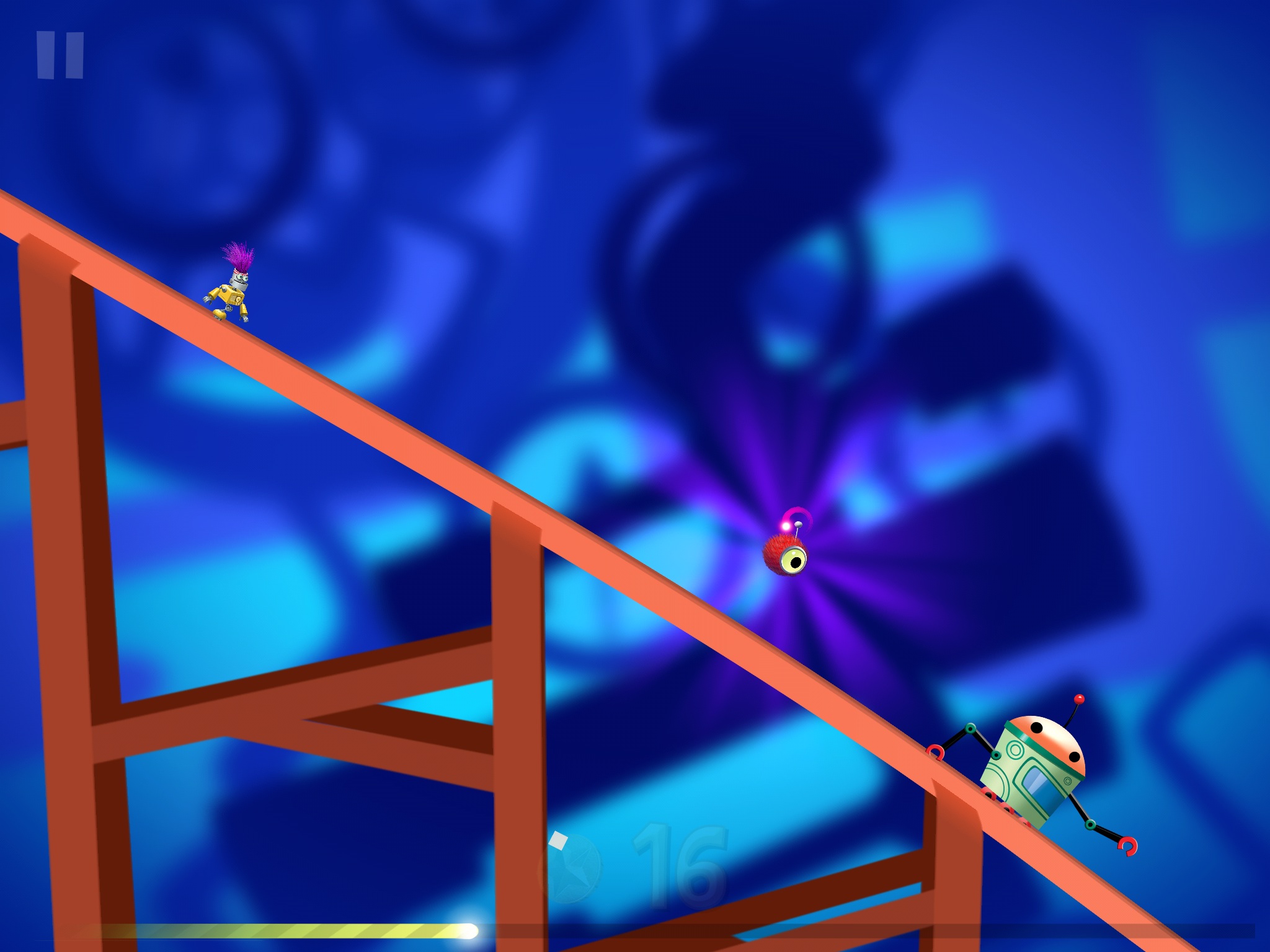 The controls are fairly easy to get to grips with, but the game itself can be pretty tricky at times. Since it's such a fast-paced game, it can take a little longer to ease yourself straight into it, but not in such a way that it becomes overly frustrating.
It's always refreshing when a game of the endless runner genre can offer something new, and Axl & Tuna definitely tries to stand out by mixing things up a little. Every day you return to the game, the tracks will have changed, which manages to keep gameplay refreshing and exciting, and gives you something new to keep returning to.
Throughout each run-through you'll collect coins which can be accumulated to pay for repairs to continue from that point forward should you make the inevitable mistake of crashing or messing up. However, repairs will set you back a grand 8000 coins, which can take some time to acquire, but thankfully the game will give players a second chance by default if they crash. Ultimately the main goal of the game is to continuously override and beat your high score, which can keep things entertaining, at least for a little while.
Some of Axl & Tuna's best qualities shine through in the highly smooth animations and its incredibly eye-catching display of bright vivid color, that along with the upbeat and light-hearted soundtrack make for one rather delightful package. Overall, it's a well executed game that fans of endless runners will likely enjoy and keep returning to. Though it would be somewhat nice if you could compete against your friends, it's not something that would be too difficult to implement in future.