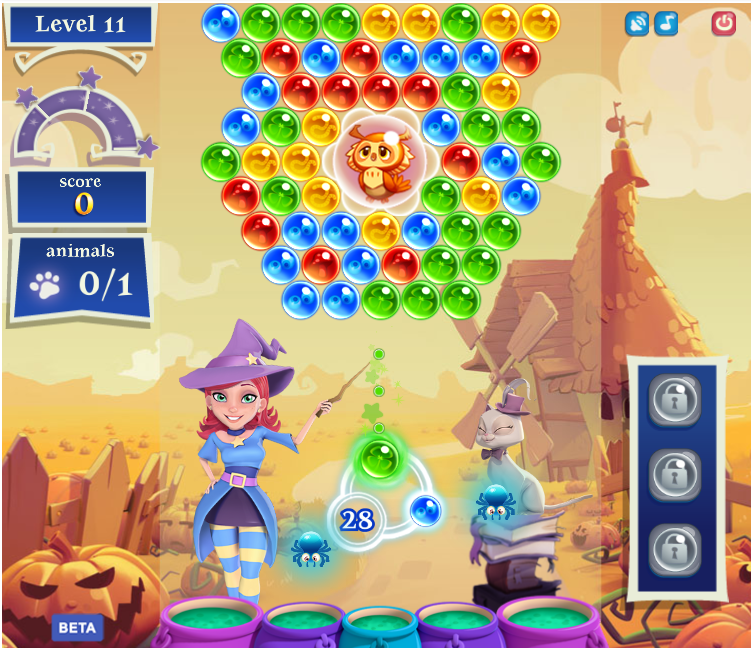 Yesterday at King's studio in Barcelona I got my hands on Bubble Witch Saga 2, and, well, if you like the original Bubble Witch Saga (Free), you're going to be in for a treat. Like the original, it's a bubble shooter in the same vein of Snood ($0.99), Bust-a-Move ($4.99) and tons others. It's got the look and feel of a modern King game, compared to the original Bubble Witch Saga's not-so-cute witches along with the power up, lives, and level structure you're used to if you've played any Saga game.
Bubble Witch Saga 2 spices things up through adding multiple game modes aside from the typical pop all the bubbles gameplay. There's a level type where you need to rescue ghosts from a circular blob of bubbles that rotates like a wheel when it's hit. Additionally, similar to Pet Rescue Saga (Free), there's a rescue mode where the goal is to pop enough bubbles to free random animals that are trapped inside bubbles themselves.
Here's some videos of the game in action:
Like all sequels, Bubble Witch Saga 2 is definitely more of the same… But when the core material you're working with from the original is so strong, is that a bad thing? Either way, the game is launching worldwide "soon" according to King.