It may seem like endless runners are a crowded genre, and in fact, you'd probably be right, but once in a while there comes along one entry that stands apart from the rest of the crowd. Whether Gear Jack: Black Hole (Free) is worthy of that title remains to be seen (and telling you now would spoil the beginning of the review), but the vibrant stylish-looking graphics drew me in almost straight away, so in fact, the outlook is already fairly positive.
A loose throwback to the ever-popular slide n' jump platformer Gear Jack, in this new entry from Cresent Moon Games, you once again play as a cute little robotic dude who this time has managed to get himself trapped inside a series of black holes, and you're tasked with rescuing him by world-hopping your way through an infinite time and space. Falling rocks, huge spikes, spinning saw blades, and cliffs are just some of the hazards that you'll have to avoid en-route. Any escape is done in vain.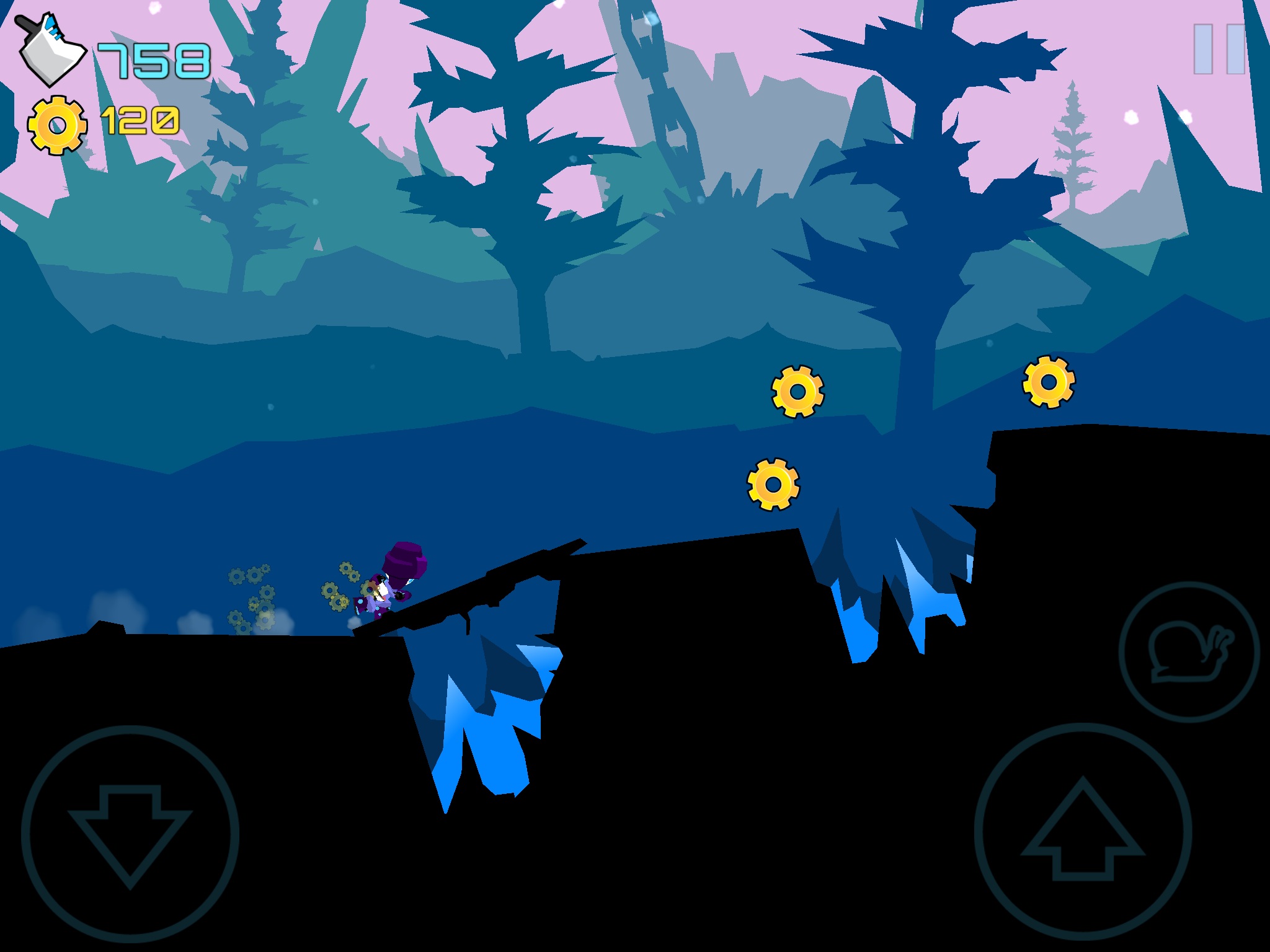 The controls are fairly simple and altogether self-explanatory, but require some fast reflexes on all counts. The on-screen icons control jumping, rolling and slowing your run to a walk by tapping on the "snail" icon. Hops can sometimes feel a little twitchy and out of control, making it difficult to judge where our robot guy will land, and results can therefore be hit or miss, especially at such a quickened pace. Double jumping requires some fairly adequate timing, and it can be slightly awkward at the best of times. What puzzled me most though was the snail-crawling walk, which instead feels like an unnecessary asset. It's not something you'll find yourself utilising much, by any means.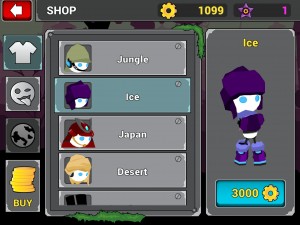 Because Gear Jack: Black Hole is essentially a free-to-play game, it relies on its own in-game currency in order to progress. That said, the game can be played fairly frequently without the worry of waiting for regeneration times or anything similar, and it's largely generous, where its main currency is concerned. In each playthrough, players collect gears in order to exchange them in the Shop for various goods. These goods come in form of "poses", and "costumes". Though you can accumulate gears reasonably quickly, none of these items come without a rather hefty price tag, so you'll be saving for some time before getting your mitts on the resources.
In the Shop, you can also purchase Talents using the same currency, for which each will aid you in some respect in your play-throughs. The second currency is "stars", and whilst they can be quite useful in helping you resurrect yourself after a swift death, they're fairly unobtainable for the most part. Nonetheless, your death is never really in vain, as the level regenerates randomly each time, which keeps things slightly appealing nonetheless.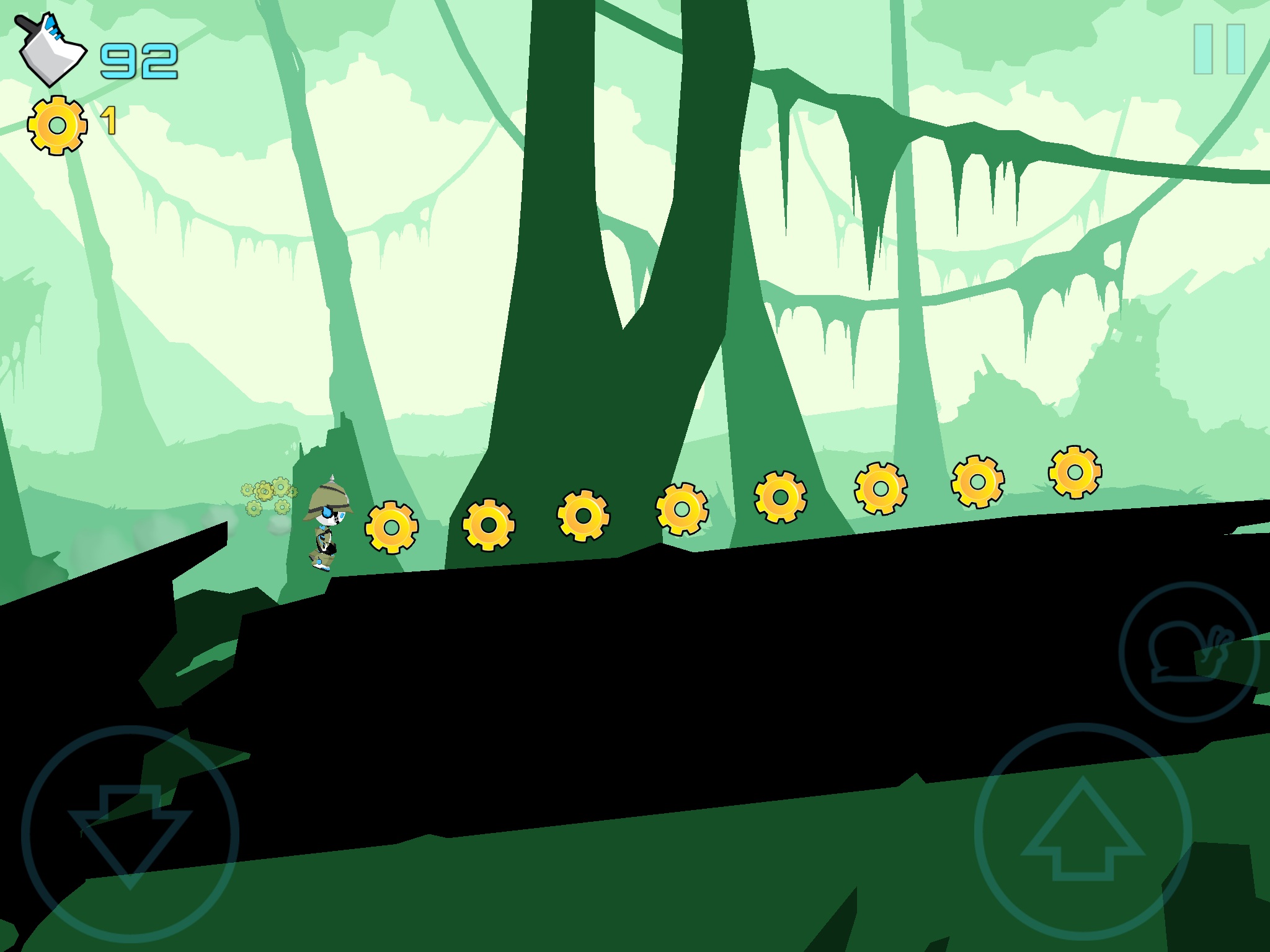 One of the game's better aspects is its no-nonsense attitude, which upon launch throws you straight into the action without any fuss. To keep things further interesting, various missions are introduced as you advance, earning you bonus rewards at the end of each playthrough. This can include anything from visiting a different environment more than once, sliding your way along two cables, or just simply accomplishing four double jumps in a row. There's also the opportunity to grab an instant power-up as you're running, which automatically grants you that specific talent for a limited time.
Gear Jack: Black Hole may be a little bit tiresome after some time, and despite a few new interesting features up its sleeve, it lacks that oomph to keep one entertained in the long run. A solid attempt at an overly exhausted genre, but nothing exceptional, despite its fun factor.