When we found out earlier this week that Injustice: Gods Among Us (Free) was getting an online multiplayer of some sort, I was ecstatic. This is easily amongst my favorite iOS games and adding in online functionality would be a great way to keep me playing even more than I already do. Well, it came much quicker than I'd imagined, but the Injustice version 2.0 update is out right now, and not only does it include online multiplayer but it's an entire refresh of the game and includes a whole bunch of awesome new features.
First the online multiplayer. I didn't actually think it would be a real-time multiplayer mode, rather something along the lines of ghost matches or leaderboard battling, and that's pretty much what we got. Just because it's not actual real-time fighting doesn't mean it's not a blast, though. You'll choose your team of three superheroes and auto-match against an opponent's team of three.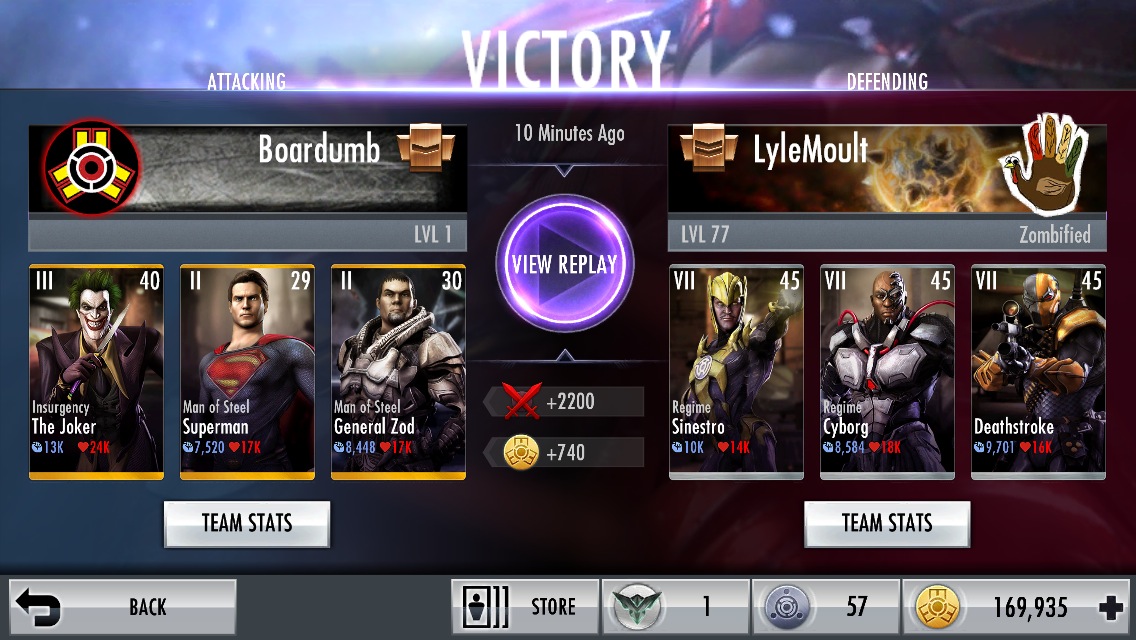 When you're actually signed into the online portion of the game, you're on "Offense" and whenever you aren't signed in you're on "Defense." The auto-matching pairs you up against an offline "Defense" team, and when you yourself aren't online other people will battle your team. It's hard to tell if your opponent's team is strictly default AI controlled or if it's based on that person's play styles, kind of like fighting against their ghost. Either way, it's super fun and much more dynamic than fighting the single-player AI over and over. When battling an opponent you can choose between doing a single match, three matches, or five against them, with the higher number of matches earning you better rewards.
Battling online will contribute to an overall level for your profile, which is ranked on a leaderboard. The online portion is broken up into a season, which currently is going on for the next eleven days, and there's an overall leaderboard too which ranks you based on your performance across all seasons. You can give yourself an online handle for battling online, and even unlock new emblems as you level up which opponents will see when you play them. Finally, in a very cool touch, you can even choose to watch a replay of your previous fight.
Another big change in version 2.0 of Injustice is the new Gear cards. You earn Gear cards by playing online, or by purchasing packs from the store using in-game currency. Depending on the level of a character, you can equip up to three different Gear cards on them and they'll add modifiers and bonus abilities to that character. On top of that you can even break down and fuse together different Gear cards to create or power-up others. I haven't earned any Gear cards yet in the online battles I've played, but I sprung for a pack in the store just to see how they work and I can already tell that mixing and matching characters with different Gear will add an entirely new level of strategy and customization to the game.
In addition to everything I've just mentioned, this update also includes a bunch of new characters in the shop. They are: Animated Harley Quinn, Batman Returns Catwoman, Arrow Green Arrow, New 52 Nightwing, Green Lantern Sinestro and Krypto Lex Luthor. According to the update text Shazam should be in the mix somewhere as well, though I didn't see that card in the store. However, although he's not listed in the update notes, there is a Teen Titan Cyborg in the store that I haven't seen before. Perhaps they swapped those two on accident? Or Shazam is hiding somewhere, waiting to be unlocked? There's a whole new tier of battles added to the single-player campaign, so perhaps he's a reward for beating that. At any rate, it's really nice to have a decent number of new characters all at once like this.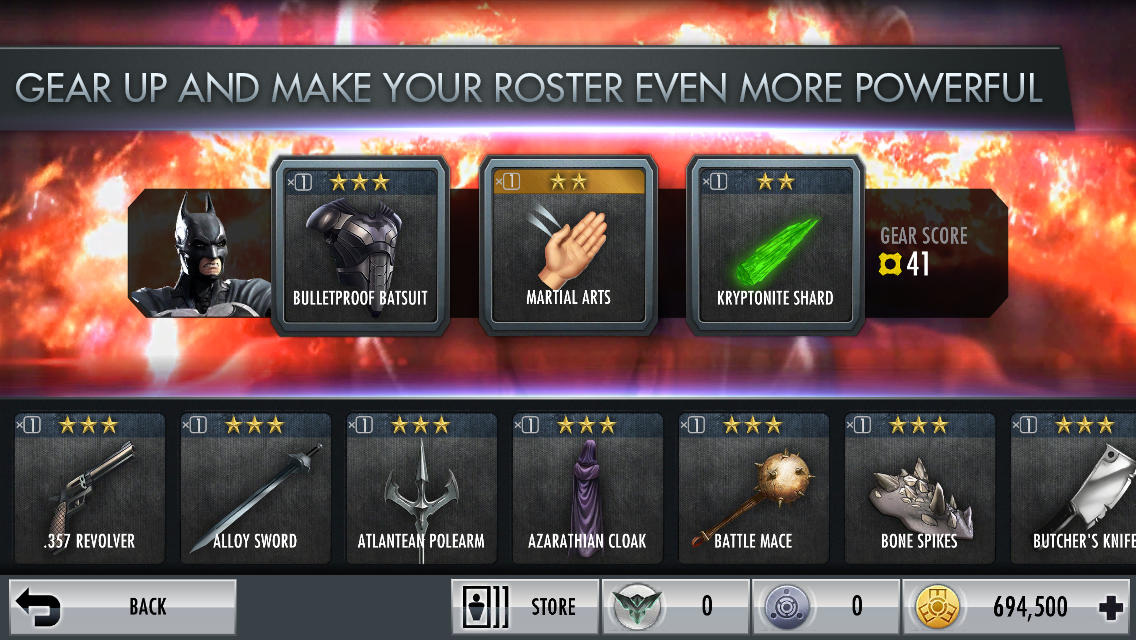 Finally, there are many minor improvements throughout Injustice version 2.0. The UI has received a nice visual touchup, as have the many character cards which seem much crisper and more detailed than they did before. The whole app just feels like it's had a major tune-up, and despite some noticeable loading times during the online portions, the game feels much snappier and solid all around. Version 2.0 of Injustice is even more than I ever expected, and I'm very happy and excited to spend my days battling online, messing with the new Gear cards, and collecting all the new characters. If you're an Injustice fan as well then head on over to the App Store and download the version 2.0 update, and perhaps our paths will cross online.