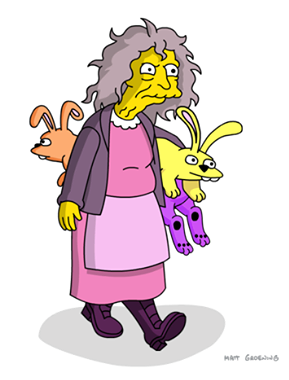 It's hard to believe that EA's The Simpsons: Tapped Out (Free) has been on the App Store for more than two years, but as of this past March 1st, that is indeed the case. During that time the game has consistently been in the top charts, especially the top grossing chart. While there isn't a whole lot of "game" to The Simpsons: Tapped Out, it's undoubtedly dripping with excellent Simpsons fan service, which is a large part as to why it's done so well. EA has also been great about updating Tapped Out, adding new features and special events to the game that coincide with pretty much every major holiday. This Sunday is Easter, and again Tapped Out has received a new update to celebrate the occasion.
Similar to the snakes that invaded the game for Whacking Day, Springfield has been overrun with bloodthirsty bunnies, and it's up to you to stun the little buggers into submission. There's also a massive Easter Egg hunt going on, which you can collect and trade with other Tapped Out'ers for special Easter prizes. New characters include Crazy Cat Lady, a personal favorite of mine, and the Catholic priest Father Sean. There's also a couple of new buildings to build, the Banana Republic riff Banana Dictatorship and the happening Mexican food spot Johnny Fiestas. Finally, there's a new quest where Lisa investigates why bunny rabbits are laying eggs (they don't normally lay eggs?).
Whether you love it or hate it, The Simpsons: Tapped Out has done a fantastic job of consistently adding new content for its fans, so if you fall into that "fan" category make sure you're updated to the latest version and check out the new Easter content.