It's new iOS game time, and it's actually a pretty fantastic week if you enjoy good video games. The long-awaited return of RBI Baseball offers throwback arcadey baseball gaming exactly as promised, Blackmoor is an action platformer with personality in spades, and Wind-up Knight 2 is the sequel to one of my all-time favorites. And that's just a sampling, there's tons of other interesting stuff in the list below. Also, Family Guy and Trials Frontier are supposed to be out today, but haven't hit the US App Store yet, so we'll keep our eye on that. Eli streamed many of these titles earlier today, so be sure to check out those vids as well as the forum links below to see what's up with today's batch of new releases.
---
Blackmoor
iTunes Description
Remember a long time ago when fighting games were fun and had good controls?

Blackmoor ditches the virtual DPad and features fast paced platformer action with combos, special moves and tons of boss fights. A game of ghosts, goblins and streetfighting from the old school.

Long ago the minions of the dark lord Blackmoor forged a Talisman that would, when the time was right, return him to human form and… i dunno… take over the world for no reason…. It was kept in the depths of hell until a valiant band of crusaders stole it. Your mission is to destroy the talisman before the instruments of death reach you.
Forum Thread: Blackmoor (by Mooff Games)
---
Breakfinity
iTunes Description
An all new brick smashing game with some crazy twists! Break your way through to escape to the next level before the wall crushes you! Insane bosses every 5th level! It's an infinite challenge!
Forum Thread: BREAKFINITY (by Phil Hassey)
---
Colourfill
iTunes Description
Slick geometry game for the iPhone. A modern take on the classic Qix arcade game. Simple, fresh and addictive gameplay!

-40 different puzzles from easy to really challenging
-5 different types of enemies each with its unique behavior
-5 different power-ups
-18 achievements and more coming soon..
Forum Thread: Colourfill (by Nicolas Pietrowski)
---
David.
iTunes Description
David. // is a game. A game about physics and enemies. A game about struggles and life. A game about David.

You play David, an awfully small abstracted chosen hero tossed into a blissfully simple world overrun by giant culminations of evil physics-beasts. As David, you are given a slingshot-esque gift that you will have to use to conquer your colossus foes. Hold, aim, and fling to attack (Angry Birds™ style!).
Forum Thread: David. (By Andrew Armstrong)
---
Dungeon Quest
iTunes Description
Embark on a journey to find the best loot and become the most powerful Hero in this free-to-play Action RPG. Featuring random loot, random dungeons, and 4 Acts each with their own legendary Boss guarding it. Journey through 200 floors of increasingly difficult enemies while collecting the best weapons possible and compete with your friends on our in-game Leaderboards.

Equip your Wizard or Warrior with infinitely customizable weapons and armor to help destroy the elemental evils plaguing the land. There are always new ways to vanquish your foes! Upgrade your gear with our Enchanting system and customize your character with our gear-based skill and talent systems.
Forum Thread: Dungeon Quest (by Shiny Box Games)
---
Fighting Fantasy: Starship Traveller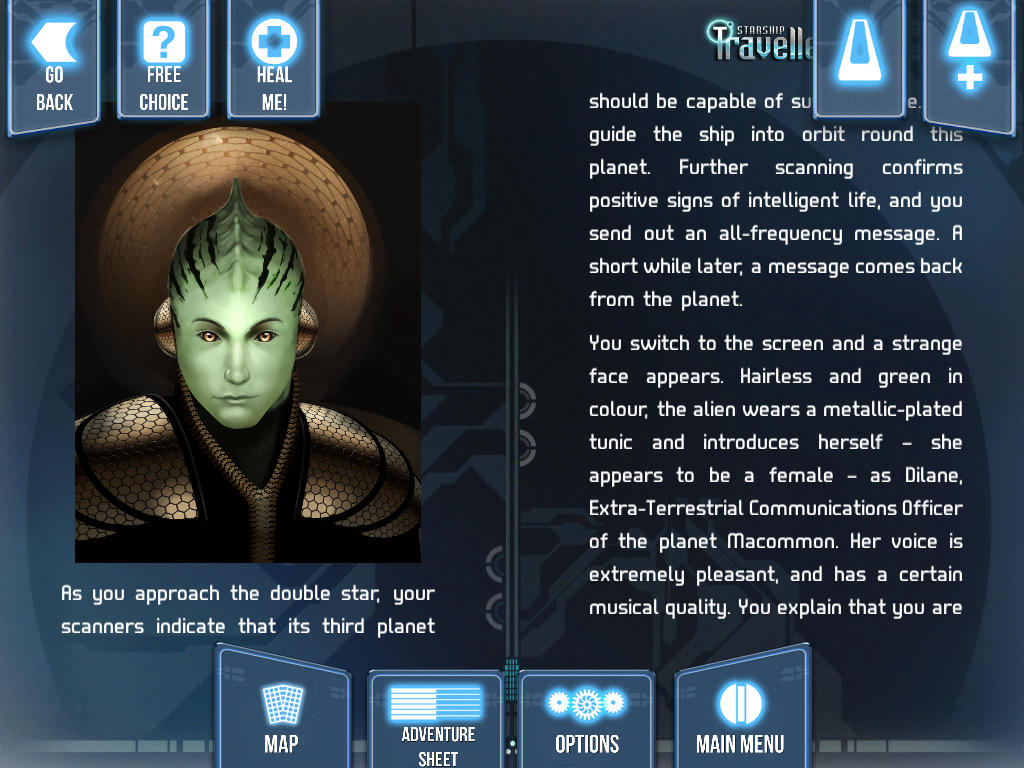 iTunes Description
Steve Jackson and Tin Man Games present Starship Traveller – an adventure of the far future in which YOU are the hero!

Sucked through the appalling nightmare of the Seltsian Void, the starship Traveller emerges at the other side of the black hole into an unknown universe. YOU are the captain of the Traveller, and her fate lies in your hands. Will you be able to discover the way back to Earth from the alien peoples and planets you encounter, or will you and your crew be doomed to roam uncharted space forever?
Forum Thread: Fighting Fantasy: Starship Traveller (by Tin Man Games)
---
FlappyBall for Sphero
iTunes Description
What if your favorite robotic ball grew wings?

Gently shake Sphero to navigate through a never-ending gauntlet of tubes and see how far you can get. Earn Sphero medals as you pass gates 5, 10, 15 and 20.

If you don't have a Sphero, simply tap your screen to guide your flying robot as far as you can.

Compare scores with your friends on the leaderboard and see how far you can get!
Forum Thread: FlappyBall for Sphero (By Orbotix Inc.)
---
Fly Catbug Fly!
iTunes Description
Take flight in the first game from Cartoon Hangover's Bravest Warriors featuring the show's breakout star Catbug! Fly through 9 locations avoiding obstacles and collecting sweet loot for Impossibear! Earn moolah to purchase awesome upgrades and power-ups to boost your top score and dress up Catbug.
Forum Thread: Fly Catbug Fly! (by Frederator / Cartoon Hangover)
---
FreeDum
iTunes Description
Help Dum to escape the traps of evil kid Max.
In Freedum, Dum, a little ladybug, must escape the dangerous mazes created by Max, a little boy as inventive as Machiavellian.
Help Dum cross ever more dangerous mazes and avoid the pernicious and diverse traps set by Max.
But beware, in this environment full of danger, Dum is also to rescue the baby ladybugs. Can you save them all?
Forum Thread: FreeDum – (by Bulkypix)
---
Groundskeeper2
iTunes Description
Survive the invasion of the supernatural, the robots, the monsters.. the world needs you!

Groundskeeper2 throws you in the middle of a war, the war with supernatural robots from outer space.. yeah.. we went there! Every time you play this game you will get further and have a better chance at surviving. You'll unlock new weapons like the machine-gun, laser-gun, rocket-launcher, and tools like all-destroying light-beams, shields, time-slowdowns, and more!

What's more important, you'll unlock new worlds and hopefully become a true hero for the resistance… or you die a quick death and try again..
Forum Thread: Groundskeeper 2 – by OrangePixel
---
Hilomi
iTunes Description
You have the environment at your fingertips to help Hilomi take pictures of the cute animals who live in her whimsical world!

Move the earth, create bridges, dig tunnels, command fire and water, and more to help Hilomi travel through 5 unique worlds. Meet Ratter, Weascale, Sasqwig and dozens of other animals as Hilomi completes her wildlife photography collection!
Forum Thread: Hilomi (by Yamago)
---
Instantion
iTunes Description
Instantion is a 2D puzzle platformer featuring unique clone gameplay.

Control multiple clones simultaneously while solving mind-bending puzzles. Instantion combines dungeon-style puzzle design and trajectory 'sling-shot' aiming with elements like gravity effects, teleportation devices and clone modification. Progress through 50 levels with over 120 puzzles, pushing blocks, hitting switches, finding keys, avoiding lasers and much more! Solve each level with as little clones possible, in the shortest time to get the best grade!

Extra difficulties are included for even more challenge!
Forum Thread: Instantion (by Travis Fincaryk)
---
John Mad Run
iTunes Description
John knows far too much to be left alive. So they are coming for him. But what they don't know is that he's not easy meat. Join John in his fight to the death. Unlock the insanely powerful laser to eliminate dozens of enemies at a time. Feel the absolute might of a sword – the weapon that never jams, never has to be reloaded and is always ready. Train your dexterity, avoid deadly traps and rend your enemies into bloody pieces.
Forum Thread: John Mad Run – (by Happymagenta)
---
Laser Hell
iTunes Description
Laserhell is a simple as hell, yet impossible rhythm-based techno music arcade game. Tap to keep your balance, avoid hellish lasers and prolong your life at least for another moment.
Forum Thread: Laser Hell (by Happymagenta)
---
Pahelika Revelations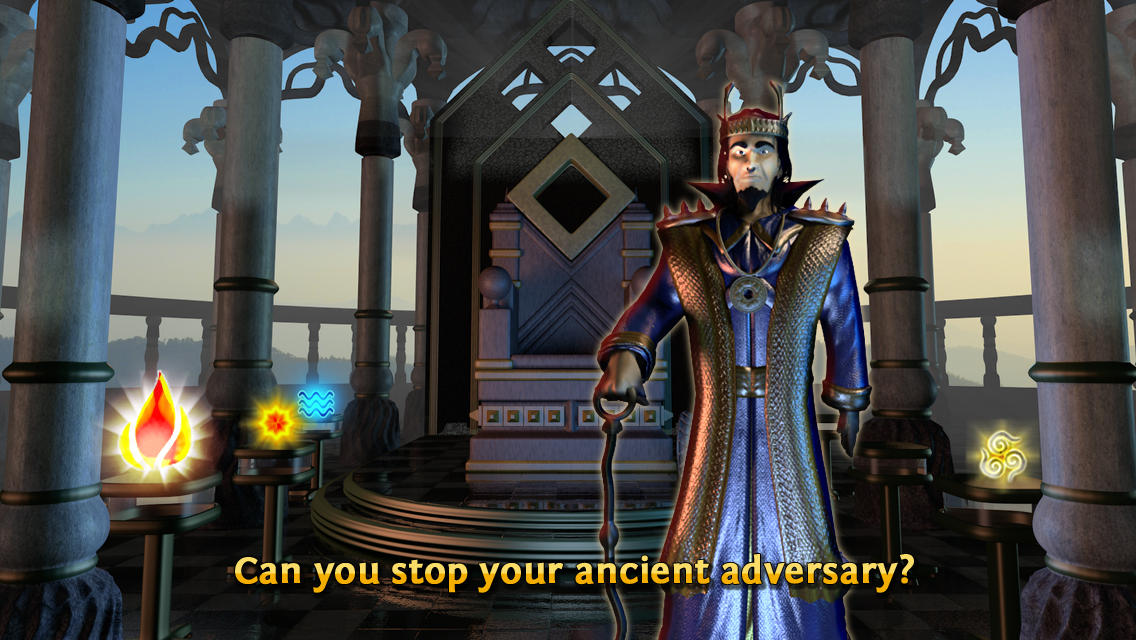 iTunes Description
Pahelika: Revelations is an Hidden Object Adventure featuring spell casting, alchemy and puzzle solving.

Fresh from his success in obtaining the magic book Pahelika, Sudesh Budkoti thought he was about to get some well earned rest. He thought wrong.

Not only was he not about to get any rest, he would be called upon to save the world from an ancient evil he had unknowingly unleashed…
Forum Thread: Pahelika: Revelations (by Ironcode Gaming)
---
Power Grounds
iTunes Description
You are trapped inside a very special temple, surrounded by dangerous monsters. You have no weapons of your own, but the ground is filled with great powers.

In Power Grounds, thinking strategically is very important when it comes to choosing your abilities. Would you be swift? Would you be strong? Would you be… wise? It much depends upon the situation.
Forum Thread: Power Grounds (by Diego Cathalifaud)
---
RBI Baseball 14
iTunes Description
Simple. Fun. Classic. The retro baseball gameplay you've been craving is back and updated with modern graphics, 2014 players and all 30 MLB teams. Play Season, Postseason and Exhibition modes. Experience PURE FUN that everyone can enjoy on the go!

– Full game complete with all 30 MLB teams and 480 current MLB players
– Play entire 9 inning games in under 20 minutes
– Easy-to-use classic controls, two buttons to manage gameplay
– Player characteristics based on real stats
– Unlock special retro jerseys by completing custom team challenges in season mode
Forum Thread: R.B.I. Baseball 14 (by MLB.com)
---
Robots Love Ice Cream
iTunes Description
Saving the galaxy is pretty sweet in this stunning, fun-packed arcade blaster, on sale at launch (usual price is $2.99)! Save humanity's vital ice cream stocks from dastardly robot enemies, armed with your weaponized ice cream (yes, weaponized ice cream!). Venture across the galaxy and discover stunning worlds, defeating the invading robot forces with your frozen firepower. When your robot foes have had enough, they explode with joy! You'll also discover challenging extra mini-objectives, and upgrade your ice cream capabilities with magical Sprinkletonium to become super-powered!
Forum Thread: Robots Love Ice Cream (by Ayopa Games)
---
Rotori
iTunes Description
Rotori is a new kind of puzzle game based on the most classical foundation ever, giving it a new dimension and a whole lot more gameplay. Rotori's 150 level Campaign will walk you through radically new gaming styles, row clearing, score achieving, time attack, survival, trash clearing, combo rows… and much more! It could be a hard way to go alone but you are not on your own! Bombs, Drills, Morphs, Freezers, Raisers and many more powerups will ease your way and change your play style everytime you use them!

Even with that Rotori has lots more to offer, 5 unlockable additional game modes await you! Including Hyper Mode: play up to your last breath while Rotori's Holo-Cube only rotates when you score, now that's intense! Look through the Holo-Cube, all cube faces are visible at every moment, check your pieces, rotate, position them, rotate back, score, combine rows and multiply your score, think fast and move precisely! Share your score in GameCenter for each game mode, beat your friends and don't let them score better than you!
Forum Thread: ROTORI Tetris & Tetris & Tetris… Play 4 boards at once!
---
Shatter Alley
iTunes Description
Shatter Alley a music-driven reimagination of the brick breaker genre for touchscreen devices where your fingertips are the paddles. Turn out the lights, put on your favorite pair of headphones and lose yourself in trance-inducing gameplay and mesmerizing visual effects choreographed to over 50 minutes of electronic music. Use multitouch to juggle limitless balls at once and aim each one with laser precision. And you'll need to. Because the bricks are coming at you ever faster and if they reach the Red Line of Death, it's curtains.

And curtains it will be, over and over again. But before long, you will be banking impossible shots and scoring huge color-matching combos amidst a frenzied tapfest of light and sound, and it is then that you will reach blissful, brick-breaking nirvana. Welcome to the Alley.
Forum Thread: Shatter Alley : A Musical Multitouch Endless Brick Breaker
---
SideSwype
iTunes Description
A beautiful minimal block puzzle game from the creator of Slydris and CRUSH! SideSwype is an elegant and unique combination of 4-way block sliding and match-3 gameplay wrapped in a stunning audio-visual package.

Swype your finger across the screen to send the blocks sliding to one of the 4 sides of the grid. Match 3 or more in a row to destroy the blocks. Special 4 and 5 blocks appear on occasion, requiring larger matches and rewarding you with special Diamond and Bomb blocks in return.

With gameplay that is easy to learn and hard to master, along with smooth touch controls and player-controlled pacing, SideSwype is the perfect mobile puzzle game. Play as fast or as slow as you want, and take a break to come back later without missing a beat. Track your progress with 10 achievement-stats, and share and compare your best scores to others online.
Forum Thread: SideSwype (by Radiangames)
---
Stickman Impossible Run
iTunes Description
Run for your life in this fast paced action packed platform runner demanding your fastest reflexes and rewarding you with a lot of fun while mastering all platforms, stage for stage. Run in various different tracks, space wrap through unique stages and achieve a top ranking against all other players worldwide. Simple, addictive, a Djinnworks classic!
Forum Thread: Stickman Impossible Run (by Djinnworks)
---
Wind-up Knight 2
iTunes Description
High-end platforming gameplay in a beautiful 3D world!
Your favorite clockwork automaton is back with a bigger world, crazy new mechanics, and even more insidious levels!

INCREDIBLE GRAPHICS Double jumping over a spike trap while diving sword-first into a crazed Hippogriff never looked so good!
UNBEATABLE GAMEPLAY Checkpoints, Bouncy Pads, Ice Blocks, Warps, Rolling Boulders, and a whole slew of new mechanics!
SIDE-QUESTS Think you've got a level beat? Think again! Side-quests in every level force you to think outside the helmet!
TOURNAMENT MODE School your leaderboard friends by playing a daily challenge on just one life!
CUSTOMIZE YOUR KNIGHT Use power-ups and items to play your way.

Wind-up Knight has been played by ten million people. Wind-up Knight 2 turns all the dials up to 11.
Forum Thread: Wind-up Knight 2 – (by Robot Invader)