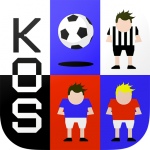 Kind of Soccer, a new game by Swiss designer Christian Schnellmann, isn't soccer at all, or even kind of like soccer. Sure, everybody's got a little soccer kit on, but it could be called Kind of Elves, or Kind of Space Marines, or Kind of Hodappy Birds, and it would still be a cute little action game.
But, ok, Schnellmann wants soccer, so we'll go with that. In Kind of Soccer, the referee moves around the field while your players stay in a fixed position. The goal (get it?!) is to pass the ball amongst yourselves until you have the best angle to hit the referee with the ball, which earns you a point. Here's a trailer, for any visual learners:
I've always liked pool-cue mechanics where you click and hold something to aim and then swipe backwards to shoot, and I love the effect that plays after each pass. It just sounds right to me. Kind of Soccer will also include various power-ups (the bomb is shown in the trailer, but there's also a magnet that lets you drag the ball around freely, for example), which will be unlocked as you beat new teams.
I've been poking through some of Schnellmann's older games, and he's got some interesting stuff kicking around. You can play Metahotel in a browser, for example, but he's also working on Lowboat, an underwater stealth and survival game that he hopes to release on iOS later this year. Kind of Soccer started off as a side-project and grew into a full game, but development on Lowboat is still on track, Schnellmann says.
I'll likely be keeping tabs on Lowboat, but Kind of Soccer is slated for an April 25th App Store release, for $0.99. Get your cleats laced up.