I'm a big, big fan of shoot 'em ups, and one of my favorites is Game Atelier's Flying Hamster ($2.99). It's a good shooter in its own right, with tight controls, tons of enemies, cool power-ups and epic boss fights, but what really puts it over the top for me is its sheer absurdity. Seriously, chickens laying explosive golden eggs, cats getting wasted off of "root beer" and vomiting, and cows shooting milk at you from their udders like a mini-gun are the norm, and that's just in the first level.
Flying Hamster was originally released for the Sony PSP several years back, but made its iOS debut back in early 2011. That time sticks out in my mind not only because I loved Flying Hamster right from the start, but also due to the outrage expressed from the mobile gaming audience at the game's initial six dollar asking price. That's about what it sold for as a PSP Mini game, so Game Atelier wanted to keep the price consistent on mobile. And boy that did not go over well. Anyway, take a gander at the launch trailer for Flying Hamster to get an idea of how wacky it is.
I always felt it was well worth that initial price tag, but price isn't a concern on this particular day as Flying Hamster is currently free to celebrate a newly-released update for the game.  The update adds widescreen support for 4-inch devices,  iOS 7 controller support, and full Game Center integration, which replaces the long-defunct OpenFeint that was in the game before. Now, new updates for old games makes me a very happy boy, but Game Atlier has some ulterior motives with this latest update and freebie promotion. They're running a Kickstarter campaign for a Flying Hamster sequel, which sees the furry little dude in an action-platforming setting as opposed to a scrolling shooter. It looks pretty awesome, so if you want to show some gratitude for the freebie you might want to give it a look.
---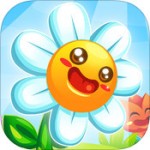 In addition to Flying Hamster, another solid Game Atelier game received an update and price drop today, and that game is SunFlowers ($2.99). More of a timing/puzzle game, SunFlowers has you playing the role of the sun as you shoot sunbeams down towards a garden of flower seedlings. You don't want to hit the seeds with your direct sunbeam, though, as that'll burn the little things. You'll need to zap passing clouds with a sunbeam in order to turn that beam into a raindrop and thus land down on the seed an help it grow.
That's the main mechanic, but it's used in a variety of ways in SunFlowers. For one, each seed takes several waterings before growing into a full-fledged flower. If you can time it right, you can launch a sunbeam so that it passes through multiple clouds at once, becoming a more potent water drop with each one it goes through and growing the flower below much quicker. There are also storm clouds that must be avoided as they will produce flower-burning lighting if you shoot them, and there's as a "night mode" you can trigger which switches you over to the moon and has you trying to shoot moonbeams all the way down to the flowers. Here's a trailer for the Vita version of SunFlowers that showcases most of these mechanics.
SunFlowers never seemed to garner much buzz, but I always thought it was a clever and fun little game. I especially like the collection aspect, as there's a ton of different flowers to grow which will each get added to your garden. Both SunFlowers and Flying Hamster are bright, colorful games loaded with personality. It's hard not to crack a smile playing either of them. I'm incredibly excited to see them get updated as I'm enjoying them all over again, and if you've missed out on either of these games previously, jump all over this current freebie promotion and try them out for yourself.