Glitch Games have been working hard these past few months. Not only did they release the unconventional but fun Ferris Mueller's Day Off but they've been working hard on their most recent release Cabin Escape: Alice's Story (Free), a short iOS adventure game that stands as a prequel to the fantastic Forever Lost series. To tide fans over between the second and third episode for fans eagerly awaiting its impending release, this albeit brief but fantastic entry in the Forever Lost series is a glorious "bite-sized" offering, packed full of exciting puzzles each designed to challenge and stimulate the mind.
Those who haven't yet experienced the Forever Lost series will be happy to know that this requires none of the knowledge from the previous (but subsequent) two episodes, but will give those in-the-know a little insight into the backstory behind Alice and Jason.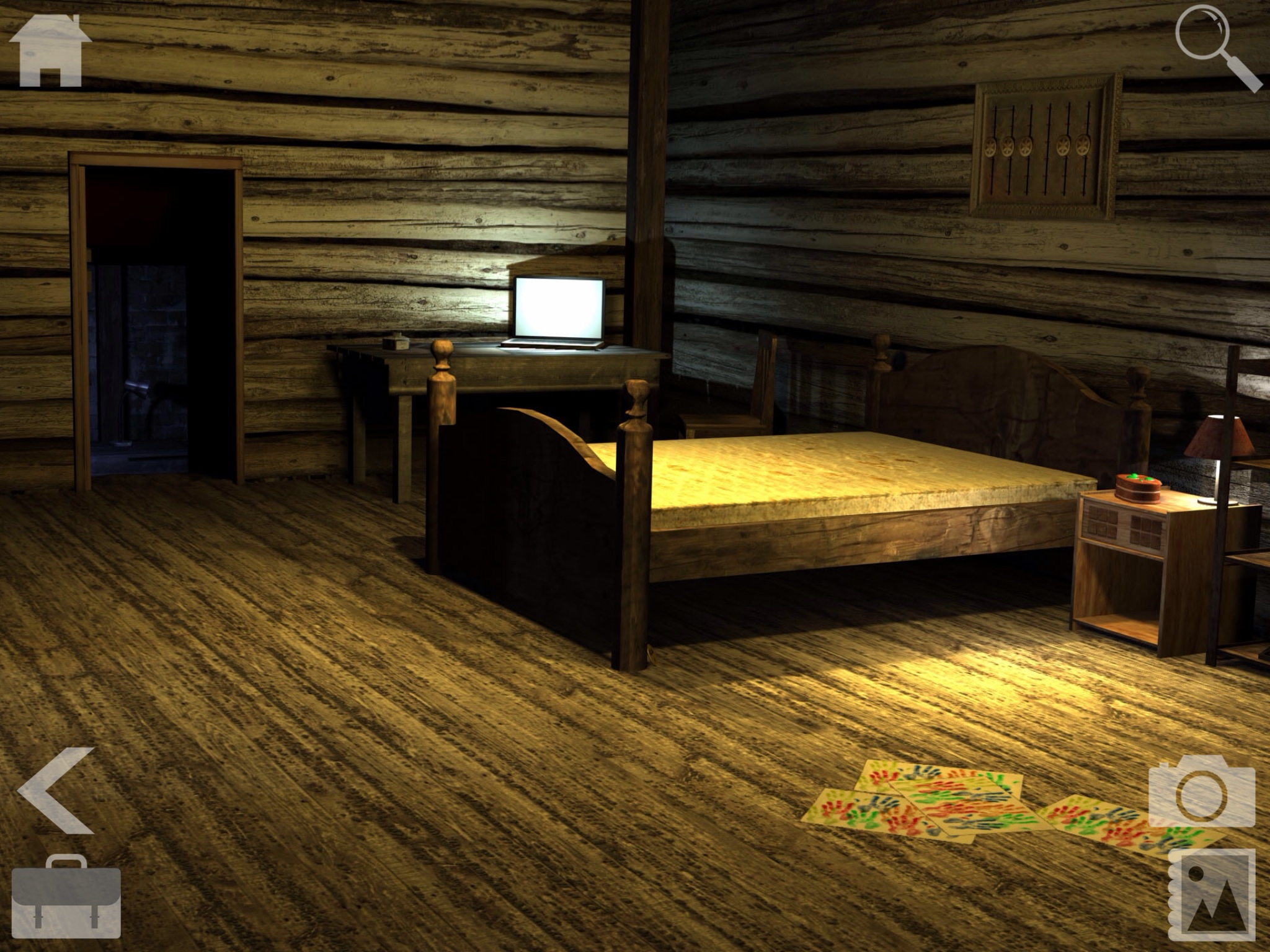 The game kicks off in a cabin (no surprises there), and you're tasked with solving a series of puzzles in order to escape. You'll very soon discover that the puzzles have been left there by Jason, who's currently away at the lab on important business. Yeah, in terms of the game mechanics, there's nothing out of the ordinary here, but what is delivered is done so extremely well.
For starters, the 3D visuals are rendered beautifully, with each scene depicted with incredible detail. Alongside the eerie soundtrack, the accompanying sound effects such as the crackling fire and chirping crickets manage to add to the already lonely atmosphere, creating an increased sense of isolation.
As is the case in most point-and-click adventures, you're equipped with a handy satchel to store the items you find which you'll use to solve puzzles. You'll also have access to a handy camera in which you'll be able to store photos of various clues that you may find yourself needing to return your attention to at a later point.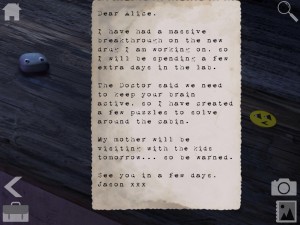 Cabin Escape may be brief when compared to Glitch Games' lengthier projects, but it's by no means short on quality and quantity when it comes to its various puzzles. The majority of the puzzles involve searching the cabin for numerous items and clues in order to progress, and while most of them remain logical, some of them do require some thinking outside of the box.
Lateral thinking is not my strong suit; I'm no puzzle aficionado by any means, and I will admit I got floored on a couple of occasions, but the considerable quality that has gone into making each puzzle an entertaining challenge is unmistakable. There's no definitive order to how you solve the puzzles, leaving you free to figure them out of your own accord, though to progress on occasions involves retrieving a specific item or locating a certain clue.
There isn't much depth to the story, but there doesn't really need to be, as each room in the cabin reflects a little on the events leading up to this current scenario. Whether it's a picture hanging on the wall, or a note left discarded on the counter, every single item discovered in-game contributes to the bigger picture.
Despite its short length, the quality that has gone into this brief adventure has not been compromised. In some way, a shorter project leaves more potential for a greater outcome, and Glitch Games consistently manage to surprise and awe fans whether the project is a lengthy excursion or a brief encounter.
With simple intuitive touch controls and a largely accessible concept, Cabin Escape: Alice's Story is a fantastic addition to the series set in the Forever Lost universe. Accompanied by a beautifully haunting soundtrack, and some super stunning visuals, you can't go wrong by picking this one up. To celebrate the release of Cabin Escape: Alice's Story, at the time of writing, the game is currently available to download from the App Store for free for a limited period of time.