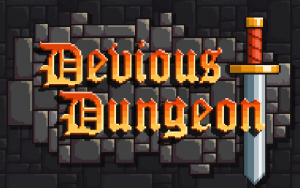 Ravenous Games will always be one of my very favorite iOS developers for their excellent League of Evil trilogy, but some of their other releases have failed to reach that same high level for me. Not that I think they've ever released a bad game, but the League of Evil games clicked with me on so many different levels that the rest of their catalogue hasn't quite lived up to that same mark. Well Devious Dungeon is their latest effort, and according to Ravenous it "gets back to our roots of solid action platforming." Music to my ears.
Devious Dungeon is another action platformer, but with a focus on melee-based combat and RPG-style leveling and loot collecting. The levels, items and enemy placements are also randomly generated so it should feel different each time you play. It's also got a medieval theme, which I'm really liking. Check out the brand new trailer to get a sense of what Devious Dungeon is all about.
The best part is that we aren't going to have to wait long for Devious Dungeon, as it's set to launch this Thursday for 99¢. I'm pretty excited for it, as are the folks in our forums, some of which took part in the beta test for Devious Dungeon and had pretty much nothing but positive things to say about it. If you're a Ravenous fan or just a fan of action platformers, make sure Devious Dungeon is on your radar for when it launches later this week.