Welcome to another Wednesday night and another batch of new iOS game releases. There are so many cool games coming out tonight. It took me by surprise a bit, actually. I've been waiting forever for games like Bug Heroes 2 and Tengami to arrive (and they were both SO worth the wait), but there are a lot of other really great-looking new games in this list that I'm dying to check out too. And don't forget that the Game Boy Advance emulator, GBA4iOS version 2.0, launched earlier today as well, and a bunch of people seem to be having fun with that whole thing. Check out the list below and be sure to visit the forums for impressions and check out Eli's Twitch.tv stream from earlier today where he played many of these new releases.
Another Case Solved
iTunes Description
Become a famous detective and get to the bottom of a curious candy conspiracy in Another Case Solved, the latest game from the makers of Puzzle Craft.

This city is clamping down on candy cravings by outlawing sweet snacks! Solve a series of quirky cases by gathering clues, tracking down witnesses, and questioning suspects to reveal the truth behind this city's sugarcoated secret.

This is a case too sweet to turn down!
Forum Thread: Another Case Solved By Chillingo Ltd
---
Astro Golf
iTunes Description
Immerse yourself in the most addictive mobile golf game available!

What could be better than mini golf? Mini golf, with robots, in outer space. Golf with Orbit, the Robot and with his gal-pal, Tess. As you help the robotic duo find their way out of the abandoned cargo ship—and hopefully their way back home—you'll golf your way through the spaceship, dodging black holes and trying to make your shots despite moving platforms and doors, abandoned ship parts, fire traps and more!
Forum Thread: Astro Golf (by Bolder Games)
---
Ava's Quest
iTunes Description
Ava is all grown up and has made new friends, leaving behind her childhood dolls and toys. One of her dolls (called the witch) couldn't accept this and sought revenge. The witch cast a spell on all her friends and imprisoned them leaving her all alone and now Ava has set out on a quest to rescue them.
Forum Thread: Ava's Quest (by Nemo Games)
---
Blowfish Meets Meteor
iTunes Description
Block-breaking action like you've never seen it before! Rescue your mermaid daughters, slay gigantic sea monsters, and smash a few gajillion blocks while doing it in this stunning block-breaker-meets-action-platformer hybrid.

An undersea adventure that takes you on an epic journey from the surface of the waves to the mysterious, alien trenches at the bottom of the ocean. New surprises lurk around every corner: you'll summon fluffy penguins to aid you, flee zombified pirate ships, create makeshift platforms from the lingering ghosts of jellyfish, use gigantic laser beams to blow up entire levels, fight to escape from the belly of a vengeful whale, and more. At the end of it all, you'll battle an unmatched evil and uncover the secrets of a mysterious underwater world.

Blowfish Meets Meteor features six gigantic worlds, thousands of frames of hand-drawn sprite animation, and nearly thirty minutes of original music.

Do you have what it takes to rescue your mermaid daughters? There's only one way to find out! Let's do this!
Forum Thread: Blowfish Meets Meteor ~ A Trippy Brick Breaker
---
Blue Eden
iTunes Description
Enter a world of natural beauty and underwater discovery. Join a school of Powder Blue Surgeonfish, one of the most striking of all marine fish, and grow into an impressive, powerful group. Play each of the 4 unique game types that represent a different part of the Surgeonfish's life cycle. Explore unseen habitats, feed in the plankton bloom, escape from giant predators and produce the next generation of fish. How far can you go on this adventure?
Forum Thread: Blue Eden – (By Skoobie Games Ltd)
---
Bug Heroes 2
iTunes Description
Every day while you're gone, an epic battle of swords, guns, and armor rages on your counters, on your floors, and in your yard… Enter the world of the Bug Heroes!

From the creators of Block Fortress and Heroes & Castles comes a new adventure, blending fast paced action, strategy, and defensive gameplay!

Master 25 unique heroes – from a hook wielding Waterbug pirate, to an old and wise Aphid sensei, a champion Bumblebee boxer, a grenade launching Worm, a poison obsessed Stinkbug, and tons more! Choose and customize your squad of two, then seamlessly switch between them while unleashing a variety of powerful abilities on your enemies. Scavenge for food and junk, fortify your base, build turrets, level up your heroes, equip weapons and armor, and survive! Or, put your skills to the test in up to 2v2 competitive multiplayer battles!
Forum Thread: Bug Heroes 2 – (by Foursaken Media)
---
Caveman Wars
iTunes Description
Protect your hut against a tribe of enemies and ferocious creatures in this strategic tower defense game with cards.

As a result of an unknown cataclysm, food is becoming more and more scarce. Your tribe is being assaulted by endless waves of enemies enticed by your food. Protect your hut against cavemen, sabre-toothed tigers and other prehistoric creatures; you could even come up against a T-Rex!

Unleash your fire, ice and weapon cards to counter the threat; use different types of card depending on the enemy to cause maximum damage. Seize the moment and stop the enemy in its tracks.
Get bonuses for vanquished enemies and even new cards to strengthen your card game.

Impose Darwinism the hard way!
Forum Thread: Caveman Wars (by Advanced Mobile Applications)
---
Coldfire Keep
iTunes Description
An ancient power lies hidden, deep within Coldfire Keep, threatening the peaceful town of Newsettle.

Now four friends must take it upon themselves to become heroes, and venture into the depths on a quest to secure their town's future.

Coldfire Keep is a traditional, old-school dungeon crawler, lovingly hand-crafted for fans of the genre. Featuring grid-based movement, and active turn-based combat, Coldfire Keep draws inspiration from classic late 80's and early 90's dungeon crawling adventures.
Forum Thread: Coldfire Keep – (by Crescent Moon Games)
---
Colossus Escape
iTunes Description
Colossus Escape is a fast-paced action game based on the world of Moffee Adventures™, featuring an epic fantasy world with great graphics and his own unique graphical style.

Escape and defend against Colossus, face waves of enemies and avoid insidious obstacles. Turn the tide of battle with powerful spells and mystical artifacts, but watch out for the impending Colossus, hold on and gain ground collecting potions. Get ready to face sudden challenges using QTE (Quick Time Events) against hordes of monsters, giants and ruthless killers. Help WHARR to struggle against the Colossus Gods on a journey through burning fields, arid deserts, stormy peaks and frozen lands.
Jump, slay, collect and cast powerful spells. Be ready to engage epic battles and to prove your skills along the road!

…run like hell, Colossus is right behind you!
Forum Thread: Colossus Escape (by Logicweb S.R.L)
---
Doctor Life
iTunes Description
Don't be fooled by the cuteness, Doctor Life is a challenging simulation game where you take on the role of a Doctor!

Set in a charming little city with wacky patients, you must grow your humble clinic into a multistory hospital! You will meet patients along your journey and help them by diagnosing and treating their diseases with actual treatments.

Beware though! There is an evil tycoon out to buy the land your hospital is on. Earn awards for hospital excellence to save your hospital from his grubby hands.
Forum Thread: Doctor Life (by Wigu Games Studio)
---
Doomdark's Revenge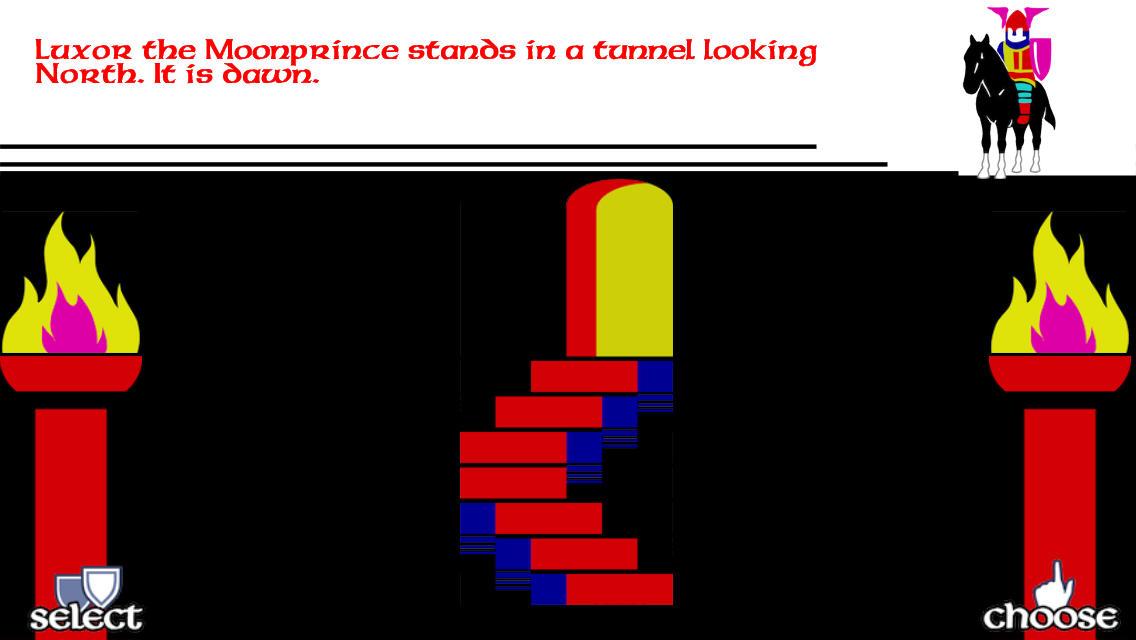 iTunes Description
Mike Singleton's '85 classic Adventure Strategy sequel to The Lords of Midnight, brought to and updated for iOS.

"It is many moons now since the Lords of Midnight first appeared out of the soft, wearing gloom. Those of you who took up their challenge and rode with them to battle against the cruel Witchking will need no reminding of that epic struggle. But now a new epic tale unfolds, the story of Doomdark's Revenge.
The game itself involves both quest and warfare, both exploration and careful strategy. You can play on your own or with friends; there are enough different characters at your command for all the family to join in and struggle against Shareth Heartstealer, Empress of the frozen Empire!" – Mike Singleton – 1985
Forum Thread: Doomdark's Revenge (by Chilli Hugger)
---
Fright Fight
iTunes Description
Harness your skills and battle your friends for monster supremacy! FRIGHT FIGHT is a 3D Real-Time Online Multiplayer Brawler infused with RPG system elements. You will have the ability to connect with up to 3 other players from around the world, and compete in 4 player action-packed matches. Play against random opponents or invite your friends to a game! Fright Fight features a bunch of characters from different realms, each with unique attack types, combos and skills! Select from 4 Sinister Characters: Kahn the Werewolf, Carmilla the Vampire, Grim the Reaper, and Hugo the Yeti. This game is a combination of many awesome genres, mixing horror, fantasy, and steampunk themes to create a vibrant 3D setting.
Forum Thread: Fright Fight™ – Multiplayer Brawler – (by APPSolute Games LLC)
---
The King of Chicago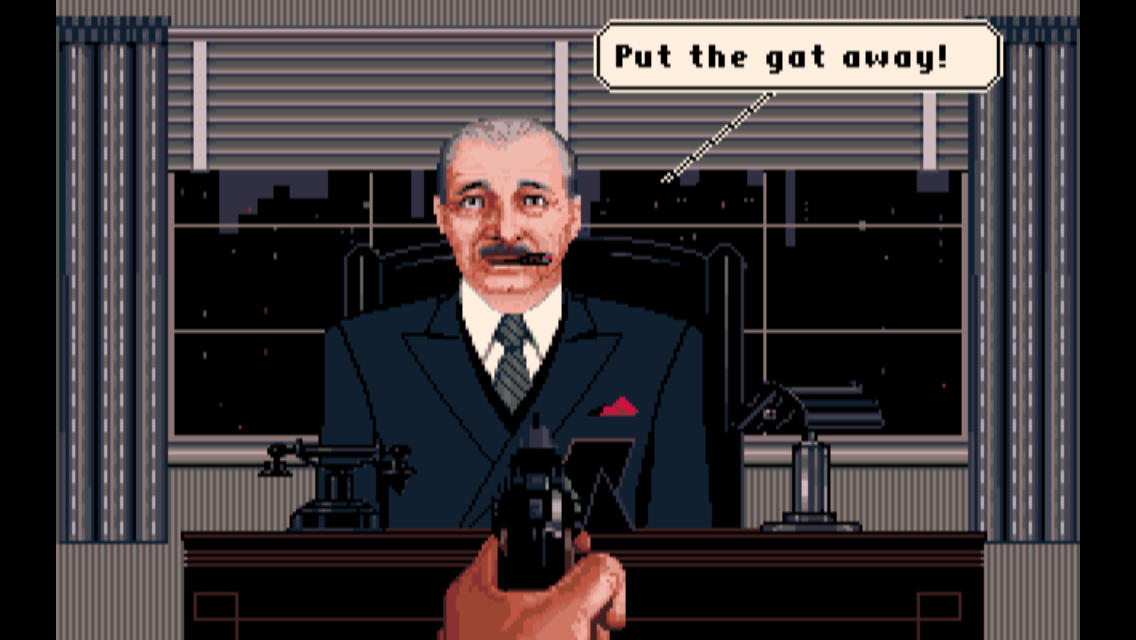 iTunes Description
Chicago in the 1930s: Prohibition, power struggles and rampant crime. Only the toughest of the tough survive. Capone used to call the shots, but now he's up the river and Chicago is up for grabs. Violence, intimidation, bribery, treachery, and clout are your weapons as you battle the legendary Capone mob for control of the windy city.
Relive this classic Cinemaware game with all of the original storyline, characters, plots and sub-plots! A unique blend of role playing and strategy that pulls you emotionally into the story of Chicago's dark side. Popcorn not included!
Forum Thread: The King of Chicago (by CW Entertainment USA)
---
Luminetic Land
iTunes Description
Stars are lost and need your help… light them up!
Touch the magnets to move your Luminetics over 100 delightful handcrafted puzzles and light up every star with the right colored light. Mix 2 light beams to create new colors.
But be fast because your time is limited.
Forum Thread: Luminetic Land: a puzzle game about light, colors and physics
---
Mad Skills Motocross 2
iTunes Description
THE WAIT IS OVER: MAD SKILLS MOTOCROSS 2 HAS ARRIVED
Mad Skills is back with a brand-new addiction! Find out why nearly 5 MILLION PLAYERS loved the original Mad Skills Motocross by downloading Mad Skills MX 2 for FREE now!
Forum Thread: Mad Skills Motocross 2 – (by Turborilla)
---
Merchant Beyond the Stars
iTunes Description
Uncover the secrets of the universe. Meet strange aliens, sentient robots and warrior princesses. Buy and Sell procedurally generated missions, weapons and armor.

* Uncover the secrets of the universe, who is the Emperor?
* Procedurally generated loot with Common, Rare and Legendary variants
* Countless heroes, each with a story to tell
* Upgrade the Tech Lab to infuse weapons with Fire, Ice, Electricity or Radiation

Turn a profit and you can truly be the Merchant Beyond the Stars.
Forum Thread: Merchant Beyond the Stars – (by Man Up Time)
---
Monster Stacker
iTunes Description
Monster Stacker™ A fun new physics game for the iPhone and iPad. Test your balancing skills as you drop deliver crates of cute monsters onto your hiring bosses' dungeon floor. Stack'em high, collect the stars and unbox all the monsters!
Forum Thread: Monster Stacker (by Fat Loot)
---
NASCAR Manager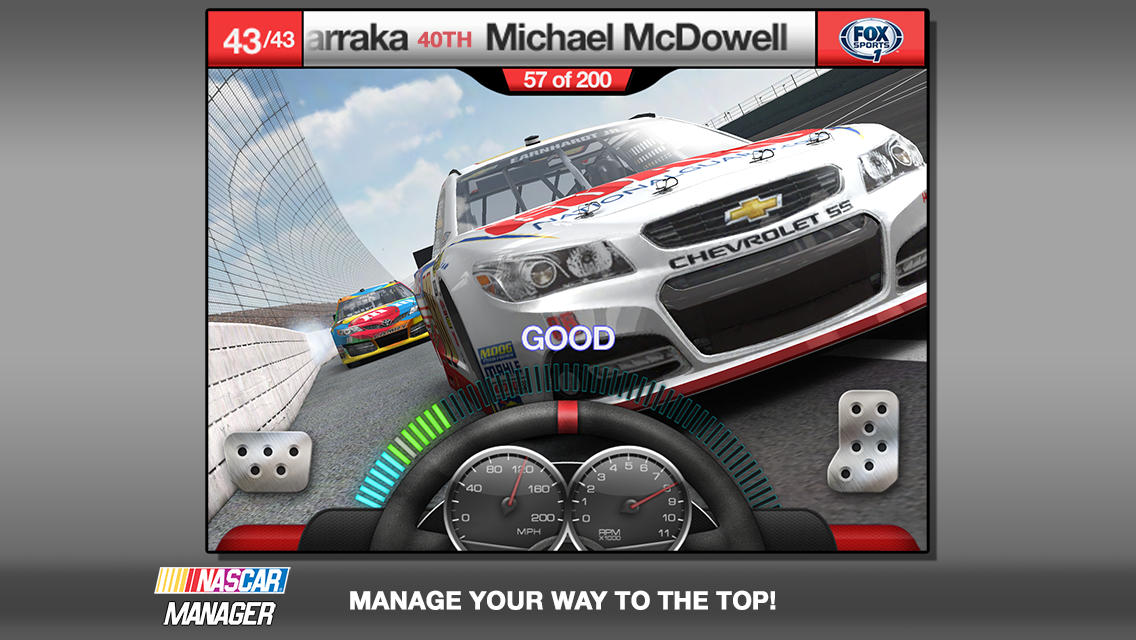 iTunes Description
NASCAR® MANAGER is the all new official NASCAR game that puts you in the team management seat of the most popular motorsport in North America. Delivering the first strategic racing game to fans and players worldwide, you decide how your team performs and whether you make it to The Chase. Learn the strategies and tactics needed to succeed in a race, and balance the car set-ups specific to particular tracks! Take on the biggest names from the 2014 season like Dale Earnhardt Jr, Jimmie Johnson and Danica Patrick, and recruit the biggest sponsors to generate your revenue and upgrade your key elements on the car to get the most out of it at each track! All with the ultimate aim of managing your way to the top and winning the NASCAR Sprint Cup Series!
Forum Thread: NASCAR Manager (by Eutechnyx)
---
Operation Tokamak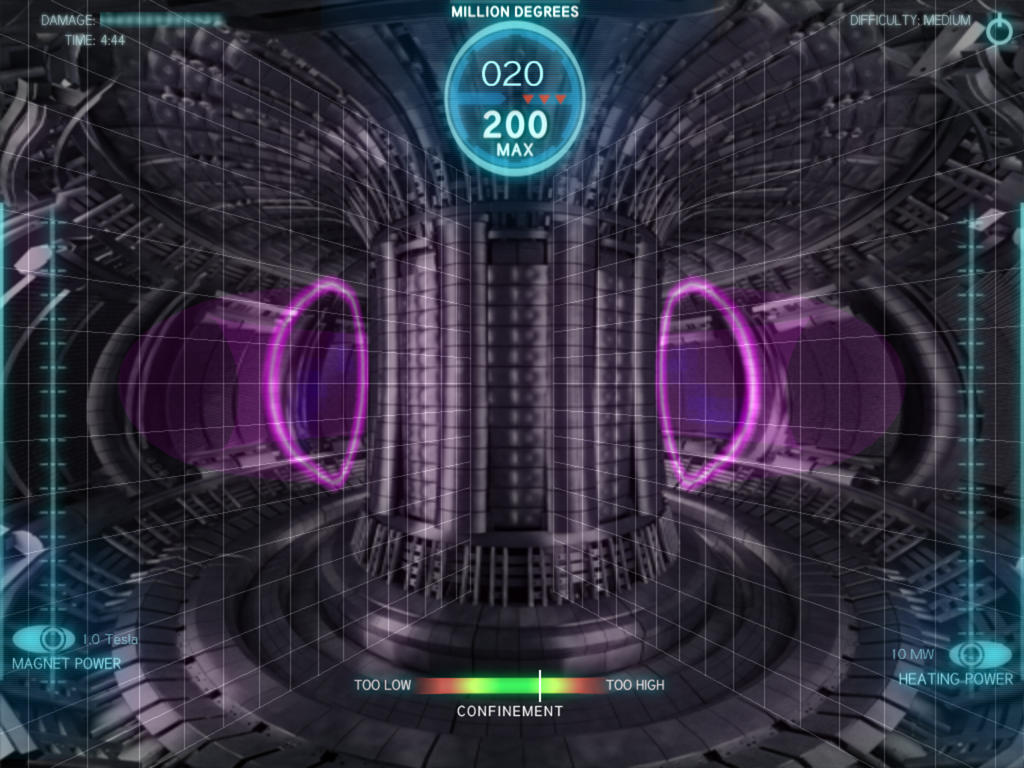 iTunes Description
The energy shortage of the 21st century has been overcome.

The solution: Fusion Energy.

Its widespread use gives us clean, cheap and safe energy. Fuel is heated to its plasma state at 200 Million degrees at which it fuses and releases vast amounts of energy. Powerful magnets hold the plasma inside the power plant. You are the operator of a typical Fusion Power plant in 2103. As operator you must drive the machine to the ideal fusion conditions.
Forum Thread: Operation Tokamak (by Mark Film)
---
Oquonie
iTunes Description
Oquonie is a iOS puzzle game for iPad and iPhone created in collaboration with illustrator Rekka Bellum where you must find your way across an intertwined megastructure. You will not be alone, your incarnations will have the help of bizaroid characters speaking an obscure language.
Forum Thread: Oquonie (By David Mondou-Labbe)
---
Perloo
iTunes Description
Perloo is a geometric fairy tale. Abandon your assumptions, solve a series of mind-bending challenges and find your way to the true world.

Perloo is a compact one-of-a-kind puzzle adventure that challenges you to think outside of your comfort zone. See how the real world influences the virtual one – and vice versa. Perloo plays with physics, quantum mechanics, philosophy, optics and perception to create a world with rules of its own.

Perloo is a ludic experiment, perhaps even a philosophical proposition. But most of all, Perloo is an excruciatingly hard puzzle game. You might cry.
Forum Thread: Perloo (by Perceptor)
---
Ronin's Revenge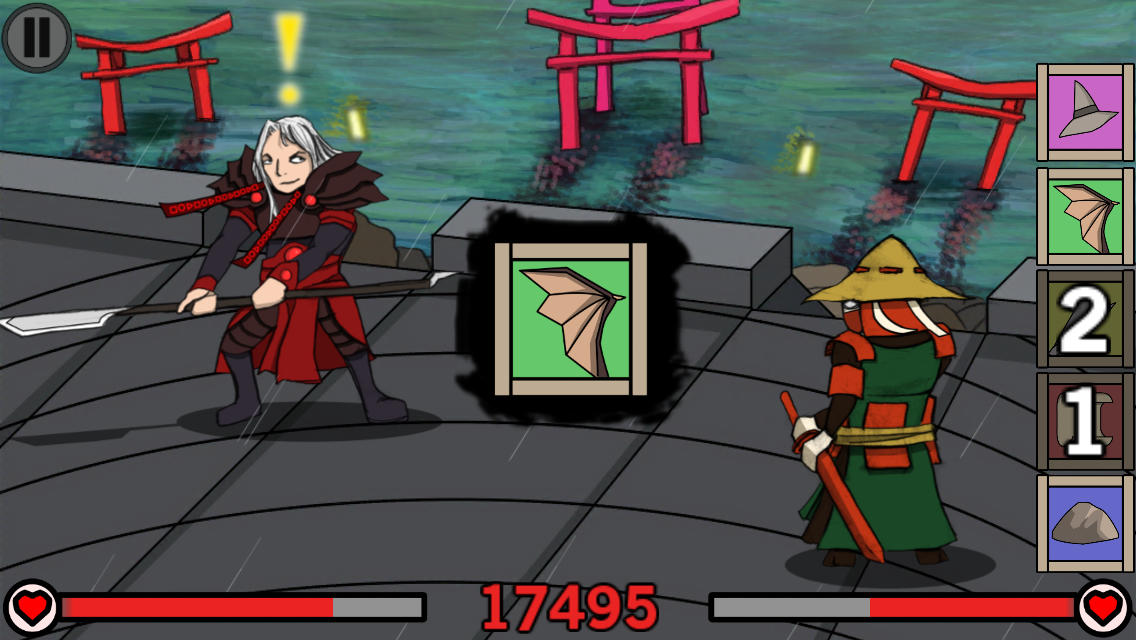 iTunes Description
The greatest swordsman in the land was betrayed and left for dead. You lead the legendary Ronin to victory against those traitors in duels of honor, leading to a final showdown with the nefarious Dragon King.

-Spectacular reaction-based duels.
-A mixture of gorgeous hand-drawn and digital art.
-5 different gameplay modes.
-Endless versions of your favorite modes.
-No microtransactions or ads!
-Multiple difficulties with variations in the storyline.
-Can you best the developer's high scores?
Forum Thread: Ronin's Revenge (By Tyler Pack)
---
Second Chance Heroes
iTunes Description
Join your friends in this epic cooperative action adventure where you collect an army of historical clones and fight to save the world!

Overrun by werewolves, zombies, and sentient cheeseburgers, fight your way through a mall, a long-lost kingdom of Hobos, and a secret government bunker. Collect characters like Abraham Lincoln, Nikola Tesla, Joan of Arc and many more to help you in your quest.
Forum Thread: Second Chance Heroes – (by Rocket City Studios)
---
Tengami
iTunes Description
Tengami is an atmospheric adventure game set inside a Japanese pop-up book. Fold and slide the beautifully crafted paper world to solve puzzles and discover secrets. Go on a serene journey through Japan of ancient fairy tales brought to life through striking visuals, unique gameplay and haunting music. Experience dark forests, abandoned shrines and tranquil mountain waterfalls as you seek to uncover the secret behind the lone dying cherry tree.

Not a book, but a game inside a pop-up book. Tengami plays like nothing else before it. Reach directly into the world to flip, fold and slide parts of the world to delve deeper into your mysterious journey. 
A beautiful and original soundtrack by renowned composer David Wise accompanies your adventure. Use of headphones is recommended for the most immersive experience.

Tengami's world is built as an authentically folding three dimensional pop-up book with an all new technology created just for this game. Everything seen in the game could be recreated in real-life with just paper, scissors and glue.
Forum Thread: Tengami – (by Nyamyam)
---
UHR-Warlords
iTunes Description
Do you think Chess has layers? Try UHR-Warlords, the ultimate tactical boardgame experience!

UHR-Warlords is a turn-based tactical boardgame with endless possibilities. Play against AI or friends (or enemies)! Play the epic campaigns, immerse yourself in the lands of Noordh and join the everlasting war! Play as any of the Warlords and defeat your opponent. Use the Mystical Creatures at your command. Rain fire down on your foes with Lava or play to your advantage using a variety of Magical Runes. This game is all about the tactics you choose and how you adapt to your enemy's moves.

Follow the story of Hornar in his quest to conquer the throne and become The Frozen King or join Kriegh in his campaign to set the World Ablaze.
Forum Thread: UHR-Warlords (by Turbo Tape Games)
---
Unstoppable Square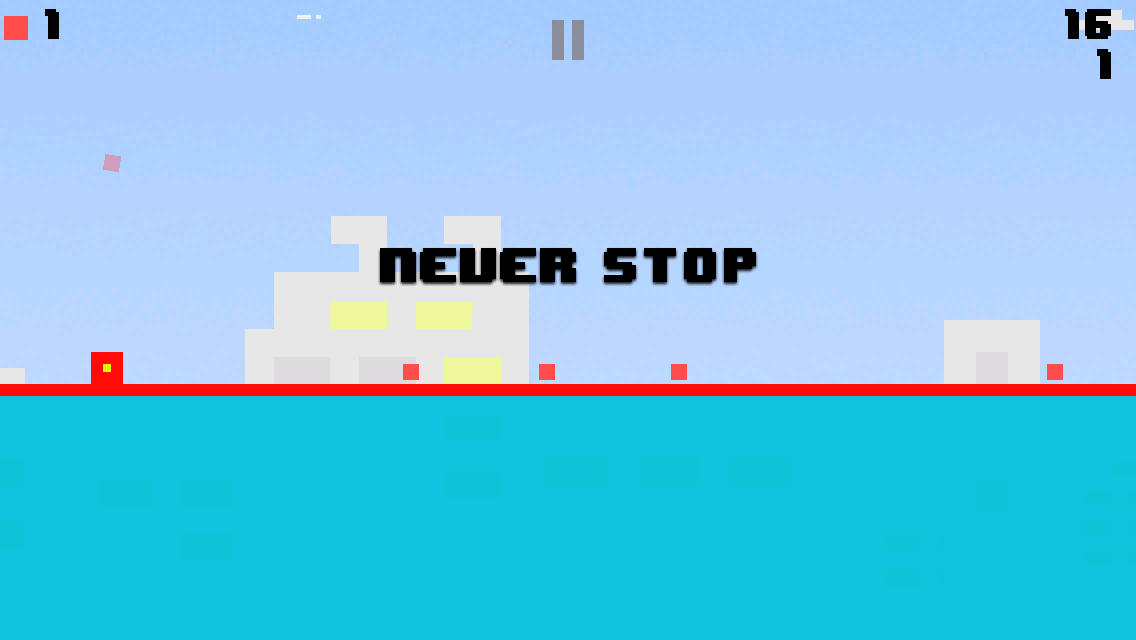 iTunes Description
Meet the unique square that cannot stop running!
Help it reach the finish line without falling from the platforms; don't tell it the finish line may be in a one of the hole.

Miss a platform or fall in a hole and it's game over! Keep jumping and jumping again.
Forum Thread: Unstoppable Square (by Aketomic)
---
Zombocalypse Now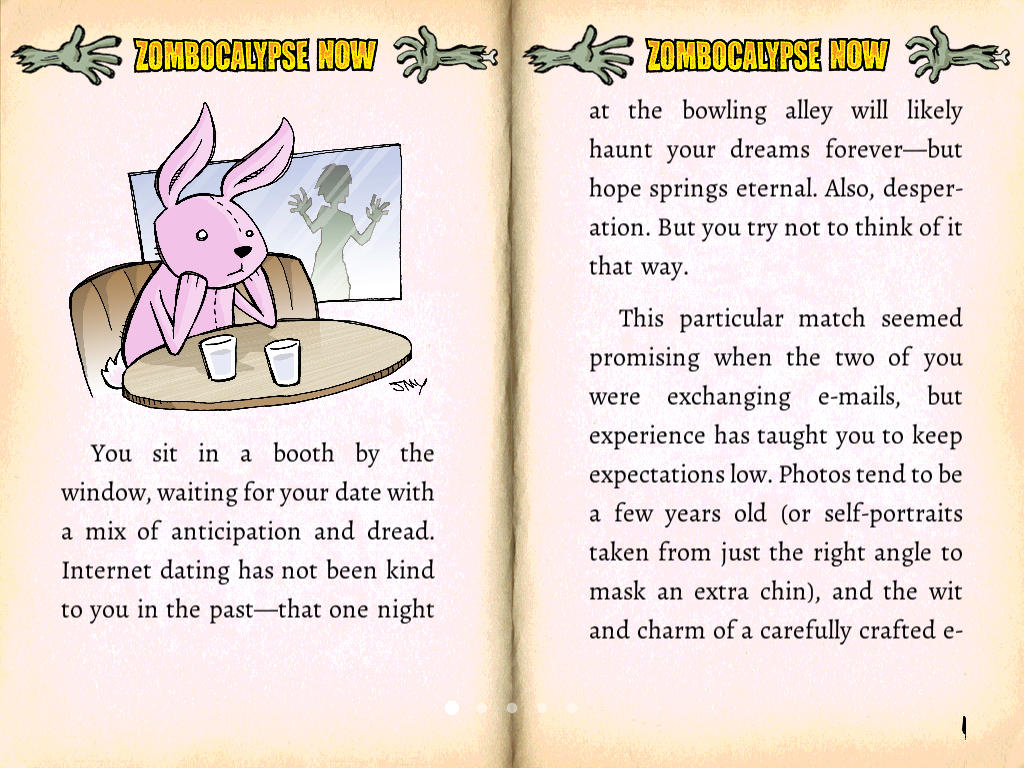 iTunes Description
They don't want your body, THEY WANT YOUR BRAINS.

You're a stuffed bunny and it's the end of the world.

When you slowly catch onto the fact that your latest date is in fact, the newest member of the living dead, there's only one thing to do – run! …or, should you hang around a bit longer? After all, this is probably the best a date has gone for you in a while. This choice (along with many others) are entirely up to you…

Zombocalypse Now is a comedy/horror reimagining of the choose-your-own-ending books you grew up with. You'll be confronted with undead hordes, internet dating, improper police procedure, and the very real possibility that you'll lose your grip on reality and wind up chewing the carpets.
Forum Thread: Zombocalypse Now (by Tin Man Games)