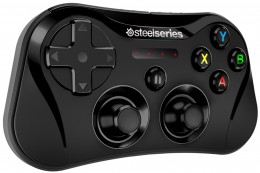 As mentioned in our review, and on our Twitch stream when asked about it, the SteelSeries Stratus is currently the king of the iOS 7 controller world. However, its initial proposed launch price made it a hard pill to swallow, especially when compared to the price of other controllers in the world:
There's decades of precedence when it comes to controller pricing, and with both the PlayStation 4 Dualshock 4 controller and the Xbox One wireless controller coming in at $59.99, $99.99 for an iOS 7 controller seems laughable in comparison. The value proposition is only made worse when you consider that both the PS4 and Xbox One controllers feel built like a tank, while even the SteelSeries Stratus, which is unquestionably the best iOS 7 controller that has come across my desk so far, feels so cheap in comparison. …Read More
A just-announced $79.99 price point helps considerably if for no reason beyond showing that there is in fact wiggle room in the pricing of these devices and they're not going to be locked at $99.99 for eternity. Additionally, SteelSeries will be honoring the new price for all existing preorders.
It still seems like the "best" solution (in massive air quotes there) is to use the jailbreak tweak Controllers for All and just use a PS3 controller with your iOS device. That's a pretty mediocre solution though, particularly as it requires modifying your device's operating system versus MFi controllers just working out of the box. If like me, you're not into the whole jailbreaking thing, the SteelSeries Stratus is where it's at, and now it's cheaper.
And that seems like a good thing.