Dead Mage's Shadow Blade ($1.99) has one thing on its mind: fast-paced Ninja action with a healthy dose of platforming. In this regard, it succeeds pretty well in creating a focused experience perfectly suited for iOS devices. True, with its level-based gameplay and three-star system, Shadow Blade doesn't offer anything particularly innovative, but its attention to streamlined controls and emphasis on level balance still make it a highly enjoyable game worth checking out.
An action-platformer is only as good as its controls, and Shadow Blade are really well done. Players have the option of two schemes: virtual buttons or gesture based. While the virtual controls are responsive enough, I was really impressed with the gesture controls. After a few levels of practice, jumping, attacking and gliding through the air via a combination of simple taps and swipes became almost second nature. Granted, there aren't too many moves for your ninja, but Shadow Blade does a great job of teaching you to combine them to nail more complicated levels.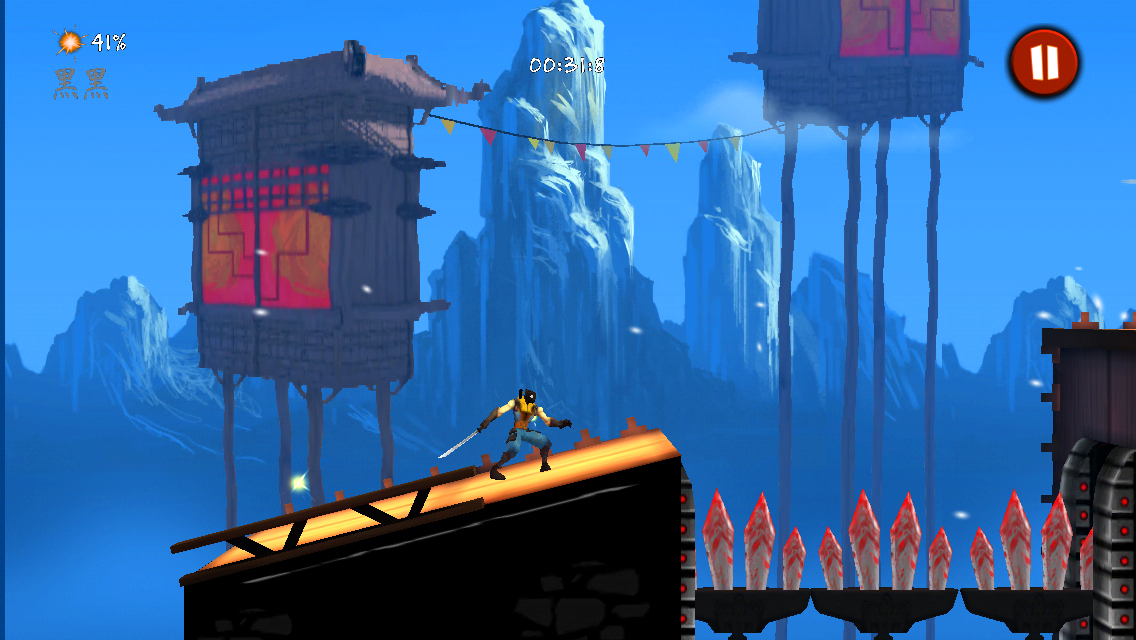 Supplementing Shadow Blade's excellent controls is an impressive art style and great level design. The game's environments, ranging from a Ninja dojo to a Bladerunner-inspired city backdrop to a serene mountainous region simply look great and add a lot of personality. Shadow Blade also runs pretty smooth at a decent framerate, which helps makes the responsive controls work well.
The level design, meanwhile, is what I think sets Shadow Blade apart from other action platformers. If you haven't checked out our hands-on, I'd recommend to get a general description of the gameplay layout. Otherwise, Shadow Blade is paced very well, with early levels doing a good job of introducing players to the core moves and objectives. Once that learning period is done, levels start branching out with multiple paths, checkpoints, and a decent variety of traps and enemies. It's interesting watching Shadow Blade transition from a simple action game to a pretty robust platformed the further you get in. Yet, it does a great job succeeding in this transition.
I was particularly impressed with the striking balance Shadow Blade achieved with the risk/reward of mission advancement versus objective achievement. If all you wanted to do was pass each mission, it's certainly possible without much difficulty. However, doing so while hitting all the objectives is another matter entirely. Fully completing some of the later levels can be difficult, maybe even a bit frustrating, but nailing every objective on a perfect run is such a good feeling. Hardcore missions, which only unlock by completing objectives in the normal missions, are the best examples of this type of balance. I would have liked more variety in terms of objectives (players are rated on the same three objectives for each stage) but it still works well enough.
There's little to complain about with Shadow Blade. It's a great action platformer with smooth controls and plenty of that Ninja goodness. There's also enough variety in terms of level design that, when combined with the objective-based gameplay, offers a decent amount of replayability. Sure, I would have liked more levels (a common complaint I find with similar games) or maybe more of an action-oriented survival mode, but as currently presented Shadow Blade is well worth your time.