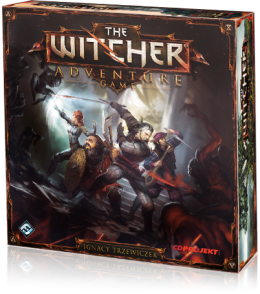 The Witcher, in case this is the first you've heard of it, is a Mac, PC, and console RPG that is based on the similarly named book series. It uses BioWare's Aurora Engine, so while it's not developed by BioWare, a whole lot of the depth and complexity you expect from BioWare games has transferred over. Focusing on the character Geralt of Rivia, you initially set out to cure the daughter of the local king who has a terrible curse, but, of course, tons more happens along the way.
Well, The Witcher developers CD Project RED has teamed up with Fantasy Flight Games to release a brand new board game set inside of The Witcher's universe. The game's site has an exhaustive description of how it all works, but it basically sounds like a highly refined board game versions of Dungeons & Dragons, in a way. The drawback of these insanely complicated board games is always the complexity of the rules and gameplay as well as keeping track of the (in this case over 350) pieces.
The great news here is that there's an iPad version of the game that's also in the works which presumably manages all the pesky rules and undoubtedly manages all the game's pieces. Information on the virtual port of the game is ridiculously scarce and basically amounts to a "coming soon" banner on the game's site. Regardless, we're keeping an eye out for both versions of the game, but if you want to subscribe to the mailing list to get pre-ordering information for the physical copy mash this link and put your info in.