Our collective minds were blown earlier this summer when Star Wars: Knights of the Old Republic ($9.99) hit the iPad, and that mindset continued through our review. KOTOR is a game with a ton of history behind it, and our review's conclusion is just as relevant for the new universal update as it was when it was iPad exclusive:
…if you've never played Star Wars: Knights of the Old Republic and you're even vaguely interested in the Star Wars universe or just surprisingly deep RPGs in general, this is a game you need on your iPad yesterday. KOTOR is easily among the best Star Wars games, and on my personal list of top RPGs I've played in my life. If you've already played the game to death, like most ports, this one offers nothing new- But you could consider doing an opposite alignment run from what you played originally for a slightly fresh experience.

Whatever you do though, don't miss KOTOR. I don't care what platform you play it on, as long as you play it- Especially if you're a Mass Effect fan, it's ridiculously interesting seeing just how much Mass Effect is in KOTOR and how much KOTOR is in Mass Effect. Consider it a really awesome history lesson in Bioware RPGs that also happens to be an incredible gameplay experience as well.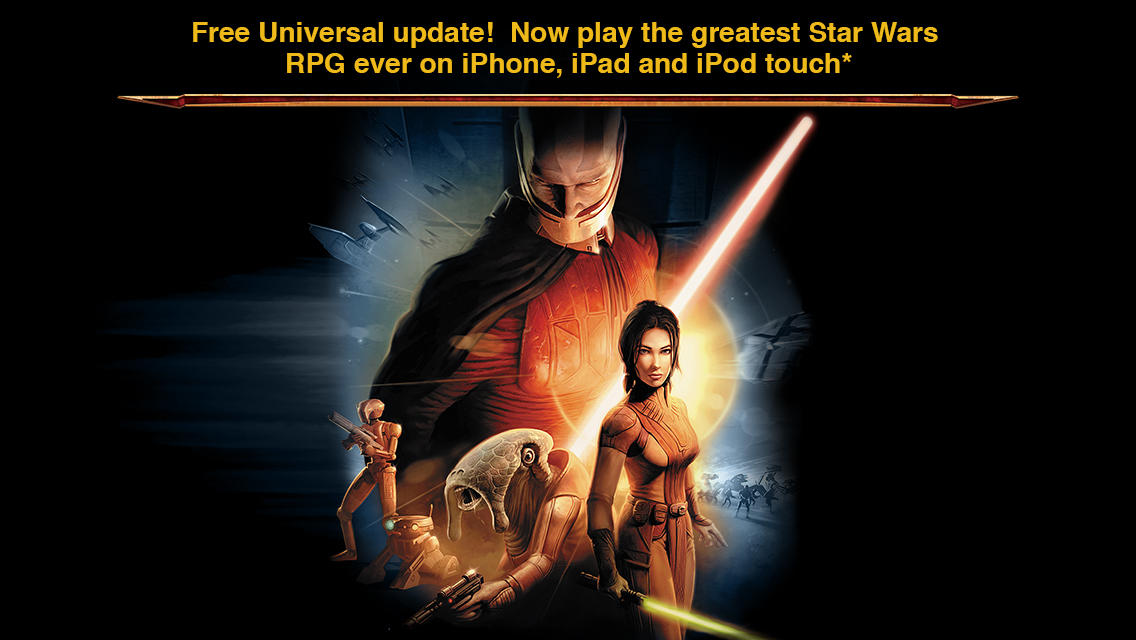 As far as how it plays on the iPhone, well, it's about as you'd expect. The game's controls are sort of crazy on the iPad with virtual buttons everywhere and some virtual joysticks that I wish were better. The approach they've taken on the smaller screen is to, well, just make everything smaller. It's not a great solution, but it works. The up side here is that nothing in KOTOR really requires any precision and battles aren't in real time, so any flubs with the less than ideal controls aren't much of an issue.
Definitely don't miss this game while it's on sale- Especially if you've never played KOTOR. It is so good.