Here's something I wasn't quite expecting, but am happy as pie to see. MacStories has noted that Clumsy Ninja (Free), which just launched worldwide today, is featured in the UK App Store as the Editor's Choice pick, and along with the normal description and screenshots there is an embedded trailer showcasing the game. Here you can see what the feature looks like when viewed from an iPhone.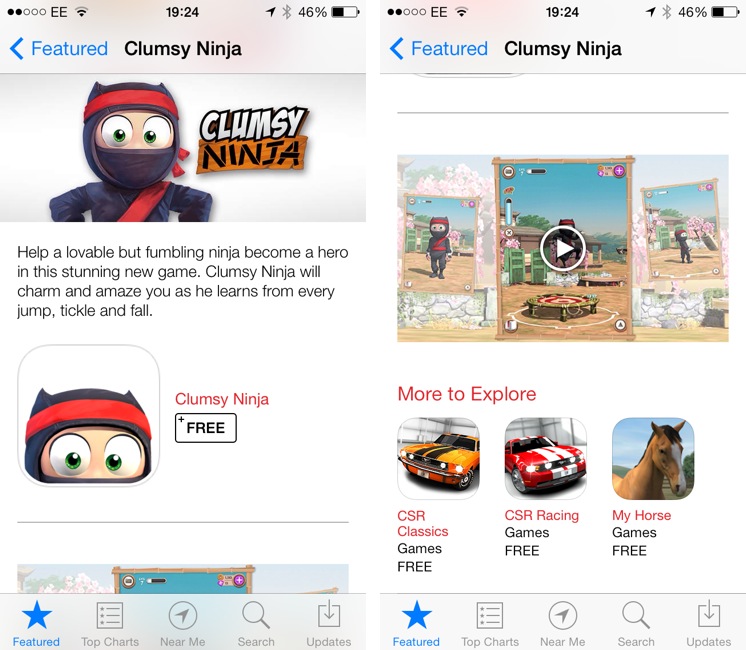 People have been asking for embeddable videos in the App Store for as long as I can remember, and it's one area where Google's Play Store outshines Apple. Even our own TouchArcade (Free) app will put videos right alongside the screenshots in a games info page if someone has embedded one in that particular game's forum thread, and I find it incredibly handy for getting a deeper look at what a game is like in motion. As MacStories notes, there's no word on if this is a special circumstance due to Clumsy Ninja being featured by Apple or if the ability to add videos to App Store descriptions will become an option open to everyone going forward. I really hope so.
We're still waiting for the US App Store to refresh its features, and as sometimes the features are different in different countries, I'll be really interested to see if a country's App Store has a different game for Editor's Choice and if that game would also have a trailer associated with it. We'll find out soon enough, but this is definitely a step in the right direction.