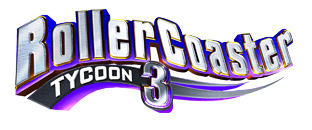 Today Frontier Developments, makers of LostWinds ($3.99), LostWinds 2 ($3.99) and Coaster Crazy (Free) on iOS, have announced a new partnership with Atari which gives the developer the option to bring their 2004 PC hit RollerCoaster Tycoon 3 to "new formats such as today's tablet computers and game consoles."
The original RollerCoaster Tycoon launched on PC back in 1999 and is one of the most beloved simulation games ever, with people constantly requesting it make an appearance on iOS for as long as I can remember. Around this time last year, Atari did announce that RollerCoaster Tycoon would be appearing in some form in the App Store, but with Atari facing financial woes in the beginning of 2013 the title has been endlessly pushed back and doesn't appear to be coming at all anymore. Perhaps this new deal with Frontier is a way for Atari to make good on their promise of RollerCoaster Tycoon coming to iOS.
However, while this new deal means that Frontier can bring RollerCoaster Tycoon 3 to mobile, it doesn't mean they will. I can't imagine that they wouldn't, given the sheer size of the iOS installed base and the success of their previous iOS efforts, but we'll have to wait for official confirmation.