Device 6 ($3.99) is the newest project from developer Simogo — an independent team that has quickly risen to the cream of the crop among iOS developers. But you won't find endless runners or dual-stick shooters in their repertoire — with games like 2012's Beat Sneak Bandit ($2.99) and this year's Year Walk ($3.99), Simogo has shown that they know how to utilize the platform's strengths like few others are doing. In Device 6, Simogo brings that same relentless ambition to the genre of interactive fiction and crafts an experience unlike any other I've encountered on iOS.
Device 6 starts out with an old cinema-like opening credit scene — an artistic sentiment you'll come across time and time again throughout the adventure. Before you know it, you begin the first chapter and start moving through the text, which reads like a mix between a classic mystery novel and a B-movie thriller. You play as a girl named Anna who wakes up in a mysterious room that appears to be part of some kind of large castle of sorts. As you read through the text, you follow Anna from one creepy room to another, in search of the meaning behind the castle and why she is there.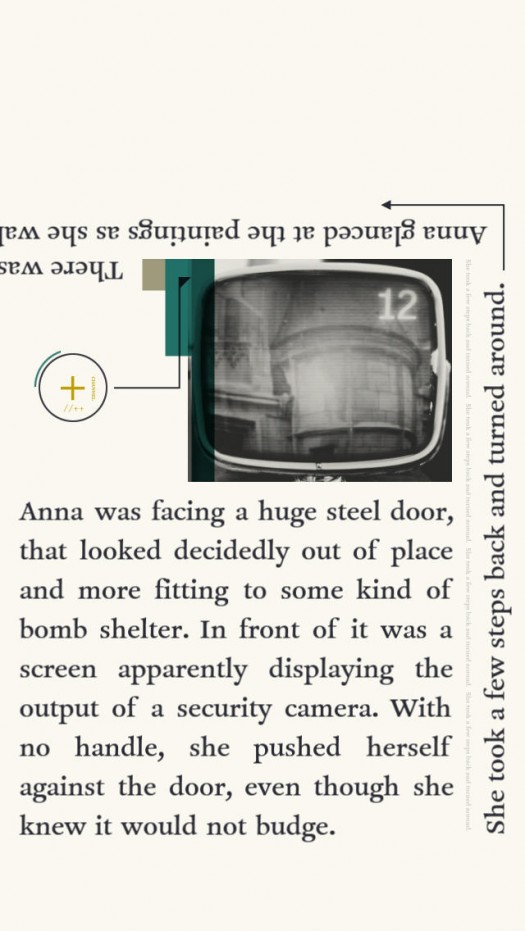 The rooms that are described in the text are separated from each other in some pretty creative ways that keep the player engaged throughout, whether it's something as simple as flipping the text upside down or falling down stair steps of words. But the real action happens in the pictures, which are like little windows into the world that the text describes. They move in parallax with the scrolling of the text — which is a nifty little trick for revealing the rooms to players slowly with an added sense of suspense. These windows are also often where the game's puzzles take place, often times giving the player toggles to switch through or even just an important piece of information.
The puzzles in Device 6 aren't terribly innovative, but they do take a significant amount of focus to complete. By forcing the player to reread every single bit of text and pay attention to every sound, they achieve the goal of getting the player to pour over and appreciate every detail of the game's writing and design. It does take a bit of time to adjust to the kinds of observations Device 6 asks you to make, but it's exciting to know that any detail could be a clue that opens up the next chapter of the story.
To pile on more compliments to the design of Device 6, the various sounds and bits of music sprinkled throughout really add to the immersion of the story. The sound design of the game takes what would otherwise be an interesting piece of interactive fiction and transforms it into a full game experience — one that might even send a few shivers down your spine on occasion. Each sound effect is meticulously crafted, down to the old distorted recordings or even Anna's quiet footsteps as she walks through the eerie old castle. As the game advises, get a decent pair of headphones and let the sounds immerse you in the mystery.
I understand that there are plenty of arguments to be made for why Device 6 is in fact not a game at all. After all, the game is mostly text and features very little of what we traditionally refer to as "gameplay". And while there is a strange scoring and feedback system built in, it was the only feature that felt a little out of place here. Regardless of what you want to call Device 6, one thing is for sure: If you're at all open-minded, you're sure to be creeped out, entertained, and thoroughly delighted by its inventive approach to interactive storytelling. Trust me — once you finish Chapter Six, you'll be thinking about this one for weeks.