We were pleasantly surprised by just how many games were released last week, given that Infinity Blade III, Angry Birds Star Wars II, iOS 7 and new iPhones all launched last week as well. That's a heck of a lot of big news items that could potentially steal the thunder from any game's launch. However, it goes beyond that, because after Wednesday night games just kept on releasing. Rather than being a light launch week with all the goings on, it turned out to be one of the biggest release weeks in recent memory. Crazy. Anyway, here's yet another Out Now post rounding up the games that came later in the week or otherwise slipped through the cracks. Don't be confused: it's not Wednesday! We'll have another release list like we normally do this coming Wednesday, but in the meantime feel free to check out the games that might have snuck past you during what was a crazy week last week.
---
Alice in Wonderland: A New Champion
iTunes Description
Explore the vibrant world of "Alice in Wonderland" in an enchanting new Disney game inspired by the hit live-action film! Experience unbelievable sights and unravel the curious mysteries of Wonderland, as you fight to thwart the return of the dreaded Red Queen and her minions.
Forum Thread: Alice in Wonderland: A New Champion (by Disney)
---
Bravura – Quest Rush
iTunes Description
Rush into an Adventure full of side-scrolling RPG Frenzy
Quest Rush is an innovative time-driven action game mixed with RPG elements.

Rush through fast-paced stages of side-scrolling action – each stage lasts about 90 seconds and your goal is to complete all the quests as you slay through hordes of monsters while helping innocent bystanders.
Forum Thread: Bravura – Quest Rush (by Digital Tales) [Universal] [Out Worldwide!]
---
Carnage Racing
iTunes Description
Strap in, gun your engine and go full throttle into the most turbocharged, hi-octane combat racing game to hit the App Store. From the developers behind the epic Midnight Club series, Carnage Racing combines seat-of-the-pants driving, tricks and stunts with explosive vehicle combat in a no-holds-barred race for the chequered flag.

Take on the rest of the world with Carnage Racing's exhilarating 8-way real-time multiplayer mode and show them who really rules the road. Carnage Racing is a high-stakes game with one aim – take out your opponents, earn cash and buy upgrades that'll power you to global victory. Get ready for the race of your life.
Forum Thread: Carnage Racing – (by Jagex Games Studio)[Universal]
---
CastleVille Legends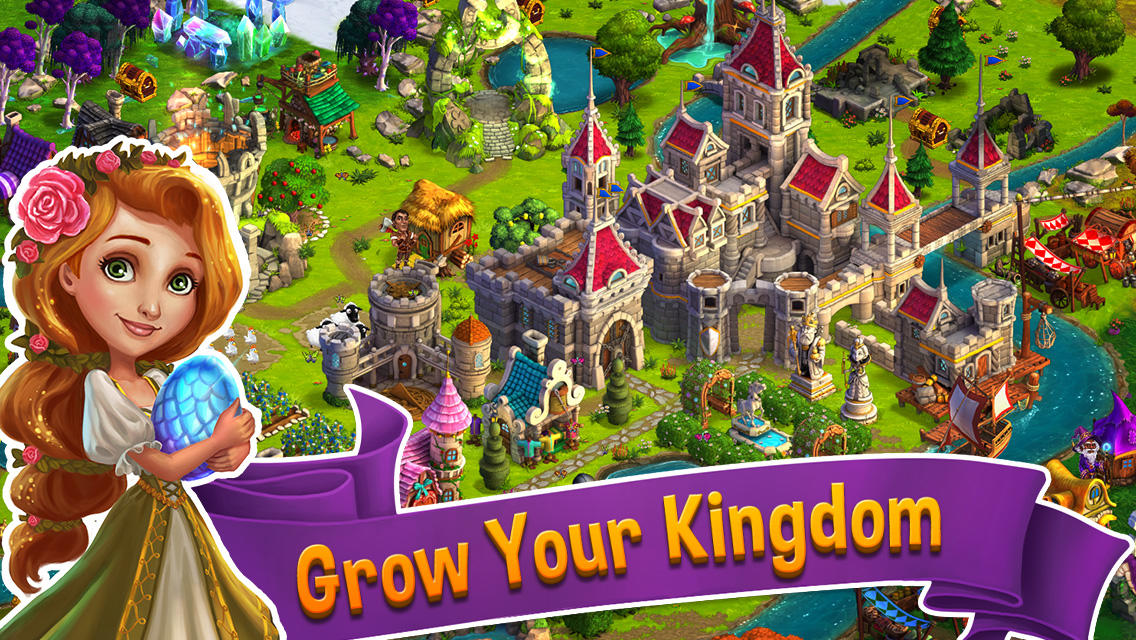 iTunes Description
Accept the challenge and restore the Legendary Lands! Long ago, this realm fell under a dark wizard's curse. Covered by gloom, the heroes of the land were trapped in crystal prisons. Only you have the power to free them and build a thriving new Kingdom!
Forum Thread: CastleVille Legends – (by Zynga Inc.) [Universal]
---
Cavemania
iTunes Description
Enjoy truly old-school Strategy. Lead your Tribe on a journey through prehistoric perils. Plan your strategy as you gather resources using familiar match-3 gameplay. Place units and buildings on the game board and use them to achieve victory! But choose wisely, because you'll be fighting to survive against the elements and prehistoric foes.
Forum Thread: Cavemania (by BonusXP/Yodo1) [Universal]
---
Chainsaw Warrior
iTunes Description
First published as a solo boardgame in 1987, it has been updated, translated and re-engineered for the digital generation. In Chainsaw Warrior it's just you against both the clock and a tide of evil! Can you prevail where all others have failed? You only have 60 minutes to save New York!
Forum Thread: Chainsaw Warrior (by GameTheNews.net)[Universal]
---
Deer Hunter 2014
iTunes Description
Return to the wilderness in the most visually stunning hunting simulator on mobile!

Travel from North America's Pacific Northwest to the Savannah of Central Africa in an epic journey to hunt the world's most exotic animals!
Forum Thread: Deer Hunter (2014) – (by Glu Games Inc.) [Universal]
---
Gentlemen…Ricochet!
iTunes Description
Gentlemen… You are cordially invited to the (once) great town of Smallbridge, known for its unique sport: Ricochet! Meet the townsfolk that will challenge you to play their own Ricochet tables. Every table is a fun combination of skill and physics based puzzles.
Forum Thread: Gentlemen… Ricochet! (by Bitse Games) [Universal]
---
Heroes of Camelot
iTunes Description
Reclaim Camelot from the Black Knight. Join thousands of players in this RPG Multiplayer Battle Card Game that will transport you into a world dominated by Dragons and Medieval mythological figures!
Forum Thread: Heroes of Camelot (by Kabam) [Universal]
---
PuzzleBits
iTunes Description
Place the colorful pieces in the right spots to complete a puzzle. If you succeed, the puzzle will explode into tiny bits, which then recombine into a new challenging shape!

– 500 puzzles, with more to come.
– Hundreds of unique, brightly colored, piece shapes.
– Playful animations and soundtrack.
– Free hint option
Forum Thread: PuzzleBits for iOS 7 – Little White Bear Studios
---
Reaper – Tale of a Pale Swordsman
iTunes Description
• Take countless quests and uncover the secrets of Wilderness
• Level up your character with skills of your choice
• Hundreds of swords, armor and accessories to equip
• Play all sides and make your own decisions
• Game Center leaderboards and achievements
• iCloud synchronization of game progress
Forum Thread: Reaper – Tale of a Pale Swordsman by Hexage [Universal]
---
Shadow Vamp
iTunes Description
Your nightly hunt for blood has taken you too long and now the sun is already up!
You must find a safe place to hide – but don't step into direct sunlight!
Rotate the entire island with your magical amulet to form a safe path of shadows.
Unlock various vampires with different skills that can help you solve this tricky task!
Forum Thread: Shadow Vamp (by Gamesmold) [Universal]
---
Space Qube
iTunes Description
With Space Qube's in-game Voxel editor you can create anything and take it for a spin in the space! There are tons of models already created and more is coming in – fast. Take control of a space ship, a flying toilet, a flying cow or anything else, shoot as many aliens as you can and get the highest score to climb up the ranks. Some serious unique bosses are waiting for you on your quest! Space shooters will never be the same.
Forum Thread: Space Qube® (by Playground Publishing B.V.)
---
Total Conquest – Online combat and strategy
iTunes Description
Sound the call to battle and join legions of players online in a battle to control the Roman Empire! Total Conquest is an exciting and strategic social game where you are a Roman governor developing your own city-state and army. But with Caesar dead, you'll need to join a powerful Legion — or forge your own — to defeat your enemies, protect your lands, and reign supreme. Vae victis!
Forum Thread: Total Conquest – Online Combat and Strategy – (by Gameloft) [Universal]
---
Tower of Fortune 2
iTunes Description
What would you choose if you could make a single wish come true? The legendary second tower has been found, rewarding a wish to anyone that can reach its summit. Playing as the hero who lost his beloved daughter years ago, will you prove brave enough to overcome the tower's traps and dangers? And if you do, will you have the strength make the right wish…or be moved by human desire? Conquer the tower and find out!
Forum Thread: Tower of Fortune 2 – (by Game Stew) [Universal]
---
YOU DON'T KNOW JACK Party
iTunes Description
That's right, "the greatest quiz-show game ever made" according to The Onion's A.V. Club can now be played as it was meant to be played: with friends, on your couch, with several pizzas, and beverages scattered about, and a rabbit that snuck in, and some work-release prisoners in the audience, with soothing jazz playing in the background, and the scent of vanilla coriander cinnamon candles in the air, while everyone wears those inflatable sumo wrestler costumes. Or… however you like to party. That's just a suggestion.
Forum Thread: YOU DON'T KNOW JACK Party (by Jackbox Games, Inc.)[Universal]