Well it certainly wasn't your typical release week on the App Store. Not only did two of the biggest games of the year, Infinity Blade III and Angry Birds Star Wars II, launch earlier than the usual Wednesday night/Thursday morning time frame, but iOS 7 officially launched today as well, which seemed to have similarly bumped the weekly App Store features spots up by a day. With so much going on, I'm actually really surprised with how many new games did end up coming out today. Check 'em out.
Angry Birds Star Wars II
Review: 'Angry Birds Star Wars II' Review – We Joined the Pork Side and So Should You
Like its gaming forefathers, Angry Birds Star Wars II is a great game. There's a reason why the Angry Birds global dynasty exists, and that's because Rovio knows how to make killer video games that appeal to gamers of all types and all ages. ABSII is fun as heck regardless of whether you're just breezing through levels with the included birds, or slamming your head against the three star wall. Even calling it a "refinement" of the originals seems weird, as Rovio perfected the Angry Birds formula years ago.
Forum Thread: Angry Birds Star Wars II (Universal) (Rovio Entertainment Ltd)
---
Captain Bubblenaut
iTunes Description
You are CAPTAIN BUBBLENAUT! Your mission: to earn the love and respect of your father, the warmongering ADMIRAL POP. Invade the square-shaped abomination known as PLANET ERF, obliterate every ERFLING in sight, and make your father PROUD!
Forum Thread: Captain Bubblenaut by Dean Tate
---
Cloudy with a Chance of Meatballs 2: Foodimal Frenzy
iTunes Description
FREE fun puzzle game. Connect matching foodimals to rescue them across 60+ levels with more coming! Cloudy with a Chance of Meatballs 2 is in theaters September 27, 2013!
Forum Thread: Cloudy with a Chance of Meatballs 2: Foodimal Frenzy – (by PlayFirst, Inc.)
---
Disney Infinity: Toy Box
iTunes Description
In Disney Infinity: Toy Box, you can make your own worlds, create games with your own rules, or build places that only exist in your imagination. When youre done, you can knock it all down and start again. Transfer anything you create between your iPad and console, and continue right where you left off on any platform.
Forum Thread: Disney Infinity: Toy Box (By Disney)
---
Dragon Finga
iTunes Description
Dragon Finga is a unique Kung-Fu fighting game for all ages! Take direct control of your own Dragon Warrior to take on infinite hordes of evil enemies! Race against the clock and complete missions for fantastic rewards! Unlock new powers, locations and enemies as you climb the belt rankings to become the ultimate warrior. Challenge your friends to see if they have what it takes to beat your score!
Forum Thread: Dragon Finga (by Another Place Productions Ltd) [Universal]
---
DuckTales: Scrooge's Loot
iTunes Description
The infamous Beagle Boys have swindled Scrooge's fortune! It's up to you to join the citizens of Duckburg to recover his stolen loot! Team up with your friends, and haul back the most riches to beat the competition in this mad gold rush. Get ready for a ton of action-packed fun and appearances from classic DuckTales characters like Scrooge and his quirky pilot, Launchpad!
Forum Thread: DuckTales: Scrooge's Loot – (by Disney) [Universal]
---
Incredipede
iTunes Description
Incredipede is a puzzle game that celebrates the vast diversity of life in the world. Follow Quozzle, a lone Incredipede with the unique ability to grow new arms and legs wherever she needs them. Transform into a snake, a spider, a horse, a monkey – anything you can imagine. Control Quozzle as she learns to swing through the trees, climb sheer cliffs, dance over rivers of lava, and even soar through the air on thermal winds.
Forum Thread: Incredipede (by Sarah Northway) [Universal]
---
Infinity Blade III
Review: 'Infinity Blade III' Review – Chair Raises the Graphical Bar to Low Earth Orbit
I feel like at some point we've called each subsequent Infinity Blade game the best game on the App Store, at least in some regard. Infinity Blade III follows in the footsteps of its predecessors, and everyone with an iOS device capable of running it needs to download Infinity Blade III. From a gameplay perspective it's super fun, the plot has me totally sucked in, and calling Infinity Blade III a technical masterpiece is an understatement.
Forum Thread: Infinity Blade III – (by Chair Entertainment Group, LLC) [Universal]
---
NFL Runner: Football Dash
iTunes Description
Jump into the action and sprint into the endzone in this new endless runner brought to you by the NFL!
Pick your team, test your reflexes and see how far you can run – dodge linemen, collect stars and power-ups, and upgrade your player's abilities. Compete with your friends to see who can get the furthest!
Forum Thread: NFL Runner: Football Dash (by Pocket Gems Publishing) [Universal]
---
Orborun
iTunes Description
Orborun is a 3D run & roll game where your nerves will be put to the test. Tilt your device to make your Orbot run and roll on long & curvy slides, use the power-ups to go faster, tap on the slowdown bar to be more precise. Complete optional challenges and arrive faster to get higher scores and compare them with your friends. Tunnels, vortex and 90-degree turns wait for you. Would you reach the spatio-temporal gate before curling you up into a ball ?
Forum Thread: Orborun – (by Bulkypix) [Universal]
---
Puzzle Knights
iTunes Description
Choose a fighter and challenge the world online! Solve puzzles to build up your fighter's stamina before a fight. More stamina means more attacks but choose your attacks wisely. Different attacks are a trade off between power and stamina. Customize your strategy for each of your fighters at any time to challenge other Players and to set up a winning strategy while you're away. Level up your fighter to take on more harder opponents, solve harder puzzles and reap bigger rewards!
Forum Thread: Puzzle Knights – (by Mojaro) [Universal]
---
Riddick: The Merc Files
iTunes Description:
Be Riddick – the iconic antihero – and avoid the bounty hunters that tracked you down across the stars. Escape them, trick them, or eliminate them; you choose your own path in this touch-based stealth action game from the creators of "Chronicles of Riddick: Escape from Butcher Bay".
Forum Thread: Riddick: The Merc Files – (by Gaming Corps) [Universal]
---
Sidekick Cycle
iTunes Description
Sidekick Cycle not only gives you the most exhilarating "downhill" style gameplay experience ever for iOS, it aims to raise awareness of the positive impact bikes can make in impoverished communities. A bike can make sure a kid attends school every day, as well as provide daily healthy activity. Global Gaming Initiative's mission is to connect communities to make a difference.
Forum Thread: Sidekick Cycle (by Global Gaming Initiative)
---
Tactical Space Command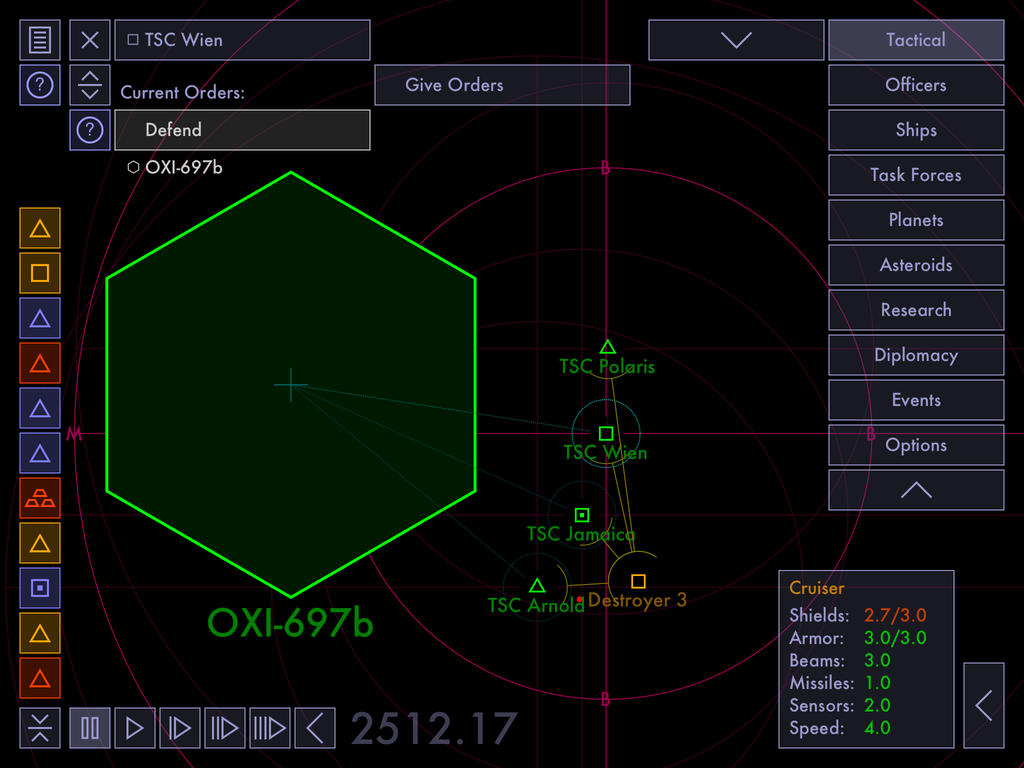 iTunes Description
Organize ships into task forces. Give your ships and task forces orders. Promote and assign officers to command your ships, stations and task forces. Allocate production. Customize your research focus. Take that rock or die trying. Smash any planetary defenses that get in your way. Bring death and bitter defeat to all that oppose you.
Forum Thread: Tactical Space Command (by Lensflare Games LLC)