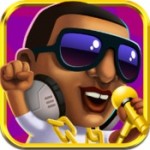 Halfbrick has partnered up with fellow Australian developer Six Foot Kid to put out their social-focused band simulator Band Stars on iOS, and joining the Austrailian soft-launch which happened back in August the game is now also available in the Canadian App Store.
Band Stars has an interesting history, as it was initially launched over a year ago as part of Google+ Games before disappearing when that service was shuttered this past June. An iOS version was already in the works, though, and it looks like it's getting ever-closer with its expanded soft-launch in Canada. Check out the official trailer for Band Stars.
I didn't have a chance to play Band Stars back when it was a Flash game, but it sounds like it garnered a pretty devoted fan base. I've heard several times it being compared to Kairosoft's brand of simulation game, where you really get to build your band from the ground up before recording tracks and building up your own virtual fan base. It'll be a free-to-play game, so if you have access to an Australian or Canadian App Store account you can give it a download with either of the links below and take it for a spin yourself. We'll let you know when we get word that Band Stars is hitting worldwide.
Australian App Store Link: Band Stars, Free (Universal)
Canadian App Store Link: Band Stars, Free (Universal)