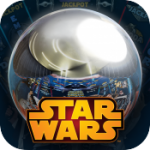 Zen Studios took their pinball expertise into space earlier this year with the release of Star Wars Pinball ($1.99). Three different tables covered various areas of the Star Wars universe, with a table for The Empire Strikes Back, one showcasing the bounty hunter Boba Fett, and one based on Star Wars: The Clone Wars. Besides the standalone version of these tables, they were also available for download inside the Zen Pinball (Free) app.
Later this year, Zen will be expanding on their Star Wars Pinball offering with three new tables in what they're calling the Balance of the Force pack. This brief teaser shows a bit of one of the new tables, set during Return of the Jedi on the moon planet Endor.
In addition to the Return of the Jedi table, there's a new table based on Darth Vader and one that's focused on the awesome spaceship combat of the series called StarFighters Assault. No word yet on pricing or exact availability, but look for the Balance of the Force tables to land in Star Wars Pinball and Zen Pinball sometime later this year.