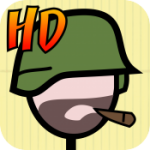 Perusing the top charts for games to capture video of we discovered the still-oddly-popular Doodle Army HD ($0.99). It's the bigger brother of Doodle Army ($0.99) and both games have a universal sequel, Doodle Army 2 (Free). Jared and I are always sort of stumped when it comes to these games, as they're usually always very popular and they're really just resoundingly OK at best.
Watch us slay stick dudes, and lots of them:
If you're a fan of these kind of stick games, drop us a line in the comments and let us know what about them keeps you coming back. Maybe I just don't get it, but I'd love to learn what makes the typical stick shooter fanatic tick.