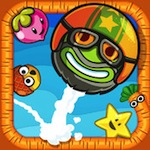 Need more Saga games in your life? Awesome! Candy Crush Saga (Free) creator King just announced that it's bringing its physics-based puzzle game, Papa Pear Saga, to iPhone, iPod touch, and iPad later this fall.
Papa Pear Saga debuted as a Facebook title, and apparently reached over 4 million daily players this month. The mobile version will launch with over 120 levels and will support integration with Facebook, allowing folks to switch back and forth between the two.
Papa Pear is a little more … game-y than most of King's other stuff. It plays pretty similarly to Peggle, actually, as it revolves around launching a "ball" into a mess of "pegs" or acorns in this case. The more your ball rockets around and dings off acorns, the higher your score. Those images explain it all.
We'll obviously follow this one along as it comes down the pipes. Feel free to add it to your Watch List to get a heads up when it releases worldwide. The game is currently available in the Canadian App Store.