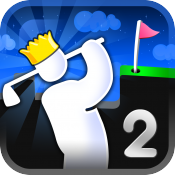 Attention fans of Super Stickman Golf 2 ($0.99), a huge update has finally landed in the App Store for the game and it's quite a doozy. Super Stickman Golf 2 originally launched back in March this year and was quite a success: we loved it in our review. The following month an update was issued which was mostly bug fixes and the like, but with a promise that the "next update will be big!" Well, what the heck? That was like over three months ago aka a million billion years in App Store time.
Ok, so it took Noodlecake a bit longer than expected to crank out this update, but it was worth the wait. As the developer explains on their blog, this latest update includes some new characters as well as reductions across the board to the amount of XP required to unlock the current characters. Along with the new characters come 7 new hats, some of which will significantly change up the game if you previously thought you had a certain course mastered with the existing hat powers.
With new characters and new hats also comes new courses. There are two new tours added to the mix for a total of 8 new courses to play, which come equipped with new obstacles like a nasty buzzsaw. Seriously, check out how brutal that thing is. Here are a couple of screens from the new courses and obstacles in Super Stickman Golf 2.
Another significant change in this update, and a welcome one, is a "Clean Ball" mode for multiplayer matches. This means you can play online against other people in both the turn-based and race modes with no power-ups or hats of any kind. This should even the playing field for those who haven't unlocked everything yet going up against someone who has, and just plain feels like a more "pure" experience to me.
Finally, replay sharing with Everyplay has been integrated, and I'm sure that will be an absolute hoot. There are already nearly a thousand replays uploaded, so be sure to share your fancy moves with the world. This update also contains new achievements, bug fixes, and more premium Bux to earn, so be sure to update and check out all the new content in Super Stickman Golf 2 and hop into our forums for some discussion.