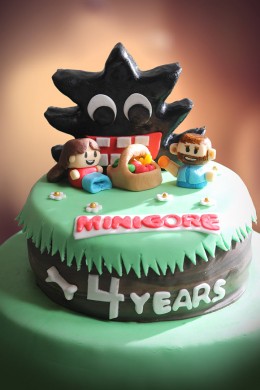 Last December, Mountain Sheep took everything good about their cult-classic dual-stick shooter Minigore (Free) and expanded on it for a sequel. The result was the familiar arena-based shooting we all knew and loved spiced up with more enemies, more crazy weaponry, more playable characters, more… of just everything.
Well today, if you can believe it, is the 4-year anniversary of the release of the original Minigore, and to celebrate Mountain Sheep has set the sequel, Minigore 2: Zombies ($1.99), free for the first time ever. Another way they are celebrating: Minigore cake!
If you were around TouchArcade back in the day then you'll surely remember the craziness and sheer fervor that was the Minigore upcoming thread, as I can't really recall any iPhone game prior to that drawing such an insane amount of hype. The sequel drew similar hype, and a changing release date and lack of frequent updates on its progress I'm sure contributed to that, though it never felt like it got as crazy as it did with the first Minigore. And let's not even bring up Hardgore…
At any rate, if you have yet to drop the dollar or two on Minigore 2 thus far, now if your chance to finally check it out for free. It's a fun dual-stick shooter with really nice visuals and lots of variety in weapons and enemies. It feels like the "definitive Minigore experience" that refines everything that the first brought to the table, so join in on the discussion in our forums and be sure to give it a download while free.