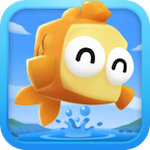 Oh, what's this? A new update for Fish Out of Water ($0.99) is out? A new update for Fish Out of Water is out.
Earlier this morning, Halfbrick dropped some new features for its vibrant fish-skipping game. Of most note is the addition of costumes. Now, you can buy costumes for your fish with the game's crystal system. These costumes change your fish's abilities, too, which kinda sweetens the deal. Depending on what you get, you'll be able to fly farther, skip longer or even bounce higher.
Also, this update adds in a new "Pro Scoring Mode" for you Fish veterans out there. From what we gather, this is a secondary scoring system that allows vets to get 100,000 or more from a judge, if they've put on a good enough show.
Fish Out of Water debuted in April for iPhone and iPad. You can check out our original review here if you want to see what it's all about.