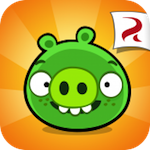 Heads up: Bad Piggies' (Free) latest update is a big, free content drop for veteran players of the colorful, gadget-y sandbox building game.
At the top, it ushers in 15 levels and polishes off the "Rise and Swine" episode. Also, it introduces two new gadgets: the suction cup grappling hook and the boxing glove. The former allows your vehicle to climb up walls, which should come in handy, while the latter gives you the ability to punch through stuff. A new sandbox has also been added in addition to a Road Hog speed challenge. Here's a peek of this stuff:
Looking for more stuff to do in Bad Piggies? Well, here you go, right? Piggies, by the way, is a pretty rad game. You should seriously consider checking it out, especially if you still have a soft spot for Banjo-Kazooie Nuts & Bolts.