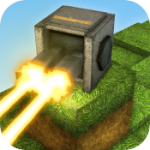 One of the most popular games in our community is Foursaken Media's Block Fortress ($1.99), a tower defense type game set in a Minecraft-like world of building blocks. You're tasked with building the most impenetrable fortress you can dream up using the various kinds of blocks, and then defending your fortress from a first-person shooter perspective against wave after wave of enemies. It's a winning combination, as we noted in our review of Block Fortress from March.
Anyhoo, today marks the release of a huge new update for Block Fortress which adds an oft-requested feature: cooperative online play. You can link up with up to 3 other players through Game Center and cooperatively build up a base and then defend it together. There's not direct voice chat but there is a variety of ways to communicate with your team so you can work out strategies together.
In addition, you can build bases with co-op in mind and upload them for others to play, similar to the level building and sharing feature that was added back in April. There's also a couple of new map types and a couple of new bots loaded into this latest update, as well as an assortment of bug fixes and tweaks.
Players in our forums are already setting up and playing matches together, so be sure to get in on this latest Block Fortress update for some cooperative multiplayer action.
Note: Currently there is a graphical bug in this version that affects iPhone 4, 4th generation iPod touch, and original iPad devices. According to a post by Foursaken in our forums a critical fix is already submitted for expedited approval, and the game should still be playable even with the graphical hitch.