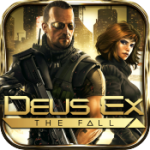 Well, this is surprising. Square Enix's Deus Ex: The Fall ($4.99) seems to have just hit every App Store instead of just the New Zealand App Store. According to everything we've heard from their PR agency, this is very much not how they planned this launch so it wouldn't surprise me at all if the game gets pulled, at least until later today.
If you're wondering what this game is all about, take a look at our E3 coverage where Jared and I got a decent bit of hands on time:
We'll have way more coverage on this game ranging from videos to reviews later today, it was just all scheduled to happen much, much later in the day.