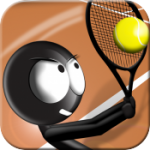 You'd think that a game involving stickmen wouldn't be that in-depth. Or warrant anything other than a free download.
Stickman Tennis ($0.99) falls into the middle. On the surface, it's a very simple game involving two stickmen playing each other in a game of tennis. But underneath this simplistic style is a decent representation of the sport.
Upon launching it for the first time, the game sets the control scheme so that your stickman moves automatically, and leaves just the shot controls available to you. You can easily change this in the options so that you control movement as well, and I recommend you do so. Not only does it make the game more fun, but it adds a bit more challenge. With the auto-movement enabled, I found myself staring at the screen and hitting as the balls came to me, which wasn't fun and quickly got boring.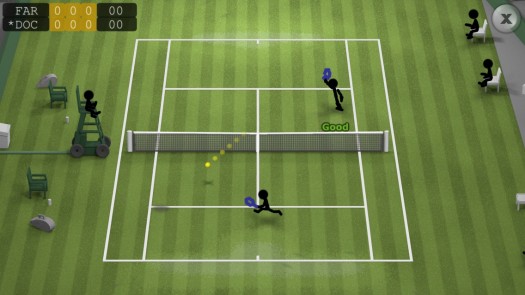 The graphics are cute and get the job done, but don't expect anything that'll act as a showpiece for your iOS device. The legs of the stickmen look like they run much faster than what they're actually moving, which made me chuckle. Accurate shadow trails follow the tennis balls, and audience members clap and cheer appropriately.
There are two main game modes; Quick Play and World Tour. Quick Play allows you to set the locale for the match, of which there are 64 real-world locations, such as Kuala Lumpur and Paris. The remaining options are movement type (auto or manual), difficulty and game length. World Tour pits you against opponents of increasing difficulty, and will allow you to increase your World Ranking, which is shown using Game Center. Sadly, there is no multiplayer.
Each court seems to have an "oily" feel to it, which causes your character to slip and slide slightly, forcing you to adjust movement accordingly. It can be annoying at first, but it adds a bit more of a challenge. You have three shot types: lob, overhead and smash. Your player seems to have an invisible square around him, and I frequently received "good" shots even though I swung too early or too late. It's almost as if the balls are drawn to the stickmen and they have a huge range of motion.
There are a few questionable design choices I encountered. Throughout the game, every time you hit the ball, you're told whether it was a good shot, or if you were too early or too late. The thing is, it also tells you this for the computer player. It has no effect, really, except to make your next shot easier as you can figure out where to aim.
Stickman Tennis features Game Center integration and leaderboards, but you're ranked on the leaderboard by total points as opposed to highest score per game. Seems like it would make more sense the other way, as theoretically you could climb to the top of the boards just by playing game after game.
There is one IAP in Stickman Tennis, and it's not even advertised; the ability to buy replays. For 99¢ you can purchase five replays.
Stickman Tennis has a cute, amateur look, but with a pretty deep game underneath that you wouldn't expect based on the name, look or price. It's priced accordingly for what it is, and you'll definitely get your buck's worth out of it.