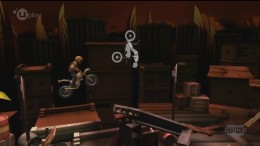 Two new Trials games are coming in 2014, Trials Fusion and Trials Frontier. The latter of which is coming to mobile exclusively, Ubisoft revealed at its briefing this afternoon at E3.
Fusion, an upcoming Xbox One and PS4 title, interestingly, will incorporate some second screen experience action, allowing users to "access previous runs" and view high scores. Both Fusion and Fontier will be able to interact with each other somehow.
Trials Frontier will be the first official Trials release on mobile. The series, which is all about tricking out on a dirtbike, is well loved and well designed, so we're more than stoked to give Frontier a shot whenever it hits.
Update: Here's a short teaser!