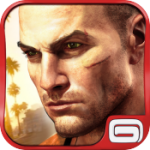 The Gangstar franchise is weird. It's a series of games with little connection to each other outside of some pretty basic stuff: open worlds, guns, intense violence, and car jacking. You could probably say the same thing about Grand Theft Auto, but Gangstar is sorta unique in that each game is a crude copycat of whatever AAA sandbox game is toast of the town at the moment of its release. Rio ($6.99) rips off Saints Row 3. Miami ($6.99) direly wants to be Grand Theft Auto 4. West Coast Hustle ($6.99) does its best to ape Grand Theft Auto III: San Andreas. And now Gangstar Vegas (Free), which takes cues from Sleeping Dogs and, of all things, Far Cry 3. As a result of this design approach, Gangstar as a whole lacks a voice. It doesn't have too much to say because it's too busy trying to be another game.
This long-running problem is, maybe, my biggest beef with Gangstar Vegas. Otherwise, it seems like a pretty competent open-world shooter. As we promised earlier, we gave it a spin this afternoon, spending some time shooting innocent bystanders and running away from the (short) arm of the law:
Wonky stuff and identity crisis aside, this is probably the best open-world game on the mobile market at the moment. If what you saw clicked with you, you should probably give it a look.