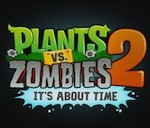 I'm so tired of zombies that I can't even channel the proper amount of disdain needed to write an intro poking fun at how many zombie games keep getting released. So, instead of bothering with that I'll just give you the news: Plants Vs. Zombies 2 is hitting July 18 at the price of ZERO dollars across iPhone, iPad, and iPod touch.
This is all according to some official announcement materials, which note that players will be able to access all the game's levels without a fee. There will be, however, optional IAP upgrades and in-game items.
As you'll see in this insane teaser trailer, PVZ 2 has a time-traveling theme. You'll be shooting zombies in the Wild West, ancient Egypt, or even on a pirate boat:
It'll be interesting to see if these F2P elements actually gel with the game or if they end up feeling kinda gross. IAP in strategy games is hard to do right because you never want to make the player feel like paying for something is the only viable strategy. Fingers crossed.