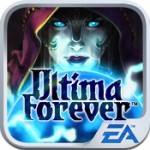 Details for a free-to-play Ultima game coming to PC and iOS courtesy of EA Mythic surfaced all the way back in July of last year, and the following month we got a few more details on the game, known officially as Ultima Forever: Quest for the Avatar, by way of an interview with one of the game's executive producers. Most recently, in February, we got a taste of the game in action for the first time with a new trailer, along with the news that Ultima Forever was set for a spring release.
Well, spring is in the air and Ultima Forever is sort of finally here. Thanks to a heads-up from Ultima fan site Ultima Codex, we've learned that the game has soft-launched in the Canadian App Store. So if you're a real Canadian or just a fake Canadian with access to that country's App Store, you can download the free game and check it out for yourself.
I was never into the whole MMO or online RPG thing, but I've been interested in seeing a mobile one done right that would actually get me to stick around. I don't know if that game will be Ultima Forever, but I'm pretty excited to dive in and give it a try. I'd imagine that a full worldwide release won't be too far off either, so if you can't get a hold of the Canadian version then throw this bad boy on your TouchArcade (Free) app Watch List to get an alert when more news of a full release becomes available.
Canadian App Store Link: Ultima Forever: Quest for the Avatar, Free (Universal)