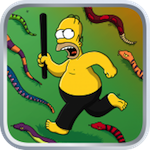 EA's The Simpsons: Tapped Out (Free) received a new update the other day, adding in a bunch of new stuff especially for maxed out players. Of most note, the update expands the cap to level 29 and allows you to pick up Agnes Skinner. Also, new buildings, including Sprawl-Mart have been added in addition to a new quest involving Agnes and new Springfield Park Entrance and Cobblestone Wall decorations.
The Simpsons: Tapped Out, for the 12 of you or so who haven't seen it yet, is a free-to-play city simulation game that tasks you with building a new Springfield after the first one got blown up. Along the way, you'll meet familiar faces and build familiar places. EA constantly updates the app, adding in stuff like the above for users.
You can download Tapped Out now, of course, but be warned: this thing seems to eat up folks' time.