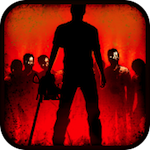 We've had a couple of discussions about PikPok's insane creative successes in the recent past. This is a studio that pumps out a ton of games for iOS, and it manages to consistently deliver quality despite its workload. So, in a way, news that its first-person zombie shooting game, Into the Dead (Free), has hit 10 million downloads isn't all that surprising. Still, it's a cool point of validation for our cheerleading. Obviously, it's doing something right.
To dive into more detail about this news, by the way: Specifically, Into the Dead has hit 10 million downloads across iPhone, iPad, iPod touch, and Android in less than five months after its initial release. Obviously, PikPok is stoked with this news. In the PR we've received about this, managing direction Mario Wynands said:
"I'm very proud of the team and process we have built that has been able to have repeat success, and look forward to seeing how our upcoming releases will be received."
Into the Dead is pretty hot, by the way. And so is Robot Unicorn Attack 2 (Free), Super Monsters Ate My Condo (Free), Extinction Squad ($0.99), Flick Kick Field Goal ($1.99) … and so on and so on. Makes you wonder if there's something in the water over there.