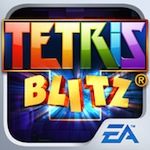 Heard about Tetris Blitz yet? In a nutshell, it's an arcade take on the title that has you dropping blocks and creating lines in a two-minute rush to get the sickest of sick scores. As you can imagine, it's flashier than regular Tetris. Provided you've got the coin to buy them, you can deploy power-ups that jumble, explode, or even remove blocks. And if you're making lines fast enough, you can activate a frenzy mode that, basically, turns most of the board into TNT. It's sorta like Bejeweled Blitz, except with Tetris. Simple enough.
Tetris Blitz hit the Canadian App Store today as part of seems to be a soft launch for the game. Eli and I took a look at it, mainly because we've been hearing a lot of junk about its free-to-play-ness.
As you'll see, it's loaded with ads, as well as those weird "take a survey" or "sign up for such and such" opportunities. You can also buy the game's currency for real money, and if you're feeling froggy, buy a couple of spins on the game's slot machine mechanic, which hands out random power-ups and coin allotments.
Surprisingly, Blitz isn't as aggressive as we though it would be. The game doesn't beat you over the head about what you can buy, at least. But, some of the power-ups do give players better pieces, which could certainly up their score pretty artificially.
One thing for sure, though: this game actually plays pretty good as far as Tetris games on iPhone and iPads, go. A neat prediction mechanic outlines where you can drop a piece, so all you have to do is tap instead of endlessly rotate your piece and follow it down. It's a neat touch. Also, there's the whole Tetris thing: this game, despite how old it is, continues to hold up as a great puzzle game.
Blitz should be out in the coming weeks. We'll keep our eyes on changes, as there will presumably be a few during this launch phase. Check out our video if you want to see it in action, by the way.
International App Store Link: Tetris Blitz, Free