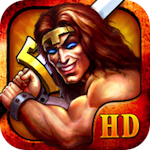 You've read the review, now watch a couple of idiots stumble around in the trap-filled crypts and hidden passages of Dark Quest ($1.99), a turn-based strategy game with a ton of old-school board game design flavor. Also, skulls. It has tons of skulls, one of which must be rubbed from time to time in order to satisfy a jerky wizard.
I know, I know, hold the phone: you have to rub skulls in this game? The review's going to fill you in the best, but, in brief, every dungeon in Dark Quest is a mission sent to you from an evil overlord-y wizard guy. As you move around these dungeons and accomplish whatever the wizard wants, he'll hit you up at random times and ask you to rub something called the Skull of Fate. When you do this either something good or bad happens. For the most part, it seems like the results are always BAD.
Anyway, we had a blast playing this game earlier today. Who knew wizards could be fun?