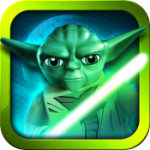 With the recent release of the excellent Lego Batman: DC Super Heroes ($4.99) on the iOS App Store, my heart fluttered quite a bit when I saw a game called Lego Star Wars The Yoda Chronicles (Free) pop up in the list of new releases. Was this a similar mobile version of the console Lego Star Wars games that I loved so much all those years ago?
No. It's not that, sadly. Instead, The Yoda Chronicles is more of a free-to-play, social, extremely light real-time strategy/action game that takes place in the Lego Star Wars universe. It seems a bit flimsy so far, but it's also not completely terrible, to my surprise.
You'll start by picking a side, either as a Jedi fighting for Yoda or a Sith fighting for Dooku, and then embark on a series of missions based on your choice. Missions take place in tiny environments from a sort of top-down view using a simple one-tap system to move your characters and vehicles around and interact with the environment.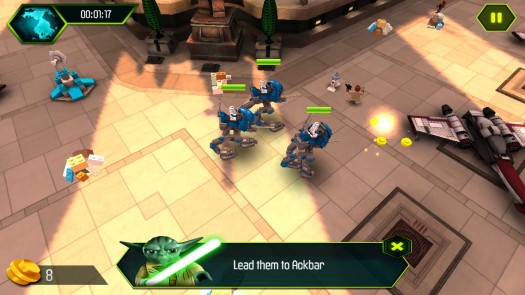 The missions seem pretty straightforward, and involve things like killing certain enemies, collecting a specific item, and making it to an endpoint in the level. There's a 3-star grading system based on the missions you're able to complete and how quickly you're able to complete them. You can also collect studs by destroying enemies or items and then use them to build different kinds of vehicles at certain points in the level.
The missions may be standard fare type stuff, but they're bolstered by excellent CGI cutscenes in-between that tell the story of the struggles between the Jedi and the Sith. The Yoda Chronicles also has lovely 3D visuals and stellar music and sound effect, all straight from the Star Wars films and shows, naturally.
I was initially disappointed that we weren't getting the full-blown Lego Star Wars games from consoles, and I still am actually, but Lego Star Wars The Yoda Chronicles seems neat for what it is. I mean, it's free to download and there isn't a single in-app purchase in sight, so you've really got nothing to lose if you're a Star Wars fan looking for something new on your iOS device to occupy your time.
You can also play The Yoda Chronicles on the official Lego Star Wars website after May 4th ("May the 4th Be With You," get it?) and if you log in with your Lego ID you can even keep your progress up-to-date between the iOS and web versions as well as unlock special bonuses for doing so. Finally, later this summer when the game hits Android a new batch of levels will be released doubling the current amount of levels.