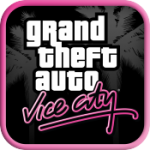 Rockstar Games brought a surprisingly playable touchscreen port of their classic Grand Theft Auto: Vice City ($4.99) to the App Store back in December, and for the first time since release they've dropped the price of the game from $4.99 down to just $1.99.
Vice City is the second iteration of the fully 3D, open-world sandbox GTA games and was released way back in 2002. It goes hard with its 1980s, neon, Scarface-meets-Miami Vice theme and follows your protagonist as he starts out as a low-level thug and works his way into the crime boss of Vice City.
For its 10th anniversary Vice City was released on iOS with some cleaned up visuals and some subtle tweaks to certain missions and difficulty levels. While the original Vice City is designed for the many buttons of modern gaming controllers, the virtual buttons actually work surprisingly well on iOS and we really enjoyed the touchscreen conversion in our review.
If you're a GTA fan that for whatever reason hasn't picked up Vice City for your iOS device yet, then now is your chance to grab it for more than half-off. It's fun for what it is, and it's kind of a miracle a game like Vice City can be carried around in your pocket nowadays. As always, more information and discussion of Grand Theft Auto: Vice City can be found in our forums.