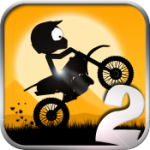 Djinn Works are like the Kings of simplistic "stickman" games. They've put out some incredibly popular titles over the years, like the Rope'n'Fly and Line Runner series, as well as various sports that these stickmen compete in like Stickman Games or Stickman Base Jumper. Stickmen have all the fun, I guess. It's hard to pinpoint exactly why these games continue to do so well in the charts, as the App Store is filled with such similar titles, but for whatever reason people can't seem to get enough stickman action.
Their latest release is Stick Stunt Biker 2 (Free), a sequel to the 2010 original. This new version eschews the doodle and graph paper look of the first game and instead goes with a silhouette visual style not totally unlike games like Limbo or Badland ($0.99). It looks pretty nice, and a lot more professional than the original's doodle style.
Gameplay is similar to the first, placing you on a little dirt bike and tasking you with making it through a series of jumps and obstacles as you motor towards the finish line of each level. Simply touch the right side of the screen to accelerate, touch the left side to brake, and tilt your device to rotate in the air. It's the same formula used in plenty of these kinds of games, and it works just fine.
One of the coolest features of Stick Stunt Biker 2 is the ability to unlock new kinds of bikes, like a burly Chopper, a Police Motorcycle, or the hovering Future Bike. Each new vehicle comes equipped with their own unique set of attributes and physics behavior, giving you a bit of a different experience playing through the levels with them.
There is an insane amount of side-scrolling motorcycle games on the App Store, but if you're dying for a new one or you were a fan of the first game, Stick Stunt Biker 2 seems like a competent new entry in the genre. More impressions can be found in our forums, and the game is available worldwide right now if you want to check it out with the link below.