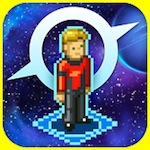 It's happening: War Balloon's sci-fi ship tragedy simulator, Star Command, is available on the New Zealand App Store. Basically, this is the first stop on its automated global release tour that will see the game finally released everywhere. For realsies.
Back in April, I took a look at a build that's pretty representative of the one you'll be checking out tonight. In a nutshell, Star Command is good. It's hard. But it's good. Here's what I mean:
At the top level, Star Command is a sci-fi simulation game that focuses on the real guts of an interstellar ship — you know, the people, the facilities, and the technology that makes travel and battle possible. As far as feel goes, it's something of sci-fi slugfest where you find yourself limping out of every battle in a charred ship that's being staffed by a skeleton crew because everyone either (a) got sucked out of the hull, (b) got incinerated by phasers, or (c) died in a fire. I'm not really sure that this is the feel that creator War Balloon was ultimately looking for, but this is how it came across to us for the first couple of hours. And, spoiler, this is a pretty cool thing.
If you'd like to see more of Star Command, we've got your back. We've got two TA Plays, and of course, that preview. We're working on a review at the moment, so stay tuned for that if you're on the fence.
Of course, if you want a reminder when Star Command hits, go ahead and add it to your Watch List on the TouchArcade app (Free). You can also watch the game's thread on our forum.
International App Store Link, $2.99