Outer space. It ain't all that great because you can't breath in it, but the video games set in it are generally cool, so the pros and cons kinda shake out. Case in point: Space Age, the next game from The Incident (Free) creator Big Bucket. Described as "a love letter" to the games the two-man studio enjoyed while growing up, it's a real-time strategy mash-up with adventure and stealth game sensibilities. Peep these images: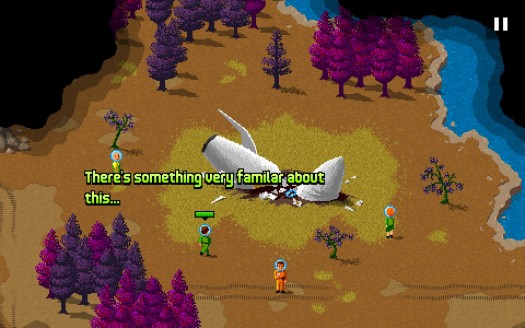 "It's a lot bigger and more ambitious than The Incident and we really hope you're going to like it," Big Bucket's Matt Comi notes on our message board. Big Bucket has a site up for the game where you can sign up to get more info when it's available. There's also an official Twitter account that'll be pumping out news down the line, probably.
In that forum post, by the way, Big Bucket tossed out two videos of the game's systems in motion. In this one, you'll see some dynamic weather and a bit of dialogue. In this one, you'll peep how mineral harvesting kinda works.
Judging by those videos, we get the sense that this is a project that's still early, so gear up for a wait. We'll keep you posted on the game as it progress, so maybe add it to your watch list on the TouchArcade app (Free), yeah?