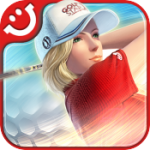 We already posted about Com2uS's attempts to re-balance the IAP in their recently released online golf game GolfStar (Free), but today they're taking that a step further. In what seems like an attempt to spur more online multiplayer, they just launched a "Million-Golfer Appreciation Event" where one on one as well as ten player tournaments don't burn any of the consumable "Hearts" currency required to play the rest of the game. According to the patch notes of the recent update, this promotion will be running until next week.
As we've already mentioned, the actual golfing in GolfStar is a ton of fun, and easily up there with some of the best golf games I've played on the App Store- particularly as all the equipment and unlocks scratches my proverbial character progression itch quite well. Unfortunately, the actual gameplay is totally mired with some really crazy (and sort of confusing) IAP mechanics, bonus offers, and all that other gross freemium stuff.
So, this event should let you cut through the crap and just play the game against real people- A welcome change in this brave new free to play world we live in. Be sure to check it out while this promotion is running so you can join me over here in the, "Man, I wish I could've just paid for this game" camp.